*Automatic discount! To claim your special offer,
add 2 or more pairs to your cart
and your price will be adjusted automatically at checkout*
Please refer to this sizing guide to choose your best fit: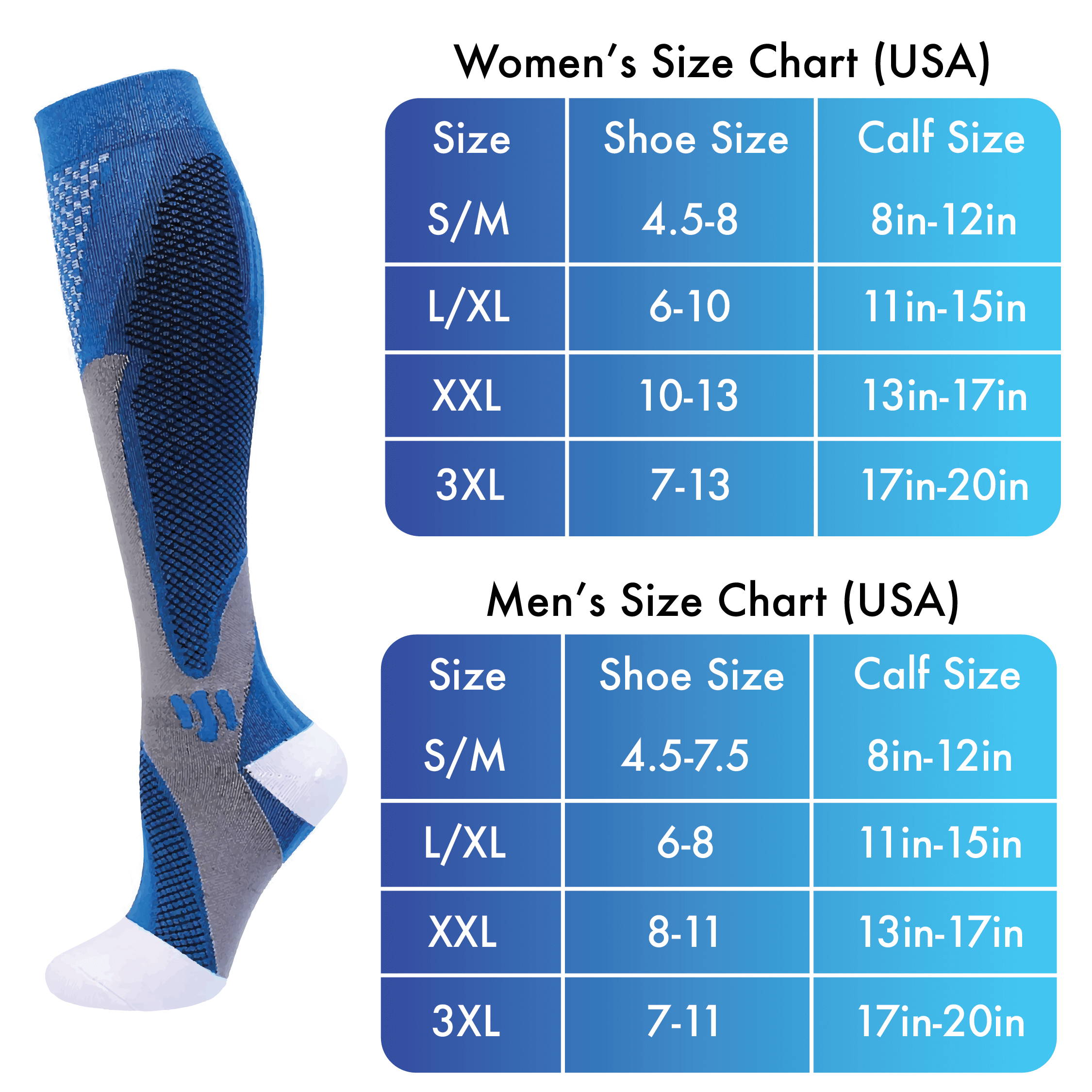 When caring for patients, your foot pain should not take away your focus. Our compression socks for nurses provide support and prevent muscle and tendon pain. Other socks that fall or compress too tightly do neither.
Nurse Yard designed compression socks for nurses to provide just the right support for feet, joints, and muscles. Our nurse compression socks provide:
Graduated compression distributed evenly from ankle to calf

Cushioned, supportive arches to prevent strained ligaments

No-slip knitted cuff and liner to keep them in place all day
We're so sure nurses will love these compression socks that they come with a 60-day money-back guarantee. Try them for 60 days—if they're not right for you, return them for a full refund.
How Our Compression Socks for Nurses Are Different
Some of nurses' most common complaints about other compression socks are that they're:
Too tight, restricting blood flow and leaving prominent dents in the skin

Too loose and need to be pulled up and adjusted throughout the day
Nurse Yards solved both problems with a unique, wave-knit fabric used in our compression socks for nurses. This special weave provides just the right amount of pressure to promote circulation and stay put without digging into the skin. They're also machine washable and durable enough for everyday use.
We know nurses don't have time for blisters, so we've added cushioning in the ankle and foot to protect your skin and provide an extra layer of comfort.
To bring a little fun to your outfit, we've created three healthcare-related designs for our compression socks. We call them Hero Socks. The selection includes scrub life compression socks, ambulance compression socks, and DNA compression socks.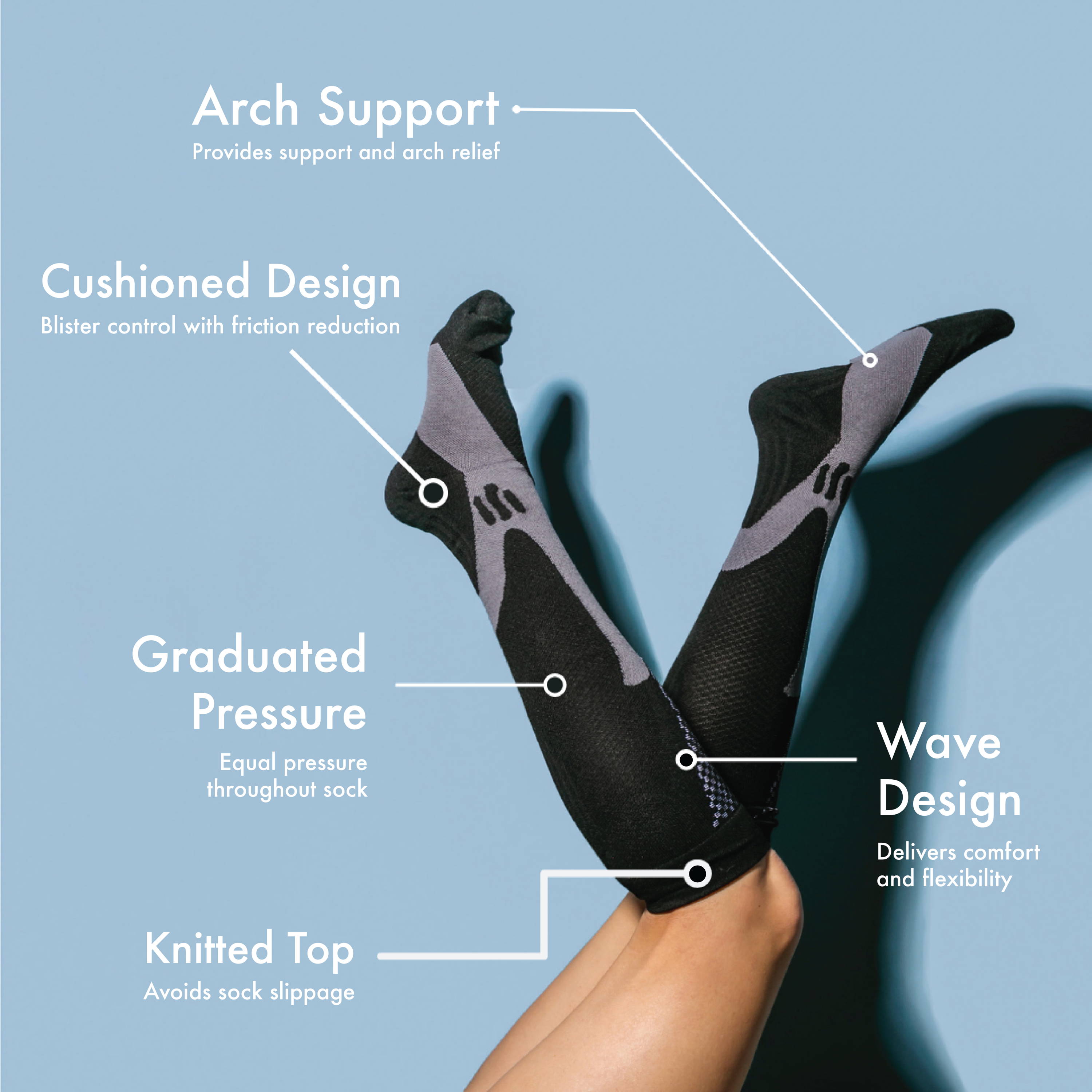 Risk Free 60 Day Guarantee
We proudly stand behind our product, which is why we offer a lengthy guarantee.
If for any reason you are not fully satisfied with your purchase, return it within 60 days of your purchase for a full refund.
20-30 mmHg of graduated pressure. The perfect balance of compression... Not too tight, yet not loose! The ideal amount of support.
Our socks are made of 80% Nylon + 20% Spandex. Recommended to air dry to prevent shrinkage and for a longer lasting sock. Wash cold. No fabric softener.
Frequently Asked Questions
What do compression socks do for nurses?
Nurses often experience sore feet after their long 12-hour shifts. Walking and standing for long periods puts strain on your joints and legs, particularly your ankles and the connective tissues around your shin bones. Over time, this strain can cause chronic problems like shin splints, plantar fasciitis, inflammation, and joint problems.
Nurses should wear compression socks because they cushion the foot and ankle to prevent blisters, promote blood flow to soothe sore muscles and increase stamina, and support the plantar fascia ligament in the arch of the foot.
What is the design of a Nurse Yard compression sock?
At Nurse Yard, we make compression socks with a balance of comfort and utility, making them easy and enjoyable to wear. We also added a variety of features to ensure you're supported from toe to knee, including:

Extra room in the toes for breathability

Moisture-wicking material to keep feet cool

Arch supports to tame plantar fasciitis

Cushioned ankles to prevent chafing

Wave-shaped knit for consistent compression

No-slip cuffs to keep them in place
What size compression sock do I need?
Sock size is determined using your normal shoe size and the circumference of your calf. Compare that number and your shoe size to our sizing chart. Measure your calf with a flexible tailor's measuring tape. Wrap the tape around the widest part of your calf muscle, keeping it flush with the skin (but not too tight).
For instance, if you wear a women's size 7 shoe with a calf circumference of 10 inches, our women's S/Msock will fit you best. If you fall between sizes, our compression socks are roomier in the foot than regular socks, so size down if you want them to be more form-fitting.
Does Nurse Yard provide different colors and sizes of compression socks?
Of course! We don't believe practical has to mean boring, so we offer compression socks for nurses in a variety of fun styles in both men's and women's sizes:
Black and gray

White and gray

Green and gray

Blue and gray with white toe and heel

Pink and gray with white heel and toe

Orange and gray with black toe and heel
How tight are compression socks?
Our compression socks hug the leg with graduated compression for consistent calf-to-toe support, starting with 30 mmHg of firm compression at the ankle and progressing to 20 mmHg of moderate compression just under the knee. This ensures that the socks are snug enough to relieve pain and inflammation while staying in place, yet comfortable enough to wear for your entire shift.
Where does Nurse Yard ship from?
Nurse Yard ships our no-slip compression socks for nurses from Phoenix, AZ.
How long will Nurse Yard shipping take?
After placing your order, you'll receive your compression socks within 3 to 5 days, depending on where you are in relation to our shipping facility. Since shipping is always free, there's no need to worry about longer shipping times inflating the price.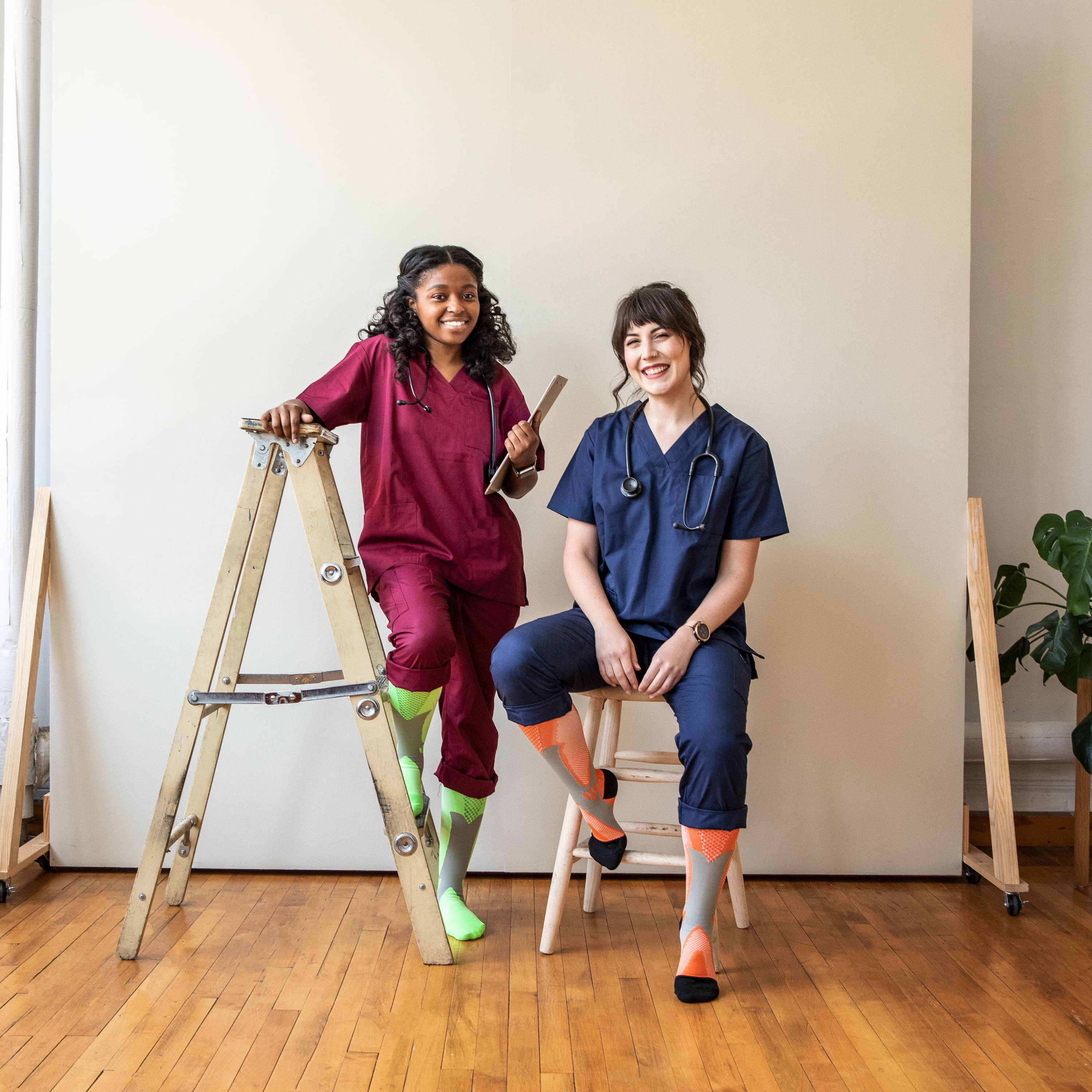 Benefits of Compression Socks for Nurses
Nursing often requires individuals to be on their feet and on the move in excess of 8 to 12 hours a day. Walking that much in regular socks—even in the proper shoes—can lead to chafed feet, sore and swollen joints, shin splints, and plantar fasciitis.
As the name suggests, Nurse Yard's compression socks are made specifically with nurses in mind. Light, firm compression provides just enough pressure to improve circulation without being uncomfortable. Moisture-wicking material keeps your feet cool and dry, while light cushioning and arch support cradle your ankle and instep for all-day comfort.
Love these socks
I love these socks, but every time I try to order they are sold out
Best compression socks ever!!
I have tried several different compression socks and returned all the others. The hero series are the best I've ever felt and I can't wait to buy more. I am a busy OR nurse on my feet most of the day and these have made a huge difference. Highly recommended.
First time buyer
I am short 5' and have very large calves. I had to order a 3X to fit my calves, and they do, however, I have to fold down the top a few inches as they are too long. I do enjoy wearing them, they do feel good, just wish I could have ordered shorter ones.
I've never worn compression socks in my whole 32 year nursing career! I've recently started with swelling to my legs throughout the day. I came across Nurse yard ad on fb and thought what the heck after reading all the positive reviews. Let me just tell you, i can't believe i've waited this long to give these a try! My legs feel so less fatigued and heavy after a shift. I will be back for more. Don't hesitate if your on the fence!
Wonderful
I love my socks! Would buy again. Excellent material. DNA are a tad short but still great. My legs don't hurt after working 4 Twelves!
Sports
I wore my socks to the last KCChiefs playoff game.Stood on concert to tail gate for 4 hours and then enjoyed the game despite the bitter cold.my legs felt great and stood out to celebrate our victory for a long while … The socks were awesome….
I wear them often to work/ meetings. I am retired for the most part.