*Automatic discount! To claim your special offer,
add 2 or more pairs to your cart
and your price will be adjusted automatically at checkout*
Please refer to this sizing guide to choose your best fit: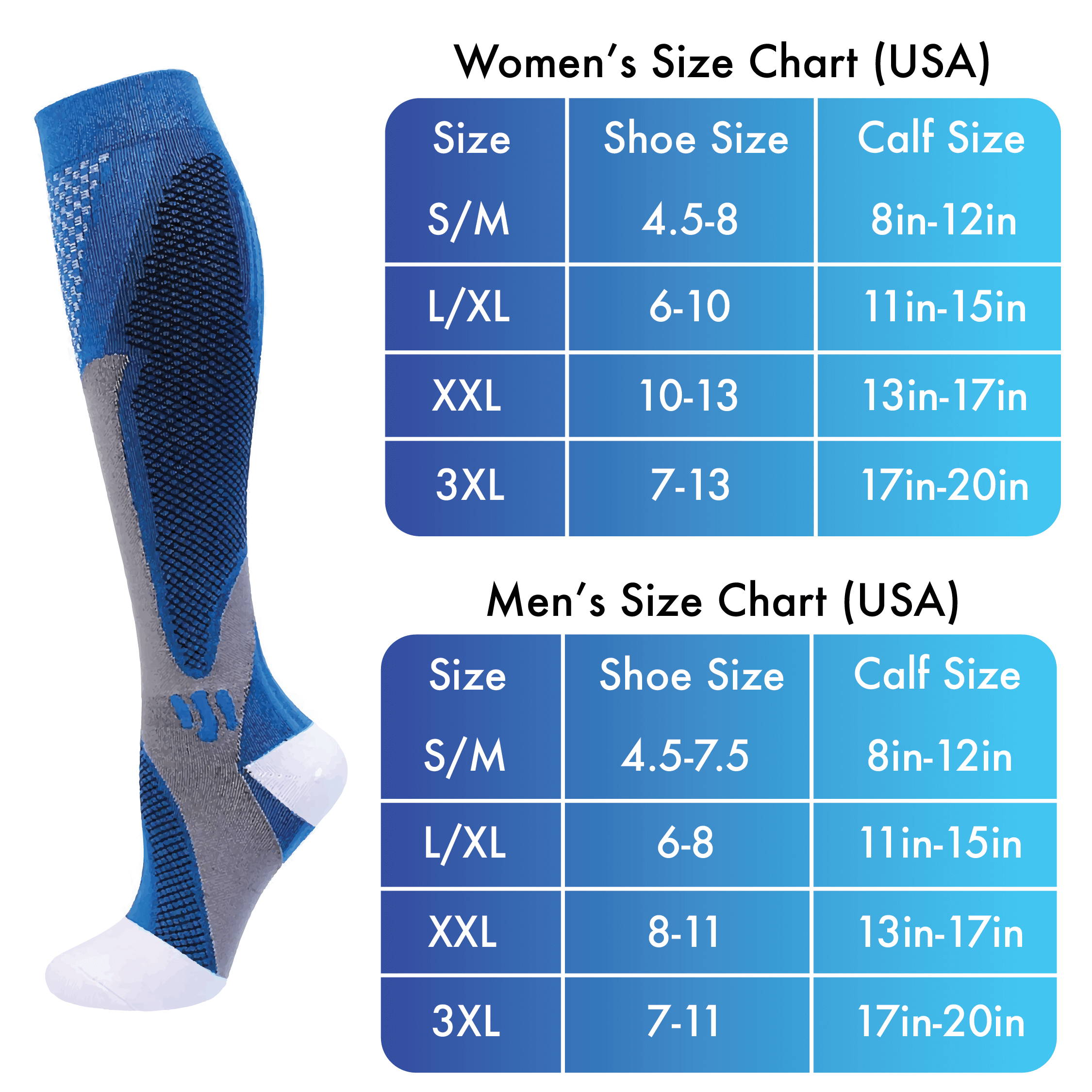 At Nurse Yard, we understand that one size does not fit all, so we've meticulously designed our compression socks to ensure optimal comfort for individuals with wide calves. Our compression socks use graduated compression technology to promote healthy blood flow, reduce swelling, and alleviate aching in your feet, ankles, and calves. And because we know how important it is to find socks that fit well, our wide calf compression socks are made to provide a snug, even compression without feeling too tight or restrictive.
Our unique design also includes cushioning at the ankle, enhanced arch support, and a knitted cuff to keep the socks in place throughout the day. And with a range of colors and designs to choose from, you can find the perfect pair to fit your style and needs.
Don't let discomfort hold you back. Order a pair of Nurse Yard's wide calf compression socks today and experience the support and comfort you deserve.
How Are Nurse Yard's Wide Calf Compression Socks Different?
We understand that finding the right fit can be a challenge, which is why we've gone the extra mile to create compression socks that are both effective and comfortable to wear with larger calves. We offer compression socks specifically designed for those with wider calves, so you can rest assured that they will fit comfortably and securely without feeling too tight or restrictive.
Our compression socks are made with high-quality materials that are durable, breathable, and moisture-wicking. This means that you can wear them all day long without worrying about discomfort or excessive sweating. Whether you're at work, exercising, or simply going about your day, our wide calf compression socks will keep your feet and calves feeling comfortable and supported.
Whether you're looking for relief from fatigue and soreness or you simply want to improve your overall leg health, Nurse Yard's compression socks for wide calves are a perfect choice. With their comfortable fit, high-quality materials, and graduated compression levels, you'll be able to enjoy all the benefits of our wide calf compression socks without sacrificing comfort or style.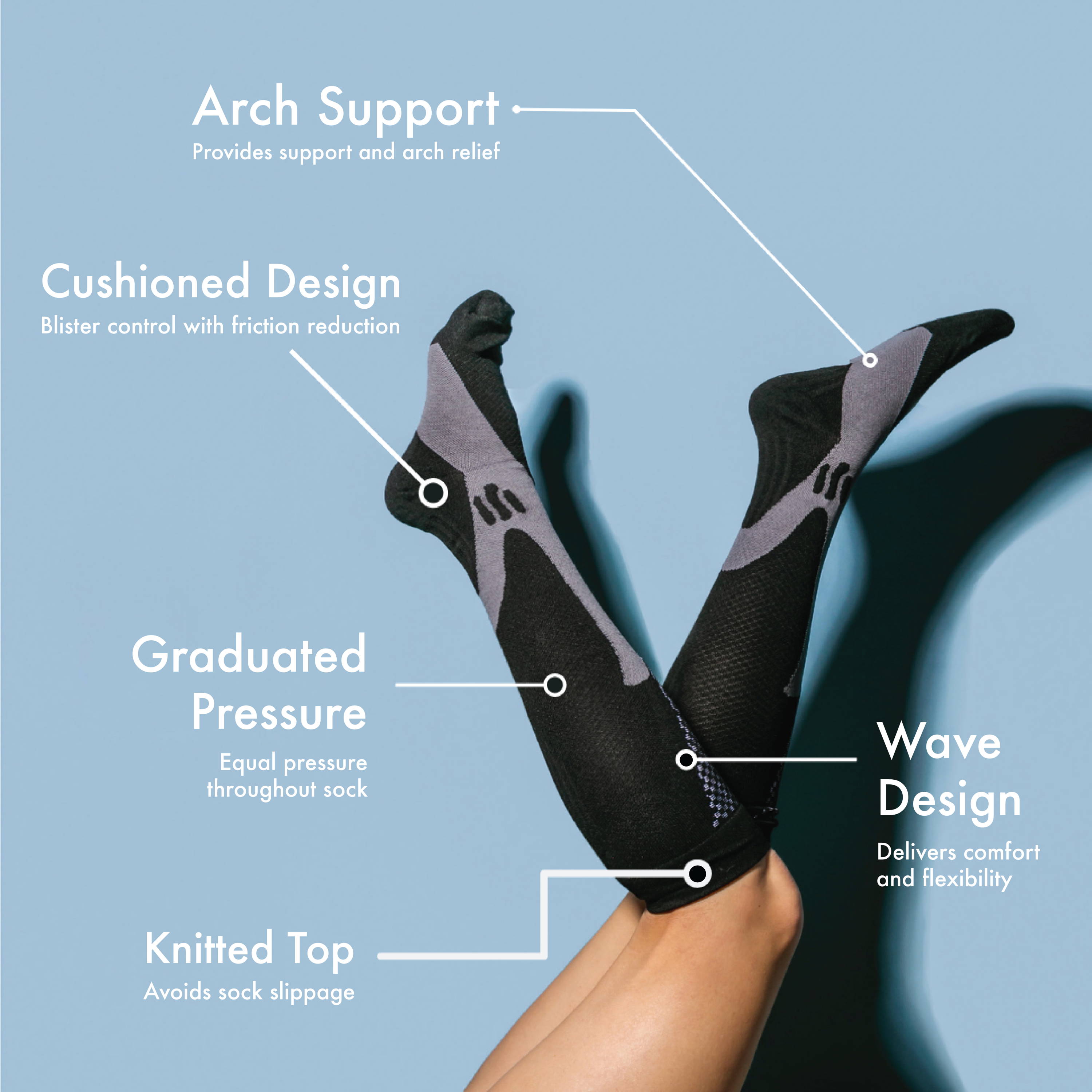 Risk Free 60 Day Guarantee
We proudly stand behind our product, which is why we offer a lengthy guarantee.
If for any reason you are not fully satisfied with your purchase, return it within 60 days of your purchase for a full refund.
20-30 mmHg of graduated pressure. The perfect balance of compression... Not too tight, yet not loose! The ideal amount of support.
Our socks are made of 80% Nylon + 20% Spandex. Recommended to air dry to prevent shrinkage and for a longer lasting sock. Wash cold. No fabric softener.
Frequently Asked Questions
What Do Compression Socks for Wide Calves Do?
Wide calf compression socks improve blood flow and reduce swelling, inflammation, and the development of varicose veins. Nurse Yard offers compression socks that are designed specifically for wider calves, providing all the benefits of compression without sacrificing comfort. They also alleviate leg fatigue, soreness, and stiffness and prevent the formation of blood clots, making them a great choice for those who spend long periods of time on their feet or have a higher risk of blood clots.
What Is Nurse Yard's Specialized Compression Sock Design?
Nurse Yard's specialized compression sock design provides graduated support to improve blood flow, alleviate pain, and prevent certain conditions. Unlike many other compression socks on the market, which are designed with a one-size-fits-all approach, Nurse Yard's compression socks are available in a range of sizes to ensure a comfortable and secure fit for those with wide lower legs.
What Size Sock Do I Need For Wide Calves?
To determine the size sock you need, measure the circumference of your calf at its widest point, typically located a few inches below the knee. Use a flexible tape measure to get an accurate measurement, making sure not to pull the tape too tight or too loose. Once you have your measurement, consult our size chart to find the best size for your needs.
It's important to note that compression socks should fit snugly but not too tight. If your socks feel uncomfortably tight or are cutting off circulation, you may need to try a larger size or adjust the placement of the sock on your calf.
Does Nurse Yard Sell Different Colors & Sizes Of Compression Socks?
Yes, Nurse Yard offers a variety of colors and sizes for their compression socks, including sizes specifically designed for individuals with wider calves. Whether you prefer classic or colorful, solid or patterned, Nurse Yard has a compression sock design to meet your needs. Browse our selection to find the perfect pair of compression socks that not only improve your leg health but also match your unique style.
How Tight Are Nurse Yard's Wide Calf Compression Socks?
Nurse Yard's wide calf collection is designed to provide the right amount of pressure without squeezing your legs too much to ensure maximum comfort and effectiveness. Our wide calf compression socks feature a graduated compression level, which means that they apply more pressure at the ankle and gradually decrease towards the calf. This helps to improve blood flow, reduce and prevent swelling and inflammation, and prevent the development of varicose veins.
If your socks feel too tight, they may be the wrong size or not the right fit for your needs. At Nurse Yard, we offer a range of sizes specifically designed for individuals with wider calves, so you can find the perfect fit for your needs.
Where Does Nurse Yard Ship From?
Nurse Yard is located in Phoenix, Arizona, and all of our products are shipped from our facility via USPS.
How Long Will Nurse Yard Shipping Take?
At Nurse Yard, we strive to process and ship all orders as quickly as possible. On average, our compression socks for wide calves take between 3-5 business days to ship. However, due to occasional shipping challenges, there may be instances where your order takes up to 5-10 business days to ship.
We will provide you with tracking information for your order as soon as it is available, so you can keep tabs on its status and know when to expect delivery.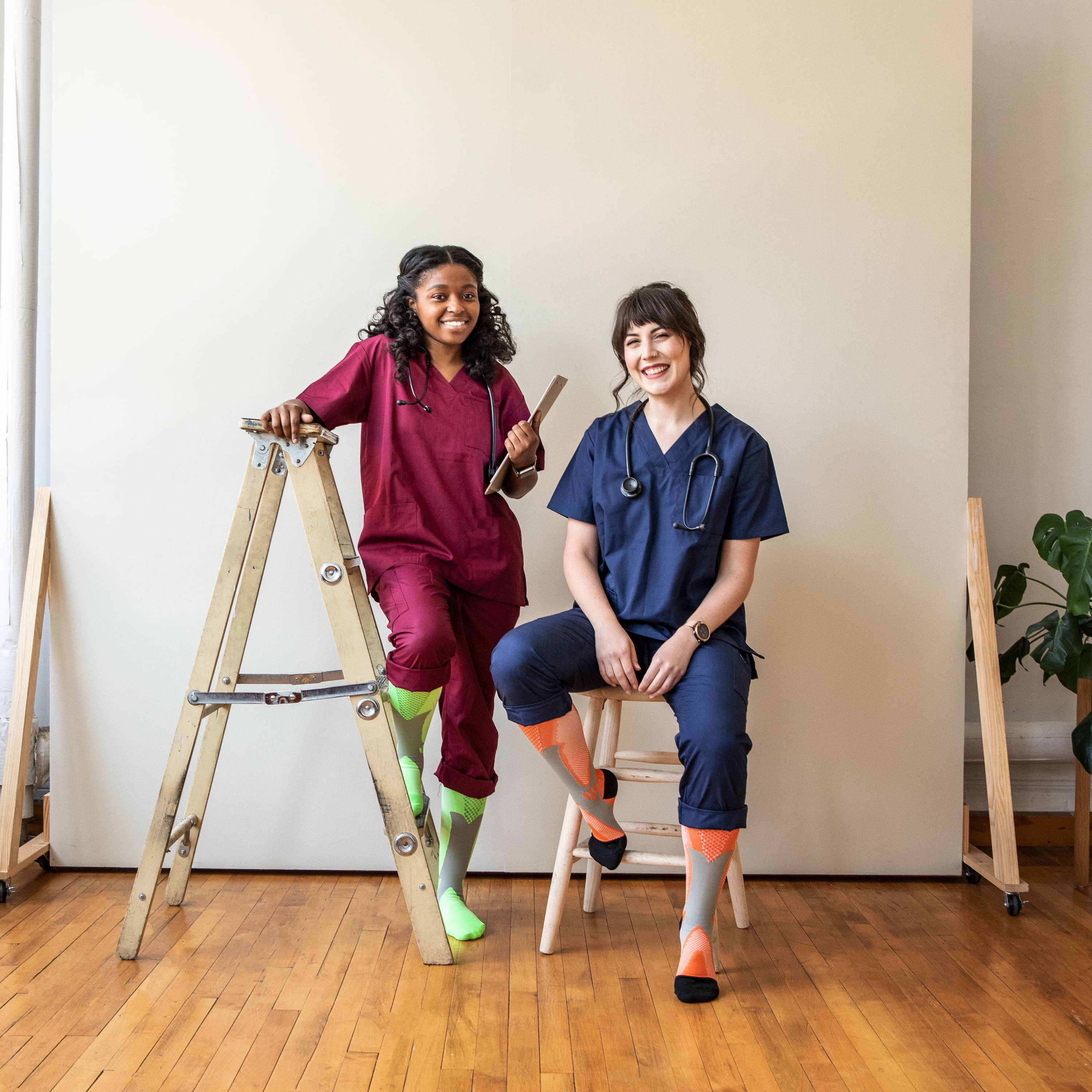 Benefits of Nurse Yard's Compression Socks For Wide Calves
For people with wider calves, finding compression socks that fit comfortably can be a challenge. However, Nurse Yard's compression socks for wide calves are the solution you have been searching for. Our socks use graduated compression levels to help push blood back toward the heart, which can be especially beneficial for those with wider calves who may experience circulation issues. Here are all of the ways Nurse Yard's Compression Socks for Wide Calves make life a little more comfortable:
Helps prevent clots and vein insufficiencies by using graduated compression to push blood back toward the heart.
Reduces swelling and pain in your feet, ankles, and calves.
Provides a comfortable and snug fit for those with wider calves, ensuring that the graduated pressure of 20-30 mmHg is distributed evenly.
Alleviates soreness and fatigue, making it possible to be on your feet all day.
Our unique design provides enhanced arch support for added comfort and stability.
Our knitted top keeps your socks from sliding down throughout the day, ensuring a secure fit.
Nurse Yard's premium non-itch breathable design ensures lasting comfort, even after extended wear.
Best compression socks
I have tried many, many compression socks these are by far the best of them all. It does provides all the support they talked about no aching legs after a long shift, no pain on my legs like I used to. I'm grateful and has told many people about these socks. I'll definitely order more for me, families and friends. Thank you Nurse Yard for thinking about us continue to be the best and deliver the best. I'm in love with these socks. I become a spoke person for these socks will recommend them in a heartbeat.
I love these socks, I am on my feet for 10 hours and I can feel them work. I wear them 5 days a week. I would recommend them not only for nurses but Manager that are on their feet for more than 10hrs a day. 🥰
No leg pains
I know most people appreciate an honest review. Before buying this socks I went through most of the reviews and they were positive. I decided to take a leap of faith and try then out day 1,2,3 of wearing nurse yard socks am amazed. I no longer feel any pain on my legs. I feel like am walking on air. They're also super comfy. Shipping took too long for me. Honestly it's worth it for the 12 hr shifts.
Best ever
I'm wearing those socks for a week and can see huge difference
Great!
I'm not a nurse but for some unknown reason my legs ache... idiopathic I'm told... I've tried dozens of compression socks and they all seemed so uncomfortable...and they made my legs itch after a few hours. Saw this ad, decided "why not?" and I'm happy to say they are great! Oh, and sooo comfortable. My only complaint is I don't like feet in compression socks. They limit me wearing them everywhere. I not keen on seeing them in the gap between my pants and my shoes. I do however highly recommend them!
Just got a second batch
I just ordered 4 more pairs. I almost always wear them to work my 12 ER shift.
Best compression socks ever!
I always found compression socks to be way too hard to get on, that is until I found Nurse Yard socks. These socks are great! Easy to get on and the perfect amount of compression. I wear them every day. They're easy to get on and my legs stay comfortable all day long. Thank you for such a great product!
I like these more than others.
I hate compression socks because my arthritis makes them hard to use but these are the best I've tried.