*Automatic discount! To claim your special offer,
add 2 or more pairs to your cart
and your price will be adjusted automatically at checkout*
Please refer to this sizing guide to choose your best fit: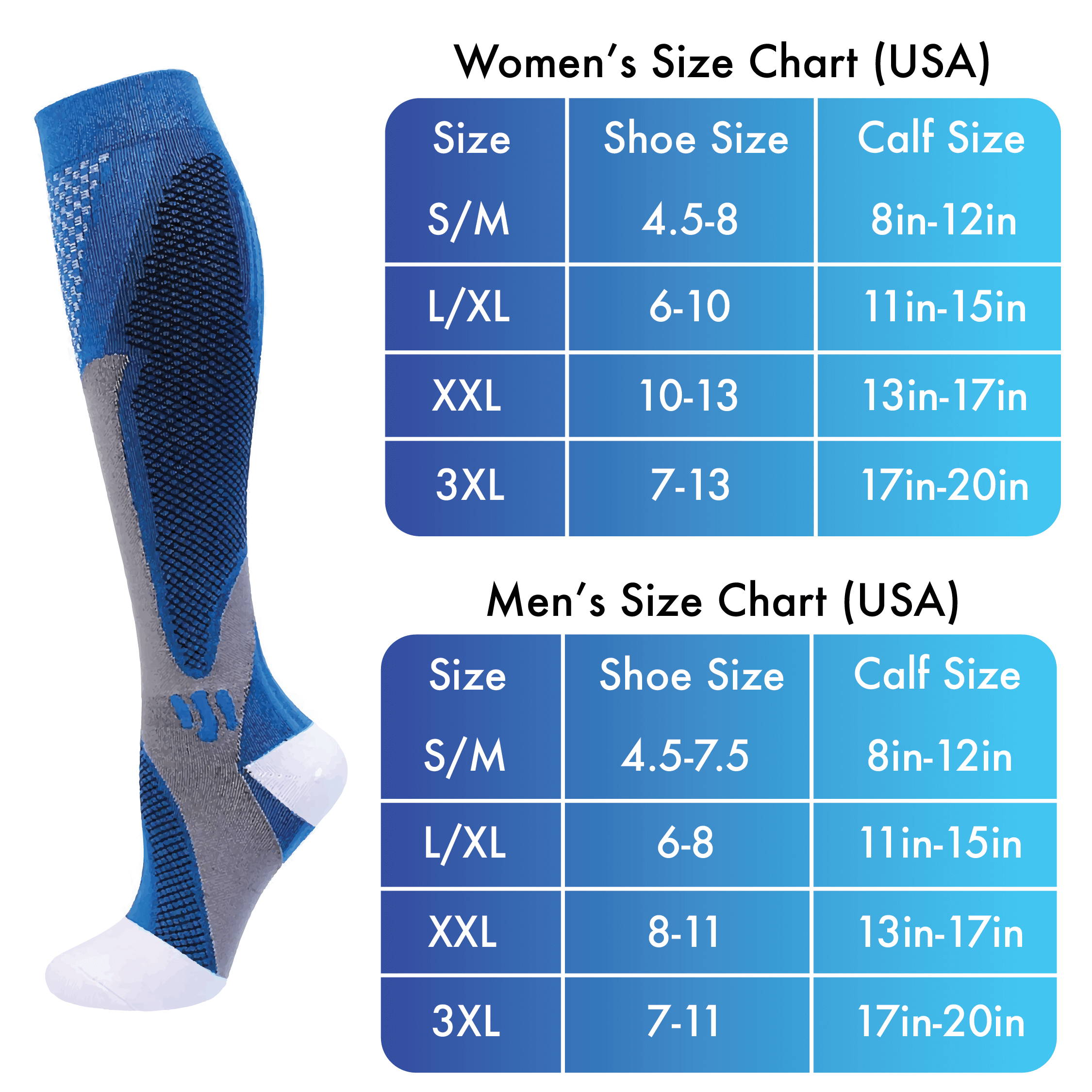 When you're tall with long legs or have larger calves, finding compression socks that fit can be challenging. Socks that are too short or small wear out faster, fall down, or squeeze your leg too tightly. Because of this, finding the right compression socks as a big or tall person may be difficult.
Nurse Yard's compression socks for big and tall individuals are designed to accommodate many heights and sizes. Larger sizes are both wider in the calf and taller to ensure you're covered from toes to knees. Additionally, our wave-knit fabric is soft against the skin but sturdy enough to retain its elasticity for a long time.
Do you have trouble finding tall compression socks that accommodate your needs? Look no further than Nurse Yard. With a collection of sizes from S/M to XXXL, we're sure to have what you need—browse and shop our styles today to find your perfect pair.
How Are Nurse Yard's Compression Socks for Big and Tall Different?
Many compression socks offer one grade of compression and come in limited sizes or even just one size. At Nurse Yard, we resolved these issues by creating compression socks that offer a total comfort system, running in a wide range of sizes and styles.
As a result, our socks feature:
A soft, knitted, no-slip cuff

Three levels of graduated compression

Cushioning around the ankle

Arch support

Soft, breathable fabric in the foot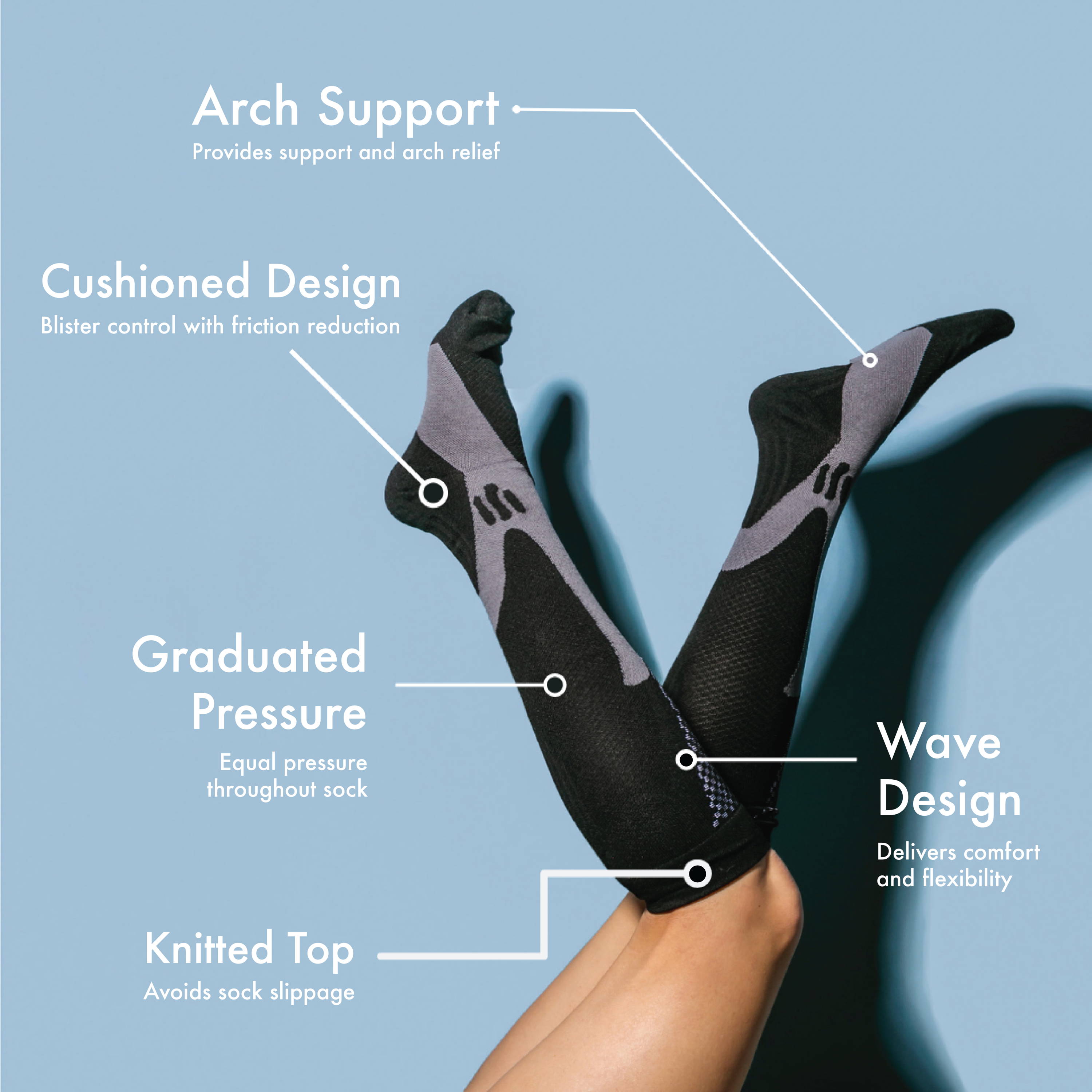 Risk Free 60 Day Guarantee
We proudly stand behind our product, which is why we offer a lengthy guarantee.
If for any reason you are not fully satisfied with your purchase, return it within 60 days of your purchase for a full refund.
20-30 mmHg of graduated pressure. The perfect balance of compression... Not too tight, yet not loose! The ideal amount of support.
Our socks are made of 80% Nylon + 20% Spandex. Recommended to air dry to prevent shrinkage and for a longer lasting sock. Wash cold. No fabric softener.
Frequently Asked Questions
How Do Compression Socks Help People Who Are Big and Tall?
Individuals who are very tall or have a larger body size naturally bear more weight on their legs than those of smaller stature, which means they may experience sore muscles and joints more often.
Compression socks for big and tall people can help alleviate this discomfort by supporting the joints, muscles, and connective tissues in the lower leg. The compression socks that are best for big and tall are also the best compression socks for large calves as most people who are big and tall have larger legs.
The graduated pressure from the socks reduces the shock of impact from a person's steps, improves circulation, and helps reduce joint pressure. These features help keep big and tall individuals more comfortable as they enjoy daily activities or while they're on the go at work.
What Is Nurse Yard's Design for Compression Socks?
At Nurse Yard, our compression socks offer more than just pressure—they offer sturdy, breathable, all-day comfort.
Our specialized compression sock design starts with wave-knit fabric that supports your muscles and connective tissues with graduated compression. A cushioned ankle protects your joints, while arch supports alleviate strain on the foot.
The best part may be our no-slip knitted cuff that keeps your compression socks where they belong. No more twisting and bending, just consistent all-day support.
How Do I Know What Size Compression Sock to Get?
Compression sock sizing is especially important for someone with broad calves or long legs—if they're too small, they may squeeze your leg too tightly or require constant adjusting. Fortunately, finding your size if you're big and tall is simple with Nurse Yard.
Start by wrapping a flexible measuring tape around the widest part of your calf. Then, compare the resulting number and your shoe size to our straightforward sizing chart to find your perfect fit. For instance, if you wear a size 9 women's shoe with a 13-inch calf circumference, our women's XXL is the best size for you.
Our sizing chart is flexible, so there's a chance your measurements will put you between sizes. If you prefer your socks that hug your feet, go with the smaller size. If you like more wiggle room in the toes, the larger size will be better.
Does Nurse Yard Have Different Colors & Sizes Of Compression Socks?
Yes—we offer S/M to XXXL in men's and women's sizes, and our compression socks come in many styles and colors to accommodate your unique aesthetic.
Our most popular designs belong to our CORE series, which includes the following styles:
Black: black with gray design

White: white and gray with light gray toe and heel

Blue: blue and gray with white toe and heel

Green: green with gray design

Orange: orange and gray with black toe and heel

Pink: pink and gray with white toe and heel
Those who work in medicine or science may be interested in our HERO series, which includes:

Scrub Life: white with blue details and teal scrubs print

DNA: yellow with multicolored DNA strand print

Ambulance: teal with white ambulance print, orange toe, and heel
You can order each style in every size.
How Tight Are Compression Socks for Big and Tall?
Our compression socks for big and tall people offer a continuum of graduated pressure to alleviate pain and inflammation associated with conditions like plantar fasciitis, shin splints, muscle fatigue, and more.
Compression is tightest around the ankle at 30mmHg of pressure, loosening slightly to 25mmHg of medium pressure around the calf muscle. The no-slip knitted cuff offers 20mmHg of light pressure just below the knee, ensuring you'll never have to adjust them.
Where Does Nurse Yard Ship From?
We ship all orders from our central warehouse in Phoenix, AZ via USPS.
How Long Will it Take Nurse Yard to Ship?
Under ideal shipping conditions, you should receive your compression socks in 3 to 5 business days. If weather or other conditions delay shipping, we'll proactively alert you via email and send your order within 5 to 11 business days.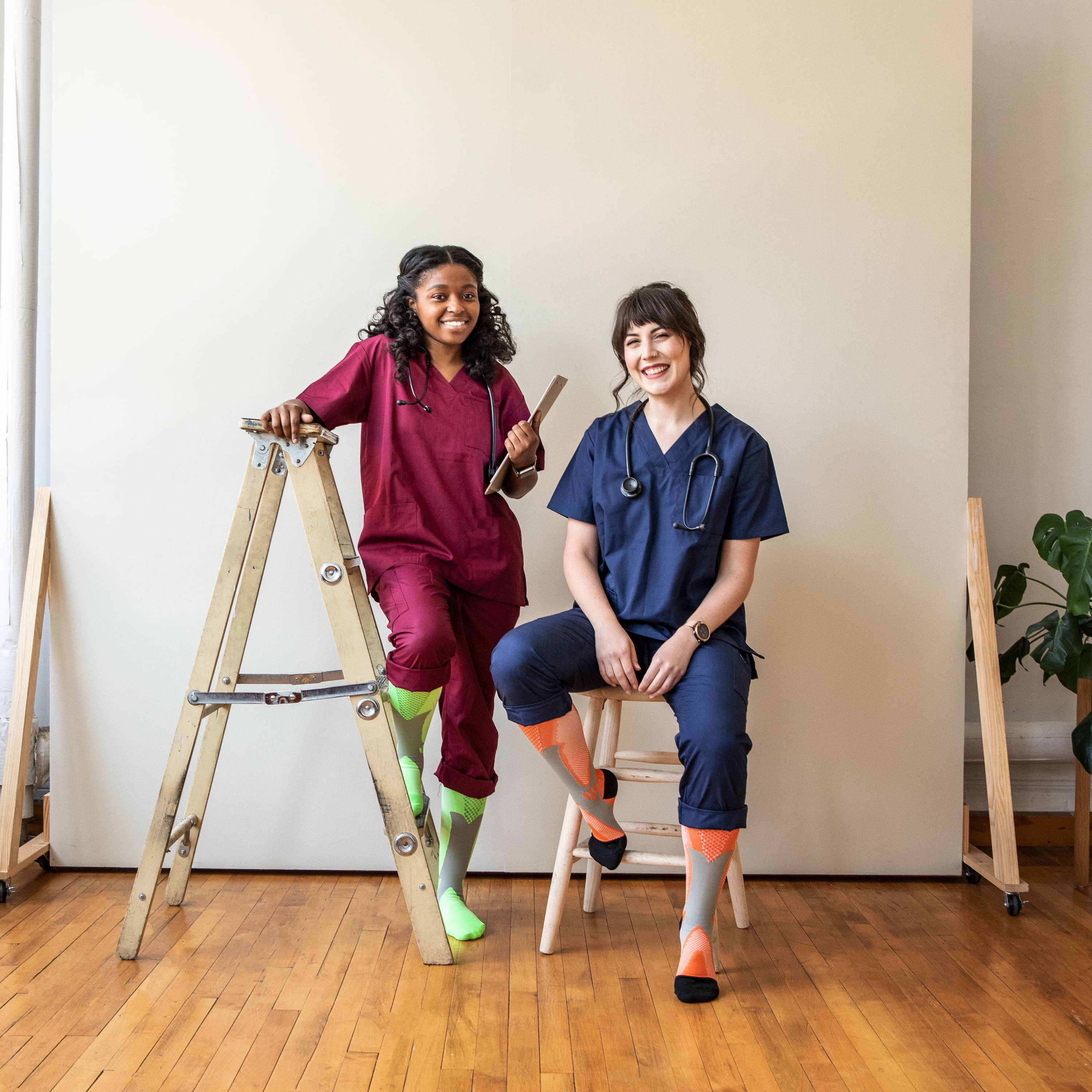 Benefits of Nurse Yard's Compression Socks for Big and Tall
At Nurse Yard, we designed our compression socks with you in mind. Our sizes are inclusive, our styles are gender-neutral, and all of our compression socks are durable and soft. They can accommodate a wide calves with a circumference of up to 20 inches—and our larger sizes are both wider and taller to ensure you're supported from ankle to knee.
Snug, graduated compression supports your joints, tendons, and muscles while accommodating your body shape. Our compression socks retain their elasticity no matter what size you require. Combined with cushioned ankles, arch support, and a no-slip cuff, our specialized design can provide lasting comfort and pain relief to people of nearly any height or body size.
Do you struggle to find compression socks that fit correctly? Nurse Yard has you covered—literally. Check our big and tall compression sock styles to find your perfect size today!
Hole in sock seam after 1 time wearing them. Not good.
I ordered 3 pair of socks and the first pair I tried got a hole in the seam after one night of wear. I messaged the company and didn't hear back. Wouldn't purchase from them again.
Gift for my daughter
My daughter is a surgical technologist in a very busy hospital surgical department and is always complaining about being on her feet all day. When I saw the ad on TikTok I bought two pairs for her. She was very happy and asked me to buy her more. I placed an order for another 2 yesterday.
Hi Irene, it's wonderful to hear that Nurse Yard compression socks have made a positive impact on your daughter's comfort, especially considering the long hours she spends on her feet as a surgical technologist.
Loving them so far!
So far I am loving them! Very comfortable and my legs are less painful.
Hi Dawn, that's fantastic to hear! It's great that you're finding comfort and relief with the Nurse Yard compression socks.
My husband loves it so much for work that we got 6 pairs!
My husband is a pab and he loves them!
Really impressed
I have several different brands of compression socks, and these are my favorite.
Hi Rhonda, it's wonderful to hear that Nurse Yard compression socks have become your favorite!