*Automatic discount! To claim your special offer,
add 2 or more pairs to your cart
and your price will be adjusted automatically at checkout*
Please refer to this sizing guide to choose your best fit: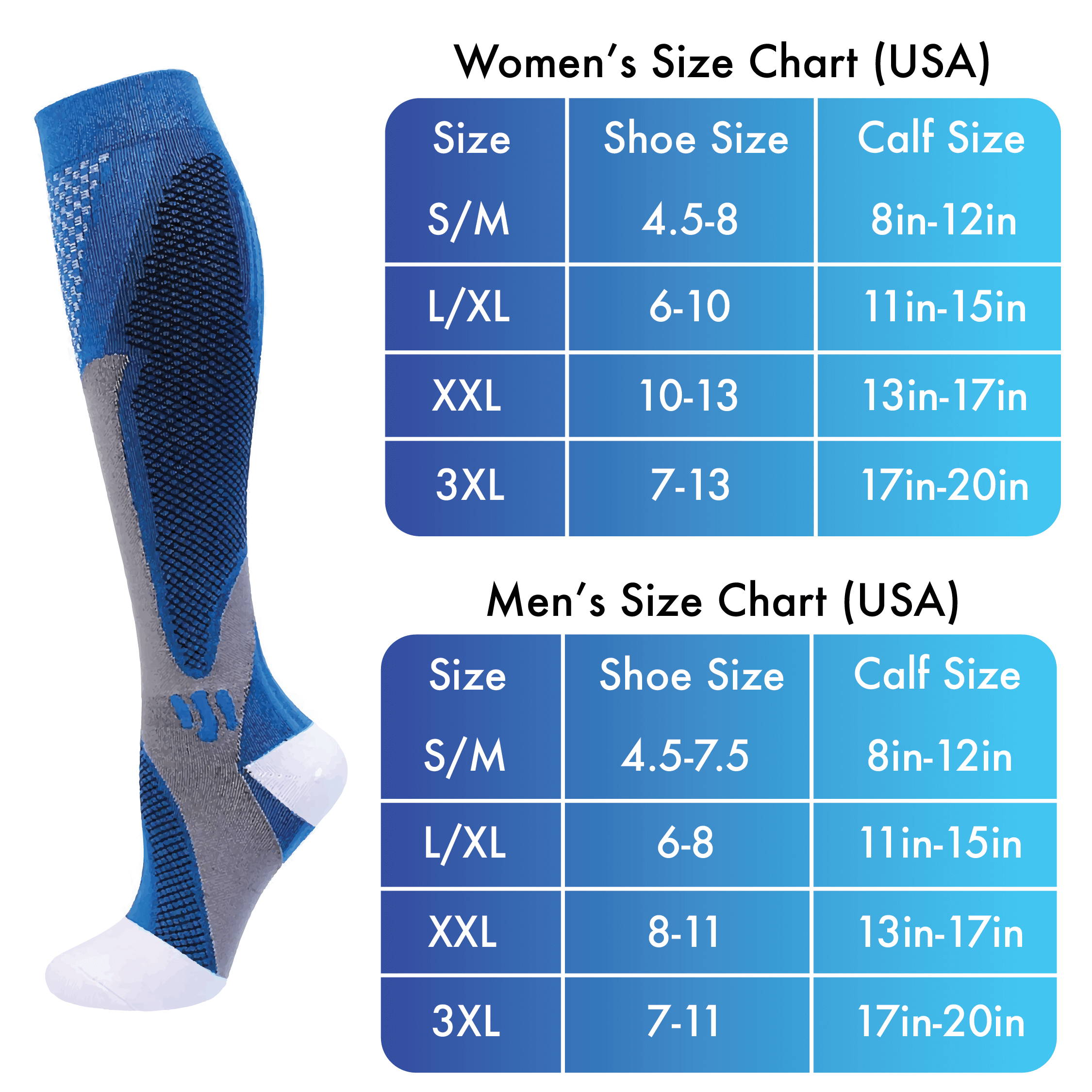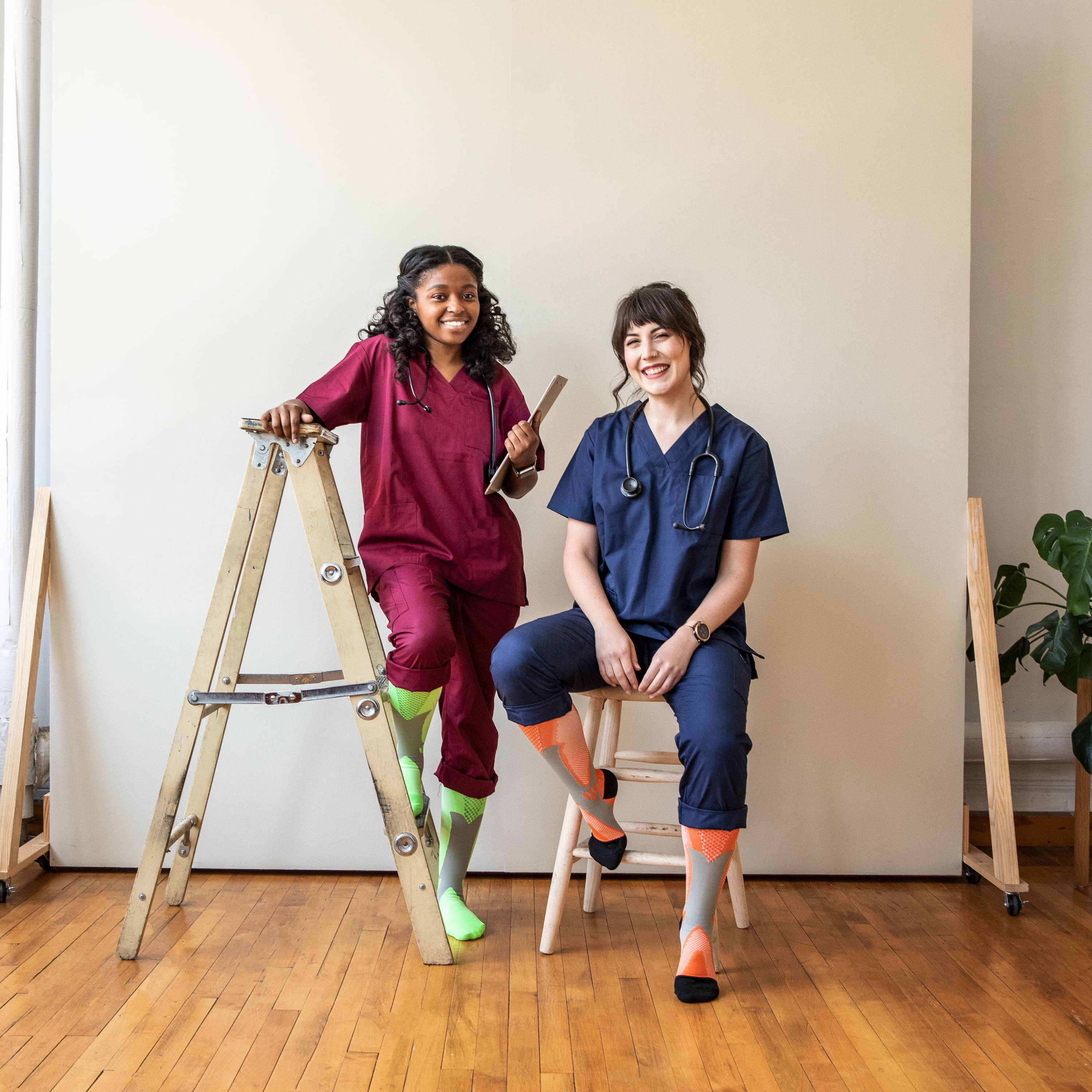 7 Benefits
of
Nurse Yard
Compression Socks
1. Helps prevent vein insufficiencies, blood pooling, and clotting by improving blood flow towards the heart with graduated compression
2. Reduces swelling in the legs and ankles — Gets rid of the aching!
3. Alleviates the soreness/fatigue that comes from being on your feet all day. Your legs will feel fresh when you're back home!
4. Provides enhanced arch support for pain-free feet that's backed by our unique design hack
5. Our knitted top allows your socks to stay up throughout your day without having to constantly pull them up
6. Our premium and non-itch breathable design means you'll have a longer lasting sock compared to other brands
7. Graduated pressure from the ankle up at around 20-30 mmHg. This means that you will have a snug and supportive fit throughout your whole leg without it being too tight or too loose
How Are Nurse Yard
Socks Different?
We can go on and on about why our socks are the best (sorry we are a little cocky), but to put things in simple terms:
The issue with most compression socks is that they don't actually provide you with support that will last you throughout your entire day.
Sure, they might provide slight support, but as nurses — we need more! You need to be supported so you can focus on supporting others.
Nurse Yard Compression Socks were made with your needs in mind. Our whole design is tailored for you.
Beginning with our 20-30 mmHg compression which provides you with the perfect amount of support. You won't feel like your leg is being suffocated, and you will feel like you can work 24 hours straight!
Our socks will give you pain relief like you haven't felt before. Your body and mind will actually feel the difference after work! You won't feel achy, tired, and you won't feel like your feet and legs are about to explode. Have any other socks made you feel that good?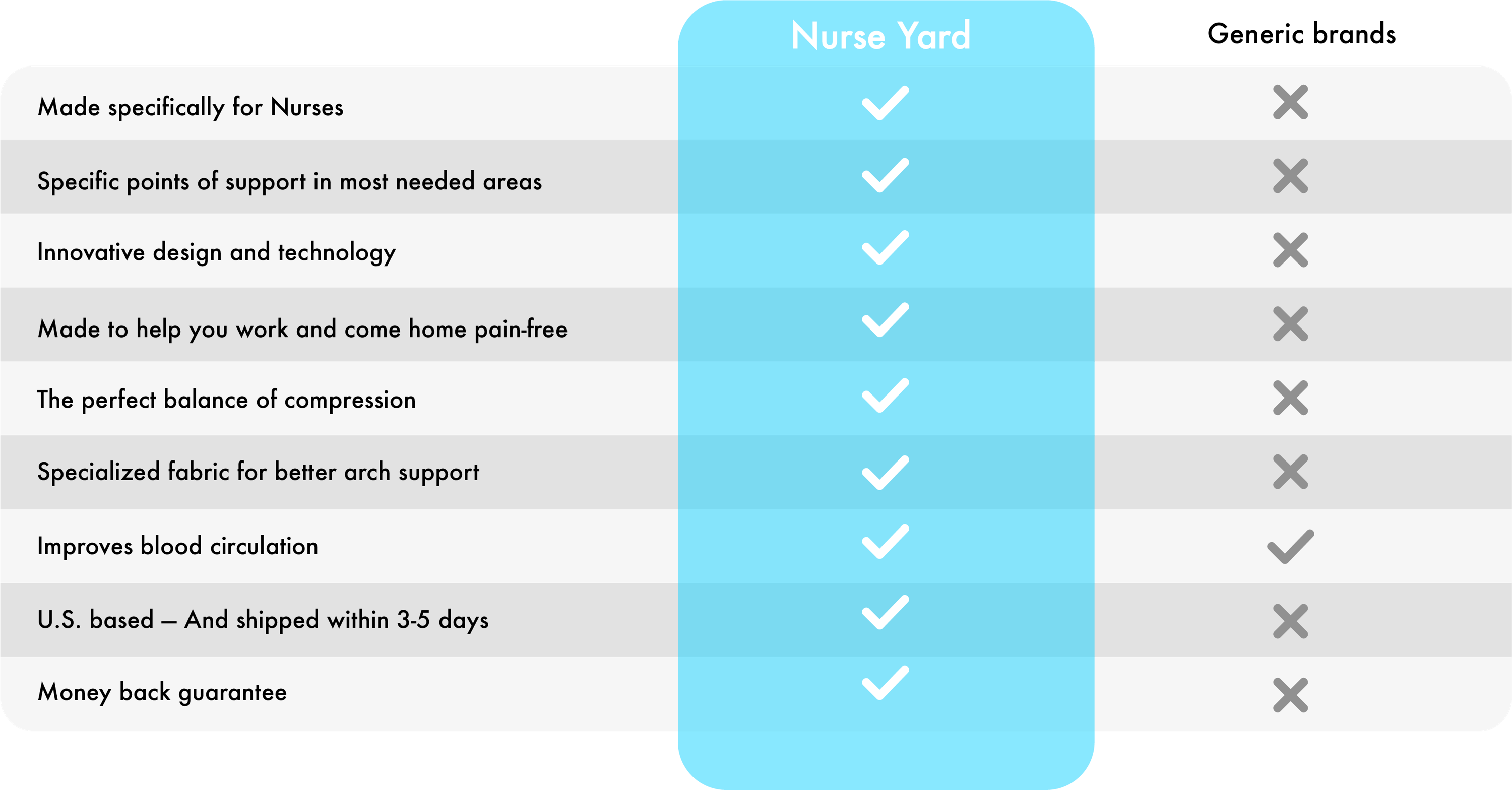 A common complaint most nurses have about their compression socks is that they constantly need to pull them back up. We tackled this issue head on and integrated a non-slip liner— so you won't even have to think about your socks.

And that's what it's all about. You shouldn't be thinking of your feet, legs, or socks while you're working. You shouldn't let pain or any distractions clutter your mind.
By keeping you at your best, we can help you make the world a better place.
Nurse Yard Socks are the socks you'll actually benefit from.
Enjoy 70% off your second pair of Nurse Yard Socks with every purchase of at least one pair! Simply choose a quantity of two or more pairs and click "Add to Cart"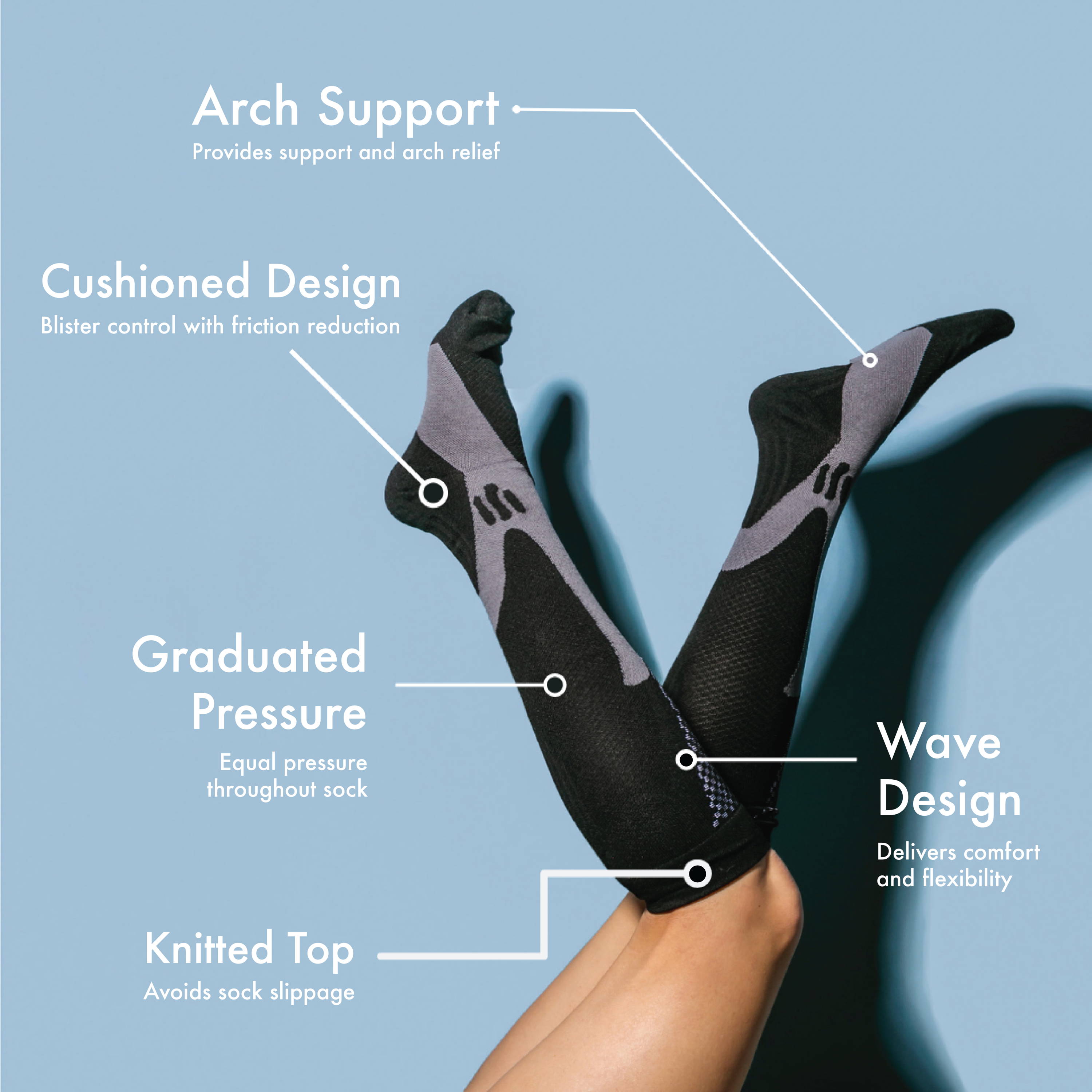 Risk Free 60 Day Guarantee
We proudly stand behind our product, which is why we offer a lengthy guarantee.
If for any reason you are not fully satisfied with your purchase, return it within 60 days of your purchase for a full refund. Return shipping is not covered by us at the moment. For more info visit https://nurseyard.com/pages/refund-policy
20-30 mmHg of graduated pressure. The perfect balance of compression... Not too tight, yet not loose! The ideal amount of support.
Our socks are made of 80% Nylon + 20% Spandex. Recommended to air dry to prevent shrinkage and for a longer lasting sock. Wash cold. No fabric softener.
Frequently Asked Questions
What is your Design Hack?
Our design hack is the specific way we structured and designed our socks. With your needs in mind, we created the best compression socks for those in healthcare.
From the roomy toes, to the comforting arch support, to the ankle cushion, to the graduated and perfect balance of compression created by our high quality fibers and wave structure, to our no-slip knitted top — Our design hack was made to help you conquer your days.
No more worrying about heavy, achy legs. Improve your energy, clarity, and happiness by getting rid of the pain — Your mind and body will thank you.
Once you experience Nurse Yard Compression Socks, you'll never go back!
What size should I choose?
Please refer to the sizing guide below to choose your best fit. For the best possible fit, use a tape measure around your calf and choose accordingly.
Please note that this size chart does its best to account for all body types. If you are unhappy with how your size fits, please reach out to us and we can begin an exchange process.
The size you choose also depends on your personal preference. Sizing up will give you a bit more wiggle room, and sizing down will give you a tighter fit. We recommend choosing based off the size chart for the best possible fit.
If you are stuck between sizes due to conflicting shoe and calf size, please note that larger sizes will have more room in the foot and toe area.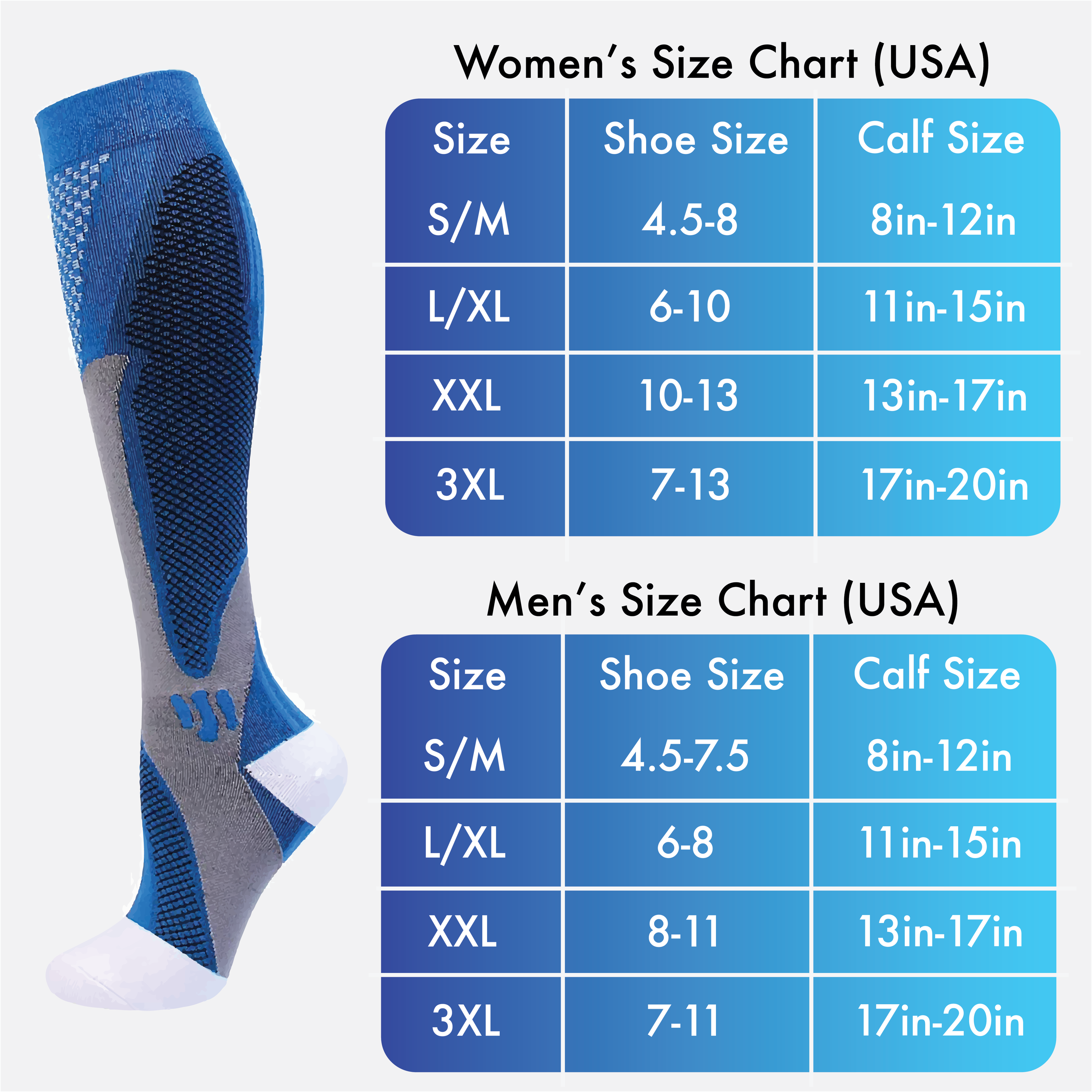 Can I choose different colors and sizes?
If you would like to choose different colors and sizes:

- Select your desired pairs and quantities and click "Add to Cart"
- Once you are in the cart page, click the X in the top right corner to continue shopping
- You can then choose the rest of your order and proceed to checkout when you are ready!
How tight are they and what kind of pressure will I experience?
Our compression socks are tight enough to give you support and pain relief while not being overbearing. Experience the magic of graduated pressure which allows you to have equal support throughout the whole sock!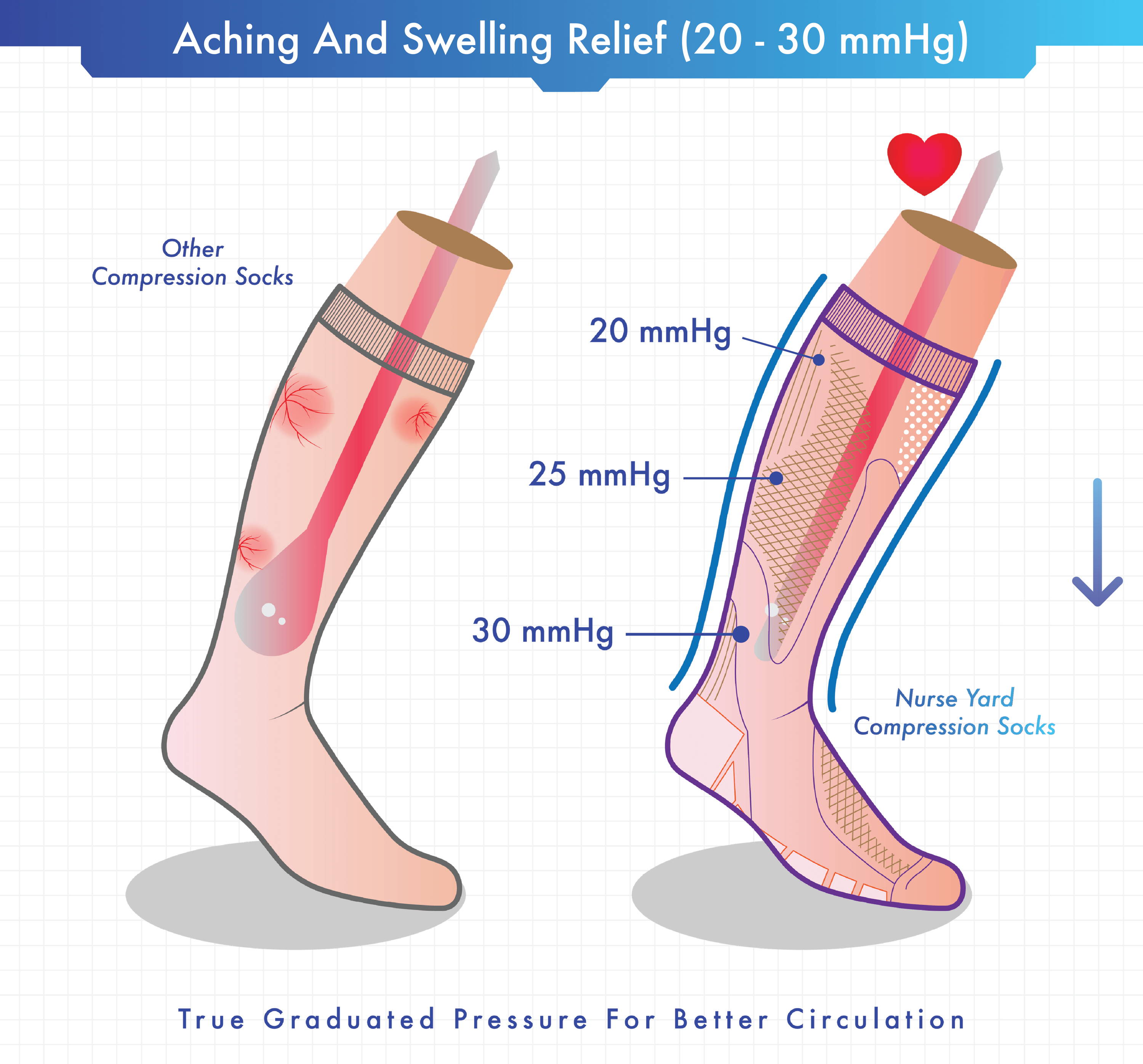 Nurse Yard is Located in Phoenix, AZ and we proudly ship right out of our city via USPS!
How long will shipping take?
On average, orders are taking about 3-5 business days to be delivered
However, many orders may face delays and increased shipping times because of the pandemic and rising issues with the USPS. This means that the normal 3-5 business days could be more, anywhere from 5-10 business days or so. Keep in mind that the average time for order delivery is still 3-5 business days.
Rest assured, we are working tirelessly to fulfill all orders.
We really appreciate your patience during these difficult times.
Love, Love, Love !! 💗
FORMER thigh hi compression stocking girl because all knee highs dug into my knees and feet. Well …. Let me tell you something. These compression socks are absolutely amazing !! I bought 2 pair to try them out and after two days, I purchased four more pairs !! One of each color for each day of work so that the wear and care is equal. And I think what I love the most is that not only my legs but my feet …. Yes my FEET are no longer throbbing at the end of the day !!!! Enough said !! They are the bomb !!
Happy Legs
Wasn't sure at first about buying them. Took me a few times looking and then I said what the heck and got 2 pair. I have to say they do what they claim to do no doubt on that. My legs feel very energetic, do not hurt what so ever. Very supportive in the arch and the circulation throughout the day is consistent. They are light weight and i have forgotten I had them on even after 12+ hrs. I have another brand and they do not do what these do. My ankles were always swollen and my legs always hurt and it always felt like it was cutting into my legs at the top. These do not do that at all. I am impressed all the way around and will be ordering more in the coming weeks. I work in the ER so it's constant moving. All I can say is try em out. Either you'll like them or you won't.
Excellent Customer Service!
I really like these socks. I had an issue with one pair, though. However, when I contacted customer service, I received immediate help and the issue was resolved on the spot! I will be a life-long customer I'm sure.
Actually worked!
I was a skeptic and figured these socks would be like every compression sock I've bought. I was wrong! Usually after a 12 hour shift in my compression socks, my feet feel tired and feel like they want to burst out of my shoes. There is almost always swelling when I finally take off my shoes. I decided to give the nurse yard compression socks a try because I had nothing to lose at that point. I noticed an instant difference. End of shift my feet felt like I hadn't even walked on them. My feet and legs weren't tired and there was no swelling. Best decision I've made. I plan to buy more and would definitely recommend.
WOW
Not a nurse, I'm a cashier. Best purchase I've ever made, literally has saved my life ❤️
Made a world of difference!!
I purchased these for my husband he experiences swollen feet and poor circulation. He is also often on his feet. He comes home daily with achy feet. First day he wore the Nurse Yard socks he said , "my feet feel so much better". We have since purchased socks for our family members and we ourselves own about 10 pair. We love them!!!!
These Lil piggy's
Omg the sock a wonderful. I work in dialysis 15-16 hours shifts. No more tired feet achy legs. Go home shower and rest with out having to rub my legs and feet. Definitely worth a try.
I love these socks
My legs and feet aren't sore anymore after a shift. I only bought 2 pair but I'm definitely planning another order soon! I have to admit I wasn't totally sold but after my first day I told everyone I work with! Now a few weeks later they are still awesome!