*Automatic discount! To claim your special offer,
add 2 or more pairs to your cart
and your price will be adjusted automatically at checkout*
Please refer to this sizing guide to choose your best fit: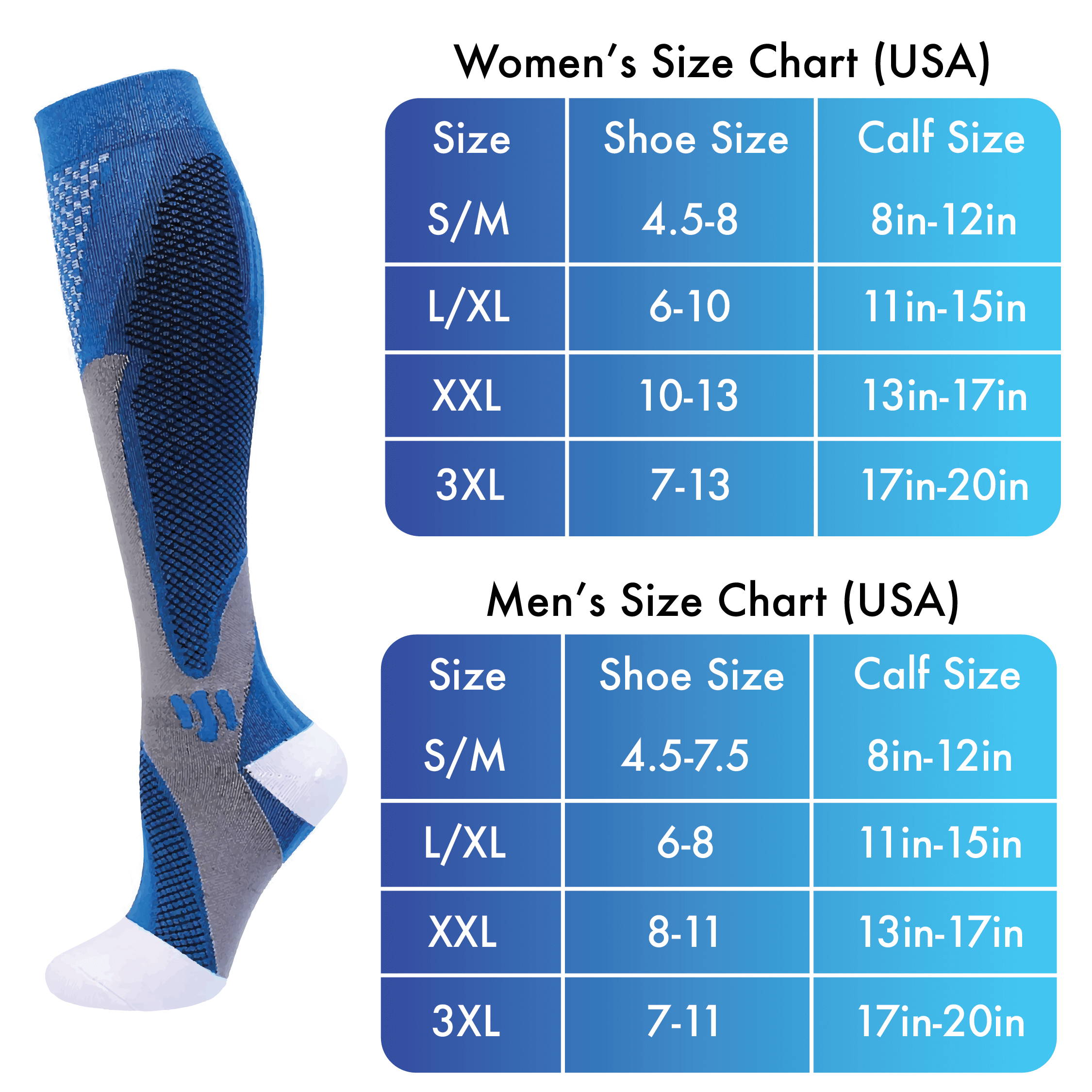 Basketball may be a low-contact sport, but it's high-intensity for your ankles and calves. Jumping, running, and twisting can strain your muscles, which can cause cramps, spasms, and post-game muscle soreness. Regular basketball socks can't help with this.
Nurse Yard's compression socks for basketball players protect your legs from shin splints, stabilize your ankles, and support your muscles and connective tissue to prevent injuries. They also improve blood flow in your legs, which helps athletes perform at a higher level for longer.
If you're an avid basketball player looking for a simple way to improve performance and recovery, order a pair of Nurse Yard's compression socks today!
How Do Nurse Yard's Compression Socks Help Basketball Players?
When it comes to athletic performance, the right pair of compression socks can give you an edge by helping you perform better for longer. Graduated pressure around from ankle to knee delays muscle fatigue and improves circulation. Well-conditioned muscles can run for longer, and good circulation oxygenates your body to keep your performance from flagging.
Additionally, basketball socks help you recover more quickly after a game. Compression prevents fluid retention in your feet and legs, which reduces the swelling and general soreness associated with athletic activities.
How Our Compression Socks for Basketball Players Differ
Above all else, the best compression socks for athletes have to be durable—when you play hard, you expect your compression socks to keep up. At Nurse Yard, our compression socks are infused with features that make them more comfortable and effective. From the cushioned ankle and no-slip cuff to the graduated, wave-knit that provides the perfect amount of compression, our socks will help prevent muscle cramps and soreness, swelling, and strained connective tissue.
As a bonus, our basketball socks also have arch supports and cushioned ankles to help protect your joints. Whether you're on a team or play for fun, every basketball player can benefit from Nurse Yard's compression socks.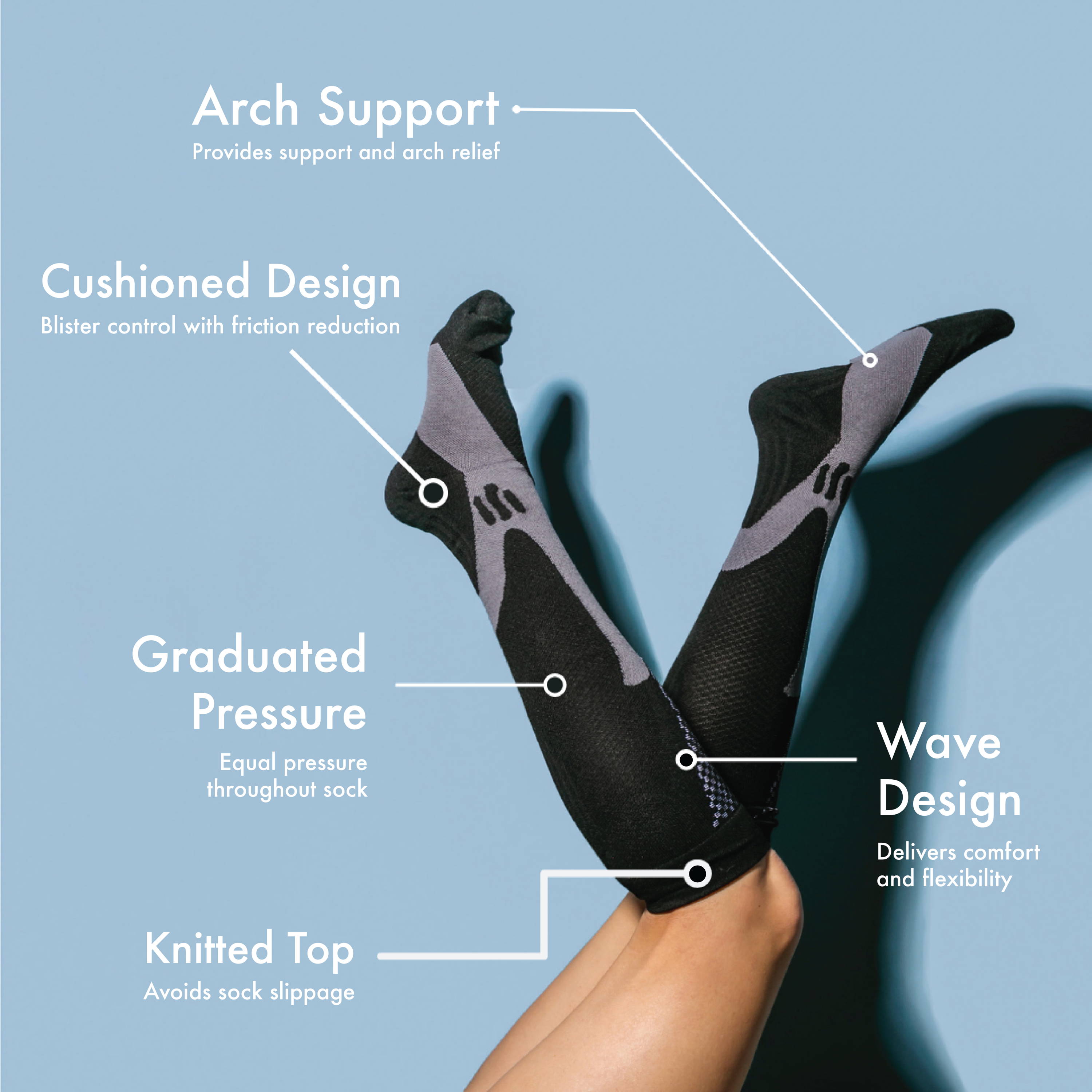 Risk Free 60 Day Guarantee
We proudly stand behind our product, which is why we offer a lengthy guarantee.
If for any reason you are not fully satisfied with your purchase, return it within 60 days of your purchase for a full refund.
20-30 mmHg of graduated pressure. The perfect balance of compression... Not too tight, yet not loose! The ideal amount of support.
Our socks are made of 80% Nylon + 20% Spandex. Recommended to air dry to prevent shrinkage and for a longer lasting sock. Wash cold. No fabric softener.
Frequently Asked Questions
What Do Compression Socks for Basketball Do?
Running, jumping, and pivoting during basketball games puts a lot of pressure and stress on your feet and legs. Over time, the physical stress from playing basketball can cause conditions like shin splints or plantar fasciitis.
Compression socks for basketball support your legs from ankle to knee, reducing the chances of injury, supporting your muscles and connective tissue, and relieving pain afterward. Our basketball socks also improve circulation, which reduces soreness and discomfort after games.
What Is Nurse Yard's Specialized Compression Sock Design?
When we designed our compression socks for basketball players, we took special care to blend practicality with comfort and style. This resulted in a basketball sock that has:
Breathable fabric to keep feet dry

Lightly supported arches to absorb impact

Extra cushioning in the ankles to prevent chafing

Wave-knit graduated compression snug comfort

No-slip cuffs to keep your socks where they belong
What Size Basketball Compression Sock Do I Need?
To determine your compression sock size, you need a soft measuring tape and your shoe size. Simply measure the widest part of your calf, and compare that number plus your shoe size to our size chart.
For instance, if you wear a men's size 11 shoe and have a 15-inch calf circumference, our men's size XXL sock will likely be your best fit.
If your measurements place you between sizes, it's important to know that our basketball socks have a roomier fit in the foot. If you like snug socks, it's best to choose the smaller size.
Does Nurse Yard Sell Different Colors & Sizes Of Compression Socks?
Nurse Yard's compression socks for basketball players come in men's and women's sizes from S/M to 3XL, and they come in the following colors:
Black: black and gray design

White: white and gray design

Blue: blue and gray with white toe and heel

Pink: pink and gray with white heel and toe

Green: green and gray design

Orange: orange and gray with black toe and heel
How Tight Are Nurse Yard's Basketball Compression Socks?
Nurse Yard designed our compression socks to fit snugly to stay in place no matter how much you jump and run. Simultaneously, graduated compression keeps them from digging into the skin.
Where Does Nurse Yard Ship From?
Our durable, stylish compression socks ship from our main warehouse in Phoenix, AZ.
How Long Does Nurse Yard Shipping Take?
After placing your order, you should receive your compression socks in 3 to 5 business days. Additionally, at Nurse Yard, shipping is always free.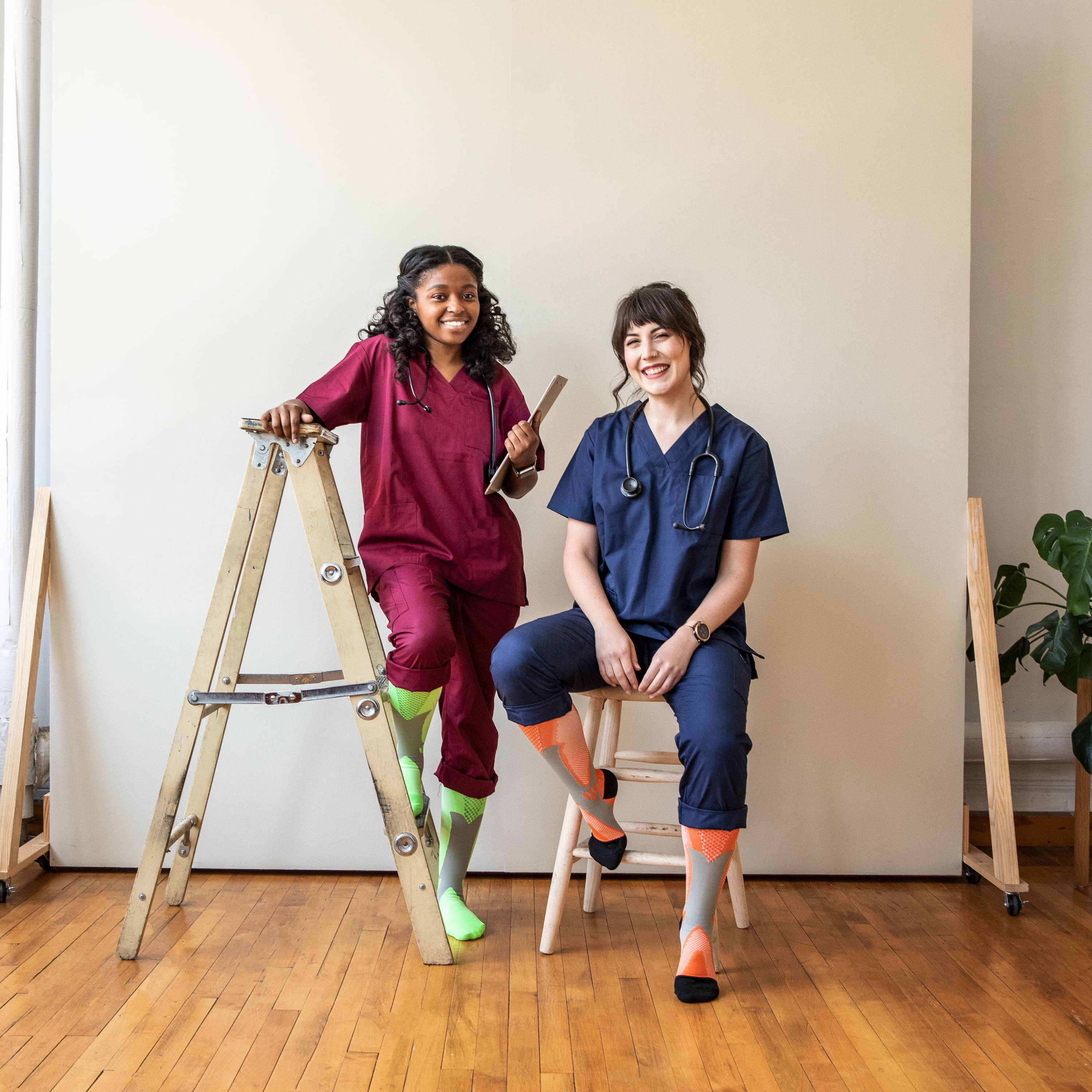 Benefits of Nurse Yard's Compression Socks for Basketball Players
The improved circulation that Nurse Yard's compression socks provide helps deliver oxygen and nutrients to the muscles, allowing them to work more efficiently and recover faster. This can lead to increased endurance, better balance, and improved jumping ability on the court.
Additionally, our compression socks offer a layer of protection from the strain basketball players put on their feet and lower legs. During a game, players are constantly running, jumping, and making sudden movements. Compression socks help stabilize the muscles and joints, reducing the risk of sprains, strains, and other types of injuries.
Lastly, Nurse Yard's compression socks can help prevent blisters and chafing, which can be a common problem for basketball players who sweat heavily during a game. The breathable material provides a barrier between the foot and the shoe, which reduces friction and keeps the skin protected.
Hole in sock seam after 1 time wearing them. Not good.
I ordered 3 pair of socks and the first pair I tried got a hole in the seam after one night of wear. I messaged the company and didn't hear back. Wouldn't purchase from them again.
Gift for my daughter
My daughter is a surgical technologist in a very busy hospital surgical department and is always complaining about being on her feet all day. When I saw the ad on TikTok I bought two pairs for her. She was very happy and asked me to buy her more. I placed an order for another 2 yesterday.
Hi Irene, it's wonderful to hear that Nurse Yard compression socks have made a positive impact on your daughter's comfort, especially considering the long hours she spends on her feet as a surgical technologist.
Loving them so far!
So far I am loving them! Very comfortable and my legs are less painful.
Hi Dawn, that's fantastic to hear! It's great that you're finding comfort and relief with the Nurse Yard compression socks.
My husband loves it so much for work that we got 6 pairs!
My husband is a pab and he loves them!
Really impressed
I have several different brands of compression socks, and these are my favorite.
Hi Rhonda, it's wonderful to hear that Nurse Yard compression socks have become your favorite!