*Automatic discount! To claim your special offer,
add 2 or more pairs to your cart
and your price will be adjusted automatically at checkout*
Please refer to this sizing guide to choose your best fit: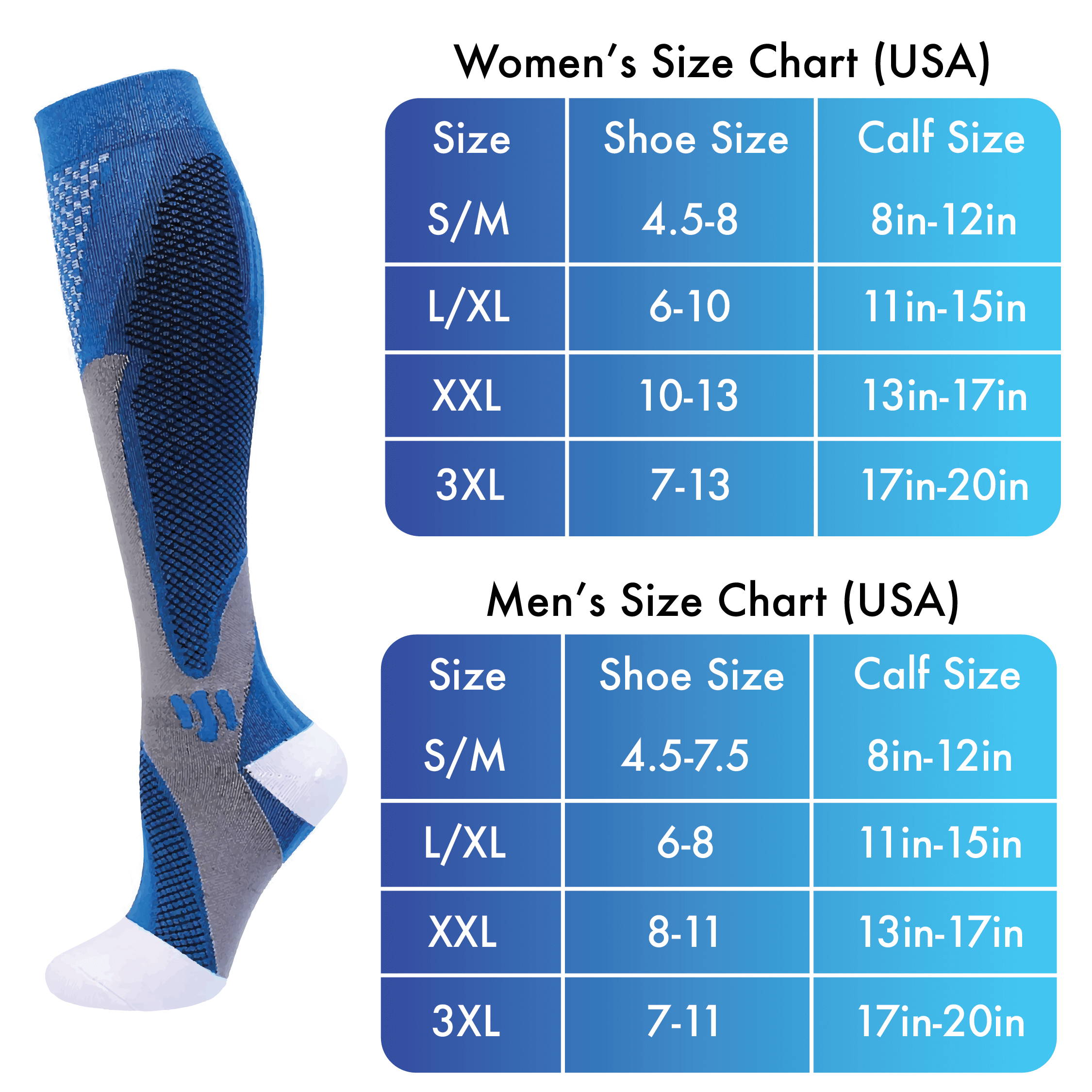 Committing to a life of dance can be as exhausting as it is rewarding. From rigorous rehearsals to executing your final performances, your body is subject to a lot of wear and tear, especially your legs. This means leg and ankle soreness is likely a regular part of your life.
Compression socks are an effective way to relieve achy legs, but they hardly ever work as advertised. Some are too tight, some provide inconsistent pressure, and others make it feel like you might as well be wearing plain tube socks.
At Nurse Yard, our compression socks for dancers are a cut above.
We've addressed many of the issues that dancers experience when trying to find quality compression socks. Our graduated pressure design ensures consistent compression from calf to toe, our cushioning materials control blisters, and our non-slip liner keeps your socks up throughout the most intense dances.
When you're dancing, you need to know you can rely on your legs. With the help of Nurse Yard's compression socks, you'll be able to maintain the poise and energy required to nail the most demanding dance routines.
How Nurse Yard's Compression Socks for Dancers Differ
The majority of compression socks don't actually provide the support that dancers need. Whether it's inconsistent pressure or constant slippage, other compression socks rarely ever stick the landing. At Nurse Yard, our compression socks for dancers are designed with the total comfort and satisfaction of dancers in mind.
It all starts with our 20-30 mmHg compression, which delivers consistent pressure from foot to calf. From there, our comfortable design ensures your legs won't feel suffocated while trying to complete a demanding performance. You may even forget you're wearing compression socks at all.
Our socks provide pain relief like few other compression socks can. Your body and mind will feel the difference during every dance routine, allowing you to focus more on your next move and less on the discomfort in your legs.
In addition to helping dancers, our compression socks also benefit basketball players, nurses, seniors, teachers, hikers, runners, ice hockey players, flight attendants, pregnant women, hairdressers, and conditions like edema, neuropathy, plantar fasciitis, arthritis, diabetes, and shin splints.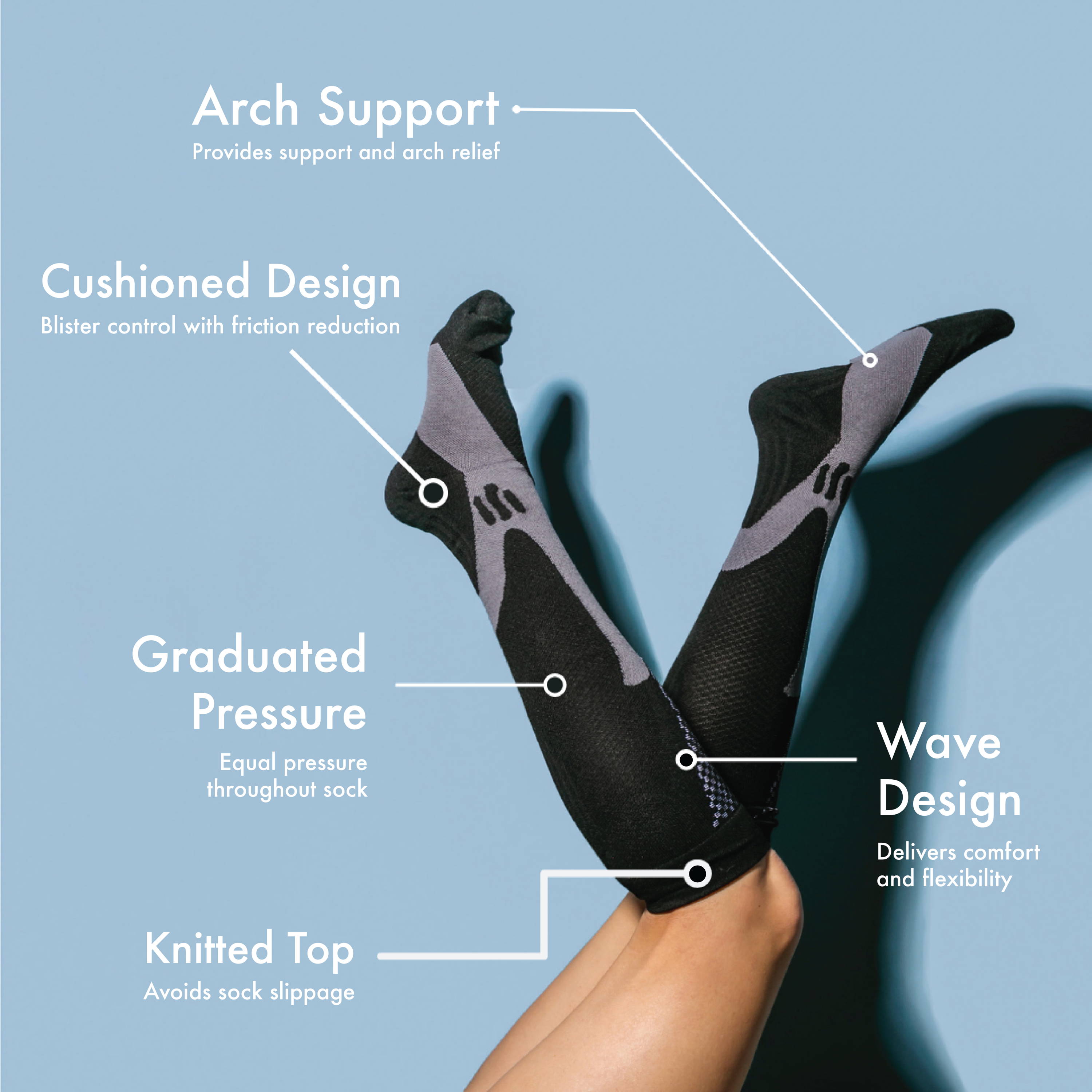 Risk Free 60 Day Guarantee
We proudly stand behind our product, which is why we offer a lengthy guarantee.
If for any reason you are not fully satisfied with your purchase, return it within 60 days of your purchase for a full refund.
20-30 mmHg of graduated pressure. The perfect balance of compression... Not too tight, yet not loose! The ideal amount of support.
Our socks are made of 80% Nylon + 20% Spandex. Recommended to air dry to prevent shrinkage and for a longer lasting sock. Wash cold. No fabric softener.
How Do Compression Socks Help Dancers?
Nurse Yard's compression socks are the secret to painless legs for dancers. With the graduated pressure of our socks, you're able to enjoy even blood flow throughout your legs and feet. This means less soreness while you dance and less aching in the days after a performance.
What Does Nurse Yard's Compression Sock Design Hack Do?
At Nurse Yard, our design hack for more comfortable and effective compression socks can be found in the structure and support of our socks. From the durable materials we use to make our socks to our comprehensive arch support, we prioritize quality over everything else.
As a result, you don't have to worry about sore legs or feet that ache all day and night. Move through your day with greater comfort, and take on every dance with increased energy and confidence.
How Do I Know What Size of Compression Sock to Get?
Please refer to the sizing guide below to choose the best compression sock size for you. For the most satisfying fit, measure around your calf with a tape measure and select the size that fits your measurements.
This size chart does what it can to account for all body types. If you are displeased with how your socks fit, please reach out to Nurse Yard, and we can arrange an exchange.
Like most other clothing, your ideal compression sock sizing depends on how you prefer compression socks to fit. If you prefer more room in the foot and toe area, you may want to purchase a larger size than you would for regular socks. If you prefer a more snug fit, you may want to size down.
Does Nurse Yard Have Color & Size Options for Compression Socks?
We care about more than just comfort; we want you to look stylish in your compression socks too! We offer four sizes and six colors for our compression socks so you can find the pair that best fits your overall needs, whether you're petite or big and tall.
Our compression socks for dancers come in the following sizes:
Our available colors include:
Black

White

Pink

Orange

Green
How Tight Are Compression Socks?
Our compression socks for dancers apply consistent pressure throughout the legs and feet without overly constricting them. They're tight enough to relieve swelling and discomfort so you can dance free from distraction.
Where Does Nurse Yard Ship From?
Nurse Yard is headquartered in Phoenix, AZ, and we proudly ship from our local USPS!
How Long Does Nurse Yard Shipping Take?
Orders from Nurse Yard are typically delivered within 3-5 business days.
Some orders may be delayed and experience increased shipping times due to increased strain on the USPS. Although the average delivery time is 3-5 business days, your order may be delayed to 5-10 business days.
We are working day and night to fulfill all orders. We appreciate your patience and support during these ever-changing times.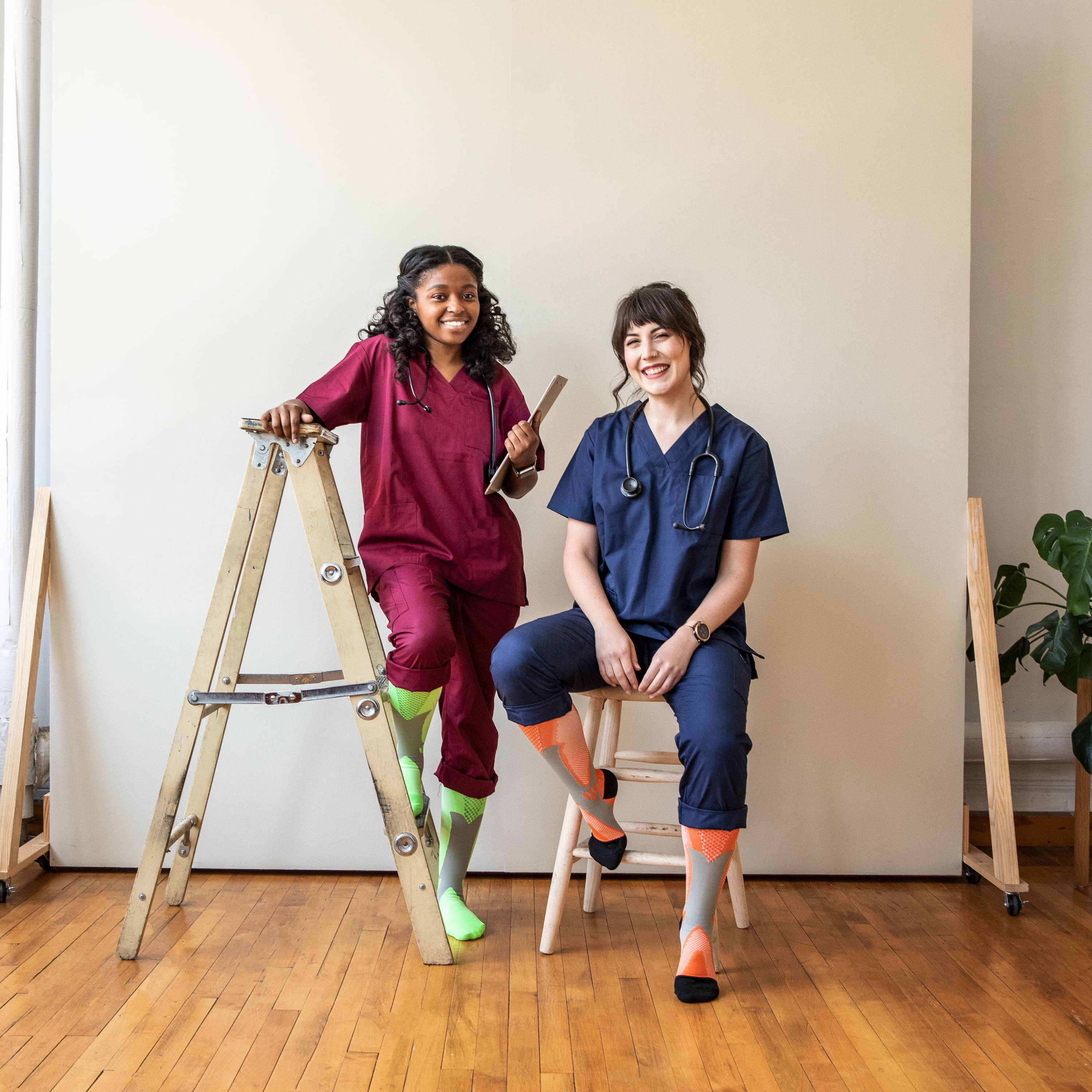 Benefits of Nurse Yard's Compression Socks for Dancers
Nurse Yard's compression socks for dancers allow blood to flow freely throughout the legs and toward the heart, preventing clotting and vein insufficiencies.

Our socks reduce swelling in the legs and ankles, so you're not aching and distracted when trying to show off your moves.

Nurse Yard's compression socks alleviate soreness and fatigue, so you can dance for longer and feel more rested the next day.

Staying on your feet as a dancer is essential, and our enhanced arch support helps you keep moving for longer periods of time.

Our knitted top keeps your socks from slipping, so you don't have to stop a routine just to pull them up.

Our premium, breathable design means these compression socks last longer and feel more comfortable than any brand you've owned in the past.

The graduated pressure of our compression socks provides a supportive and comfortable fit throughout your whole leg without being too tight or too loose.
Love, Love, Love !! 💗
FORMER thigh hi compression stocking girl because all knee highs dug into my knees and feet. Well …. Let me tell you something. These compression socks are absolutely amazing !! I bought 2 pair to try them out and after two days, I purchased four more pairs !! One of each color for each day of work so that the wear and care is equal. And I think what I love the most is that not only my legs but my feet …. Yes my FEET are no longer throbbing at the end of the day !!!! Enough said !! They are the bomb !!
Happy Legs
Wasn't sure at first about buying them. Took me a few times looking and then I said what the heck and got 2 pair. I have to say they do what they claim to do no doubt on that. My legs feel very energetic, do not hurt what so ever. Very supportive in the arch and the circulation throughout the day is consistent. They are light weight and i have forgotten I had them on even after 12+ hrs. I have another brand and they do not do what these do. My ankles were always swollen and my legs always hurt and it always felt like it was cutting into my legs at the top. These do not do that at all. I am impressed all the way around and will be ordering more in the coming weeks. I work in the ER so it's constant moving. All I can say is try em out. Either you'll like them or you won't.
Excellent Customer Service!
I really like these socks. I had an issue with one pair, though. However, when I contacted customer service, I received immediate help and the issue was resolved on the spot! I will be a life-long customer I'm sure.
Actually worked!
I was a skeptic and figured these socks would be like every compression sock I've bought. I was wrong! Usually after a 12 hour shift in my compression socks, my feet feel tired and feel like they want to burst out of my shoes. There is almost always swelling when I finally take off my shoes. I decided to give the nurse yard compression socks a try because I had nothing to lose at that point. I noticed an instant difference. End of shift my feet felt like I hadn't even walked on them. My feet and legs weren't tired and there was no swelling. Best decision I've made. I plan to buy more and would definitely recommend.
WOW
Not a nurse, I'm a cashier. Best purchase I've ever made, literally has saved my life ❤️
Made a world of difference!!
I purchased these for my husband he experiences swollen feet and poor circulation. He is also often on his feet. He comes home daily with achy feet. First day he wore the Nurse Yard socks he said , "my feet feel so much better". We have since purchased socks for our family members and we ourselves own about 10 pair. We love them!!!!
These Lil piggy's
Omg the sock a wonderful. I work in dialysis 15-16 hours shifts. No more tired feet achy legs. Go home shower and rest with out having to rub my legs and feet. Definitely worth a try.
I love these socks
My legs and feet aren't sore anymore after a shift. I only bought 2 pair but I'm definitely planning another order soon! I have to admit I wasn't totally sold but after my first day I told everyone I work with! Now a few weeks later they are still awesome!