*Automatic discount! To claim your special offer,
add 2 or more pairs to your cart
and your price will be adjusted automatically at checkout*
Please refer to this sizing guide to choose your best fit: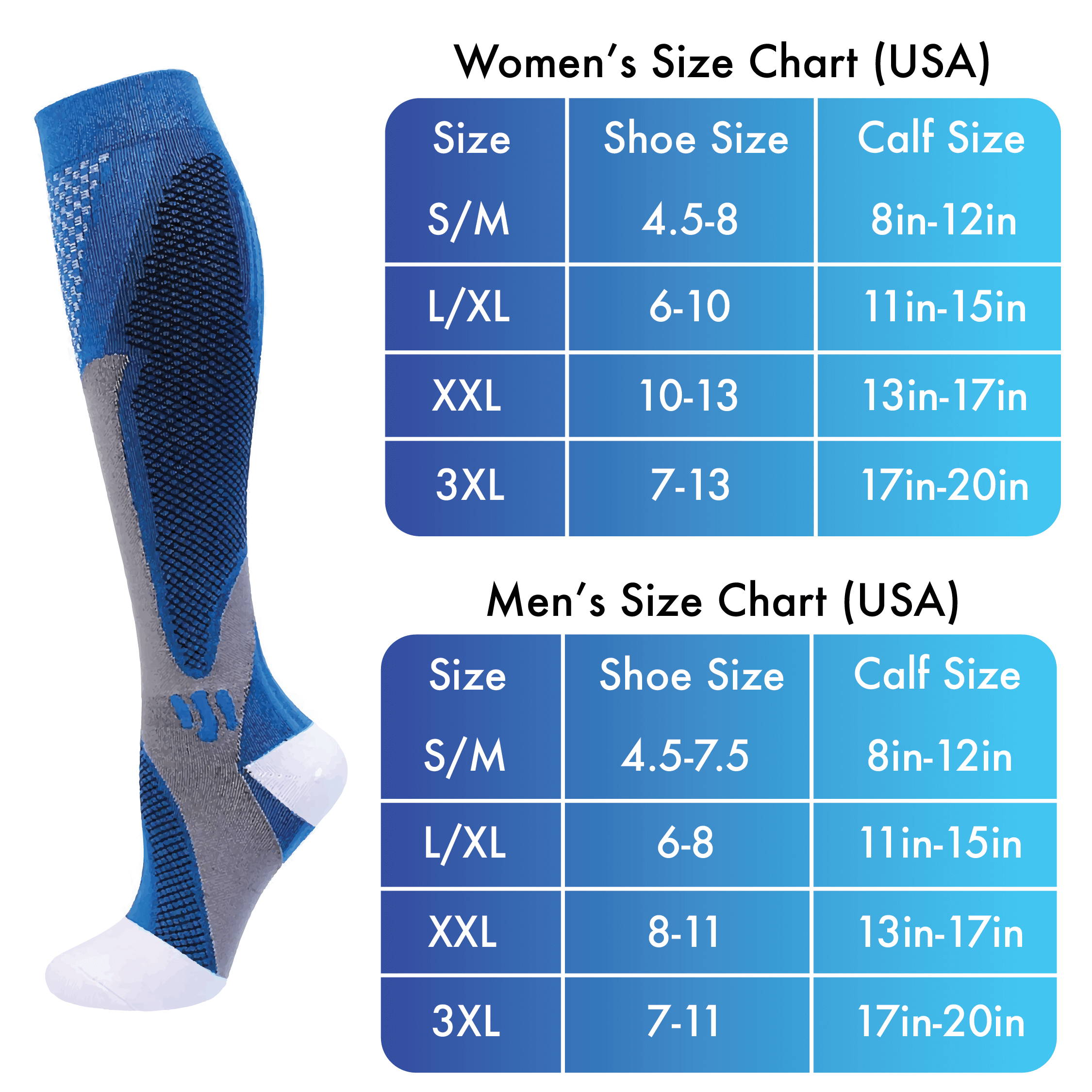 Compression Socks for Runners
Your socks should not be what you're thinking about while running. That's why Nurse Yard designed our compression socks for runners to provide continuous support in the areas you need it most while staying in place.
When you're wearing Nurse Yard's compression socks for running, you'll be able to focus on your form and breathing and not your uncomfortable socks.
Some benefits of our compression socks for runners include:
Consistent, graduated compression to your ankle and calf

Gentle support for your arches to prevent strain

No-slip liner, so you won't have to adjust them constantly
The best part is our socks come with a risk-free 60-day guarantee. Wear our running socks for 60 days to see if they work for you. If you don't like them, return them for a full refund.
How Our Compressions Socks for Runners are Different
Runners' biggest complaints about their compression socks are they're either too tight or fall down. We've solved them with our wave design knit pattern. This style of knitting is just snug enough to stay in place without feeling restrictive or binding. It's also long-lasting, making them easy on your wallet and on your feet.
We've also added cushioning in all the right places to protect your ankles, the back of your heel, and the pressure points on your feet from rubbing. You can't run on blistered feet, and you won't have to try with Nurse Yard's compression socks for runners.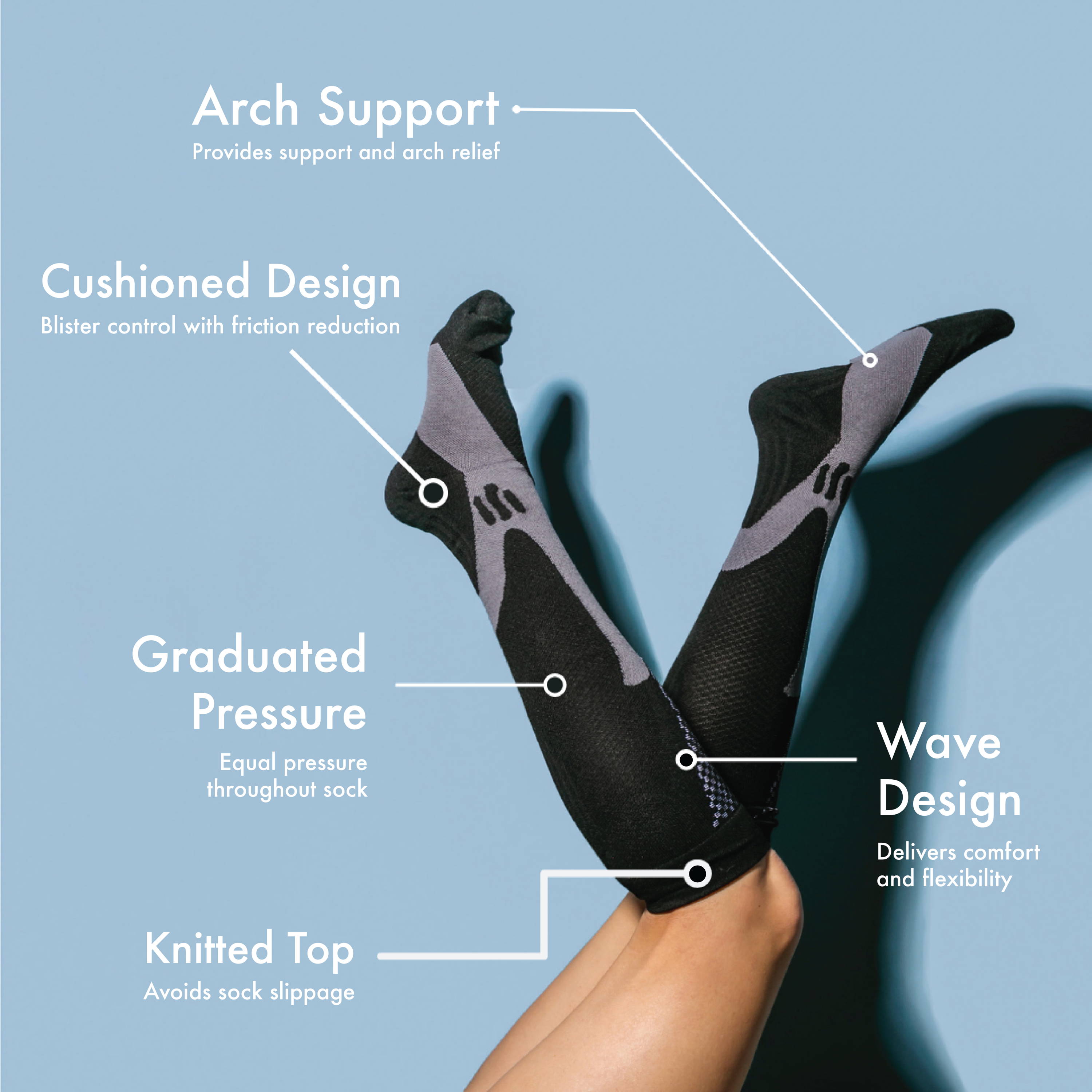 Risk Free 60 Day Guarantee
We proudly stand behind our product, which is why we offer a lengthy guarantee.
If for any reason you are not fully satisfied with your purchase, return it within 60 days of your purchase for a full refund.
20-30 mmHg of graduated pressure. The perfect balance of compression... Not too tight, yet not loose! The ideal amount of support.
Our socks are made of 80% Nylon + 20% Spandex. Recommended to air dry to prevent shrinkage and for a longer lasting sock. Wash cold. No fabric softener.
Frequently Asked Questions
What do compression socks do for runners?
Running creates a rhythm of vibration through the foot and up the leg that, over time, can cause sore joints, swelling, aching muscles, and exacerbate conditions like plantar fasciitis.
Compression socks for runners cushion the ankle and foot to prevent chafing, support the arch to alleviate acute and chronic pain and encourage circulation to relieve and prevent muscle fatigue, inflammation, and varicose veins.
What is the design hack of a Nurse Yard compression sock?
Our design hack refers to the special care we used in designing these compression socks for runners. We balanced comfort with utility by incorporating the following features into our socks' design:

Roomy toes to prevent chafing

Comfortable, supportive arches

Cushioned ankles for all-day comfort

Wave-shaped knit for graduated compression

No-slip cuffs to keep your socks in place
What size compression sock do I need?
Your sock size is based on your usual shoe size plus your calf measurement. For instance, if you usually wear a women's size 7 shoe and the widest part of your calf measures 12 inches, our women's S/M or L/XL will fit you best.
To measure your calf, wrap a flexible measuring tape around the widest part of the muscle. The tape should touch the skin without making an indent.
If you're between sizes, please note that larger sizes have more room in the foot, so it's best to size down if you want a more form-fitting compression sock.
Does Nurse Yard provide different colors and sizes of compression socks?
Yes! We believe self-expression and pain-relief aren't mutually exclusive, so we offer compression socks for runners in the following colors in men's and women's sizes:
Black: black and gray design

White: white and gray design

Blue: blue and gray with white toe and heel

Pink: pink and gray with white heel and toe

Green: green and gray design

Orange: orange and gray with black toe and heel
How tight are compression socks?
Our compression socks are designed to provide graduated pressure to provide even support from calf to toe. The pressure is tight enough to provide pain relief and prevent slippage but light and comfortable enough to wear all day.
Where does Nurse Yard ship from?
Nurse Yard ships our no-slip, supportive compression socks from Phoenix, AZ.
How long will Nurse Yard shipping take?
Shipping typically takes between 3 and 5 days, depending on where you're located in relation to our shipping location. Don't worry about long shipping times driving up prices—shipping is free!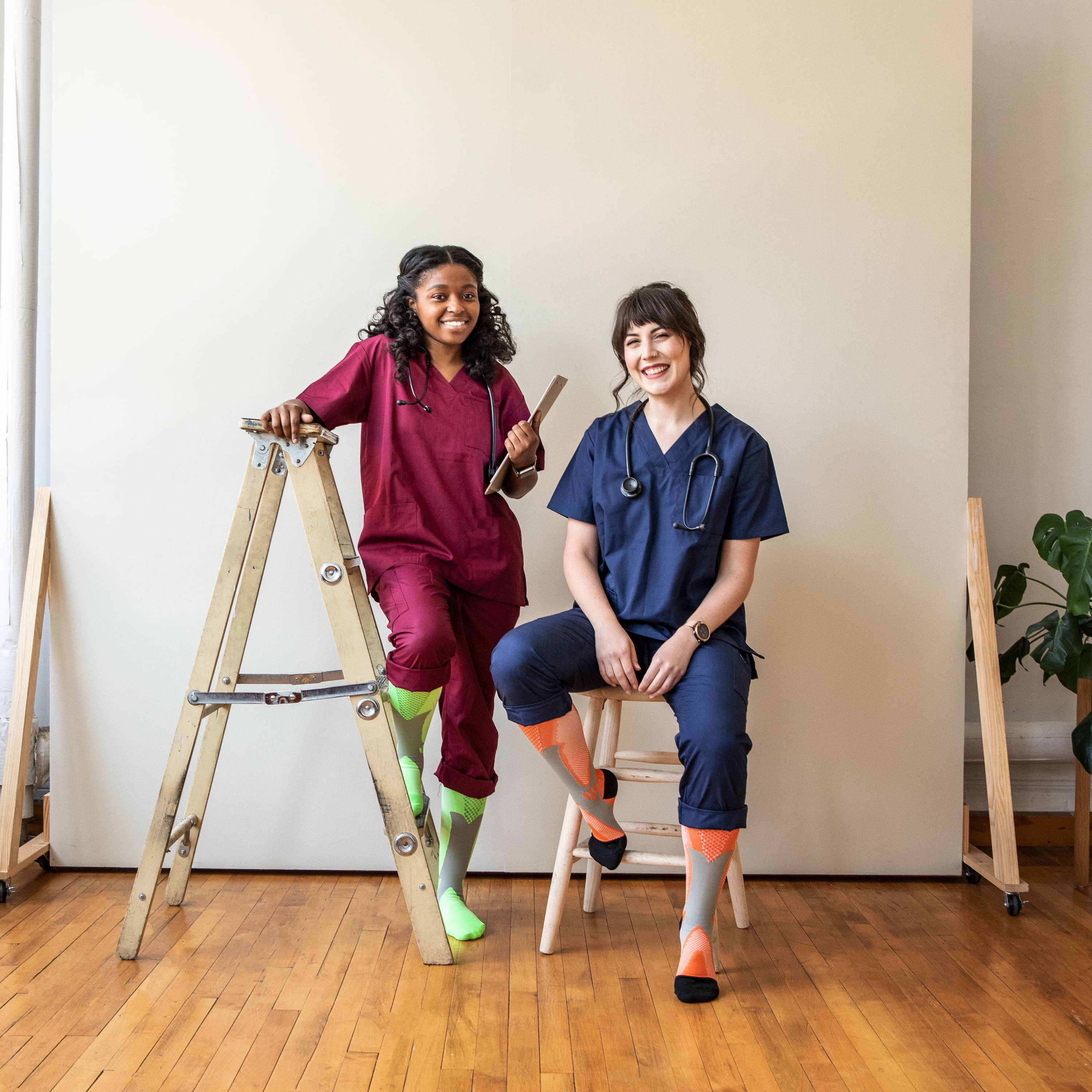 Why Wear Compression Socks as a Runner?
You risk developing blisters, infections from trapped sweat, swollen feet and legs, and sore joints when you run in regular socks.
Nurse Yards' compression socks for runners tackle each of these problems head-on, providing firm-yet-gentle compression for increased circulation and reduced inflammation, moisture-wicking material to keep your feet cool, and light cushioning against impact chafing to support your joints from toe to hip.
I love my Nurse Yard Compression Socks
I have literally struck a gold mine with my NurseYard compression socks! My legs feel great at the end of my 12 hour shift! I just need them to come in more colors!
The best socks ever!
These compression socks have literally saved me! I now wear them every day. My ankle swelling is gone, leg pain is gone, joint pain is gone. I highly recommend them!
Fantastic
These socks have been a blessing. No more swollen, heavy feeling legs at the end of the day. I would highly recommend. I plan on ordering more. I do wish they'd get the cute patterns back in stock!
Great socks. Amazing customer service!
Love these socks. They feel like a big, warm hug on my calves. There was an issue with my order and it took 1 email and it was fixed! I cannot say enough good things about this company!!
Finally!!
Best socks ever! Really helps with my walking and my legs don't hurt or throb at all. Thanks so much your product rules!!
Absolutely Happy
So many companies say they can do this or that for you but then you are disappointed....Well NOT this company!!!!. Not a nurse but on my feet 8 hours a day. Great for the restaurant industry !!!! I am a believer. NOT ALL compression socks are the same.....Love the different points of pressure!!! Need to purchase more!!!! VERY,VERY HAPPY CUSTOMER!!!!!!!!
Amazingly Awesome!
I bought 2 pair to test out while I heal from achilles tendon surgery. They are comfortable, easy to put on, and they help my feet and legs throughout the day! I am stoked to get more for nursing school next year!!
consistent quality
I purchased a couple of pairs of nurse yard to assess for consistency as some other brands the socks for differently based on color. I was happy to see that the socks fit well and fit was consistent across multiple colors. They definitely make my legs less tired at the end of the day and don't fall down!