*Automatic discount! To claim your special offer,
add 2 or more pairs to your cart
and your price will be adjusted automatically at checkout*
Please refer to this sizing guide to choose your best fit: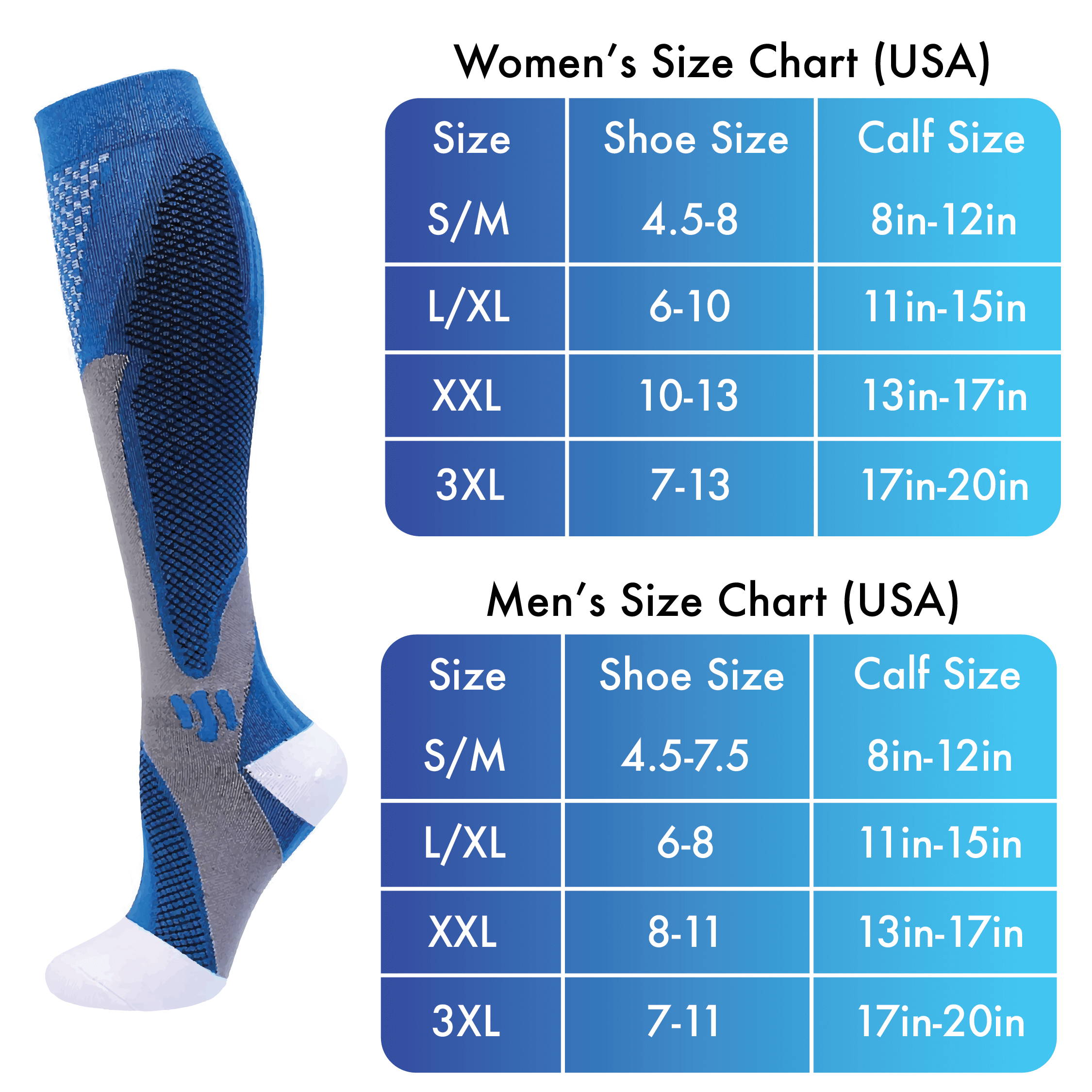 When you're on the golf course shooting for your best game, you want to eliminate as many distractions as possible. Sore legs can be a major hindrance to golfers trying to make their best drive, but a pair of high-quality compression socks can help ensure you have the endurance to make it through every hole with confidence.
At Nurse Yard, our golf compression socks stimulate blood flow and relieve pain from calf to toe. Whether you're playing a casual nine holes with friends or competing for a coveted golfing trophy, our compression socks are here to help you walk up and down the course with ease.
How Are Nurse Yard's Compression Socks for Golfers Different?
The key difference between our compression socks for golfers and other socks you might buy in the store is our 20-30 mmHg compression. This level of compression provides consistent pressure throughout the legs, ankles, and feet, ensuring even blood flow and reduced swelling. Our socks also won't make your legs feel like they're being suffocated. They're so comfortable you may forget you're wearing compression socks at all.
You wouldn't want to use anything less than the best golf clubs, so why would you want anything less than the best compression socks? With Nurse Yard's compression socks for golfers, you can focus more on shooting under par and less on the aches and pains in your feet. Give your golf game an upgrade with Nurse Yard.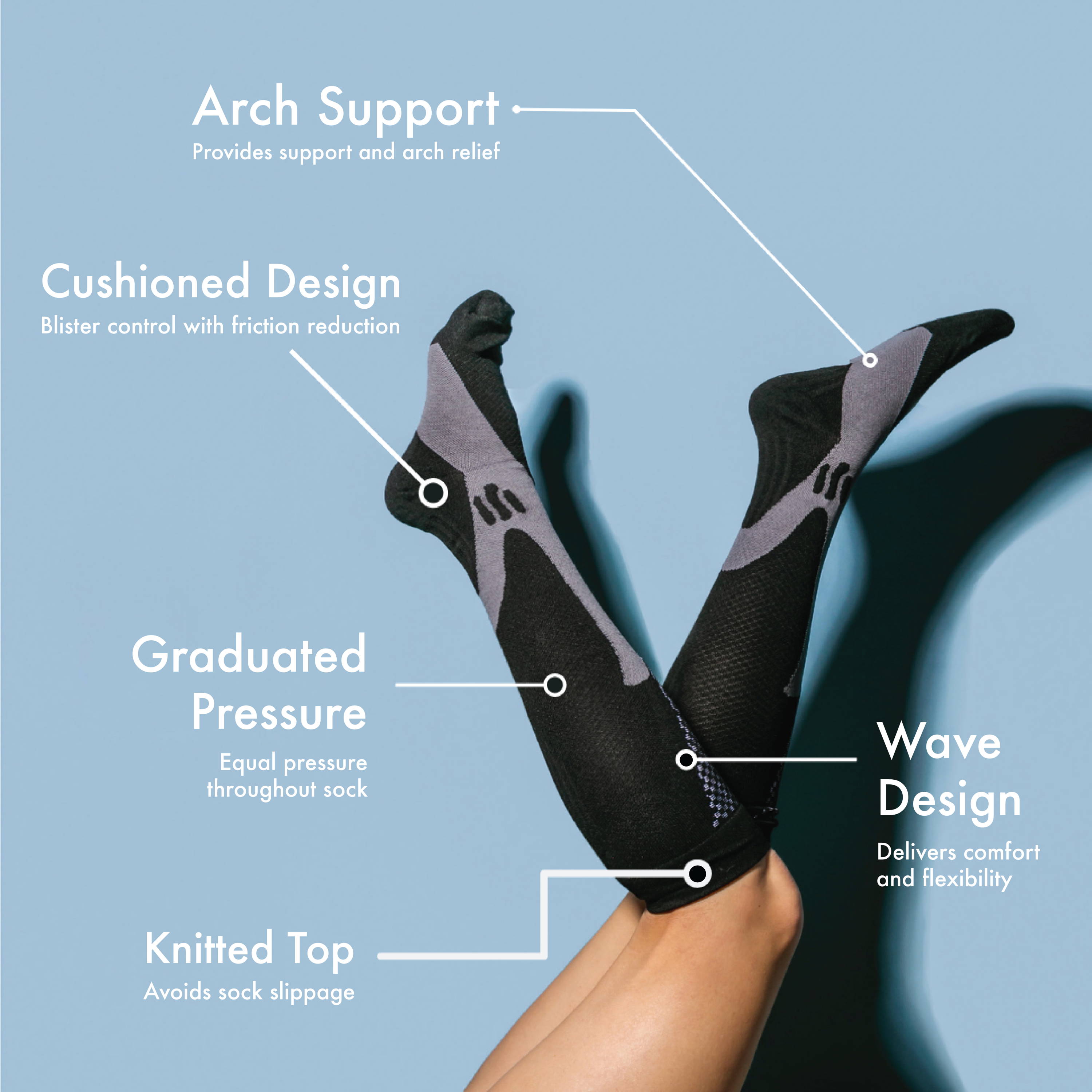 Risk Free 60 Day Guarantee
We proudly stand behind our product, which is why we offer a lengthy guarantee.
If for any reason you are not fully satisfied with your purchase, return it within 60 days of your purchase for a full refund.
20-30 mmHg of graduated pressure. The perfect balance of compression... Not too tight, yet not loose! The ideal amount of support.
Our socks are made of 80% Nylon + 20% Spandex. Recommended to air dry to prevent shrinkage and for a longer lasting sock. Wash cold. No fabric softener.
Frequently Asked Questions
How Can Compression Socks Help Golfers?
Nurse Yard's compression socks for golfers are your answer to swollen ankles and sore feet. By applying consistent pressure throughout the legs and feet, our compression socks ensure even blood flow to prevent aching and relieve soreness. So when you're taking swings and walking through the irregular terrain of your golf course, you'll be able to finish the day with minimal discomfort.
What is Nurse Yard's Compression Sock Design Hack?
At Nurse Yard, our secret to better golf compression socks starts with our dedication to your comfort. From enhanced arch support to our non-slip cuffs, we've ensured nothing gets in the way of you and a satisfying round of golf.
Other design qualities that make our compression socks the best for golfers include:
Extra toe room for breathability

Moisture-wicking material

Cushioned ankles

Wave-shaped knit for consistent compression
What Size Compression Sock Do I Need?
To find the best compression sock size for you, please refer to the sizing guide below. For the most accurate and comfortable fit, measure around your calf with a tape measure and select the corresponding size.
This size chart strives to account for all body types. If you are unsatisfied with how your golf compression socks fit, please contact Nurse Yard, and we can begin the exchange process.
If you have personal preferences on how you like your compression socks to fit, please consider them when selecting your size. If you like more room in the foot, for example, you may prefer larger sizes. If you prefer a slightly tighter fit, you may want a size smaller than you usually wear with other socks.
Does Nurse Yard Have Different Compression Sock Colors & Sizes?
At Nurse Yard, we want you to feel comfortable and stylish in our golf compression socks. We offer four sizes and six colors for our socks, so you can choose the combination that suits you best.
Our compression socks for golfers come in the following sizes:
Our golf compression socks come in the following colors:
Black

White

Blue

Pink

Orange

Green
How Tight Are Compression Socks?
We understand better than anyone the struggles of finding a compression sock that fits just right. Some are so tight your legs feel like they're in a vice, while others are so loose you might as well be wearing tube socks. Our compression socks for golfers fit just tight enough to relieve swelling and prevent aching in your legs and feet, so you can get the support you need without feeling constricted.
Where Does Nurse Yard Ship From?
Nurse Yard is located in Phoenix, AZ, and we proudly ship all orders from our local USPS.
How Long Does Nurse Yard Shipping Normally Take?
Shipping from Nurse Yard typically takes between 3-5 business days.
Due to the strain on USPS, some orders may experience increased shipping times. These delays may cause your order to arrive within 5-10 business days.
Our team is working around the clock to fulfill orders so you can wear your compression socks on the golf course as soon as possible. We value your patience and support during these challenging times.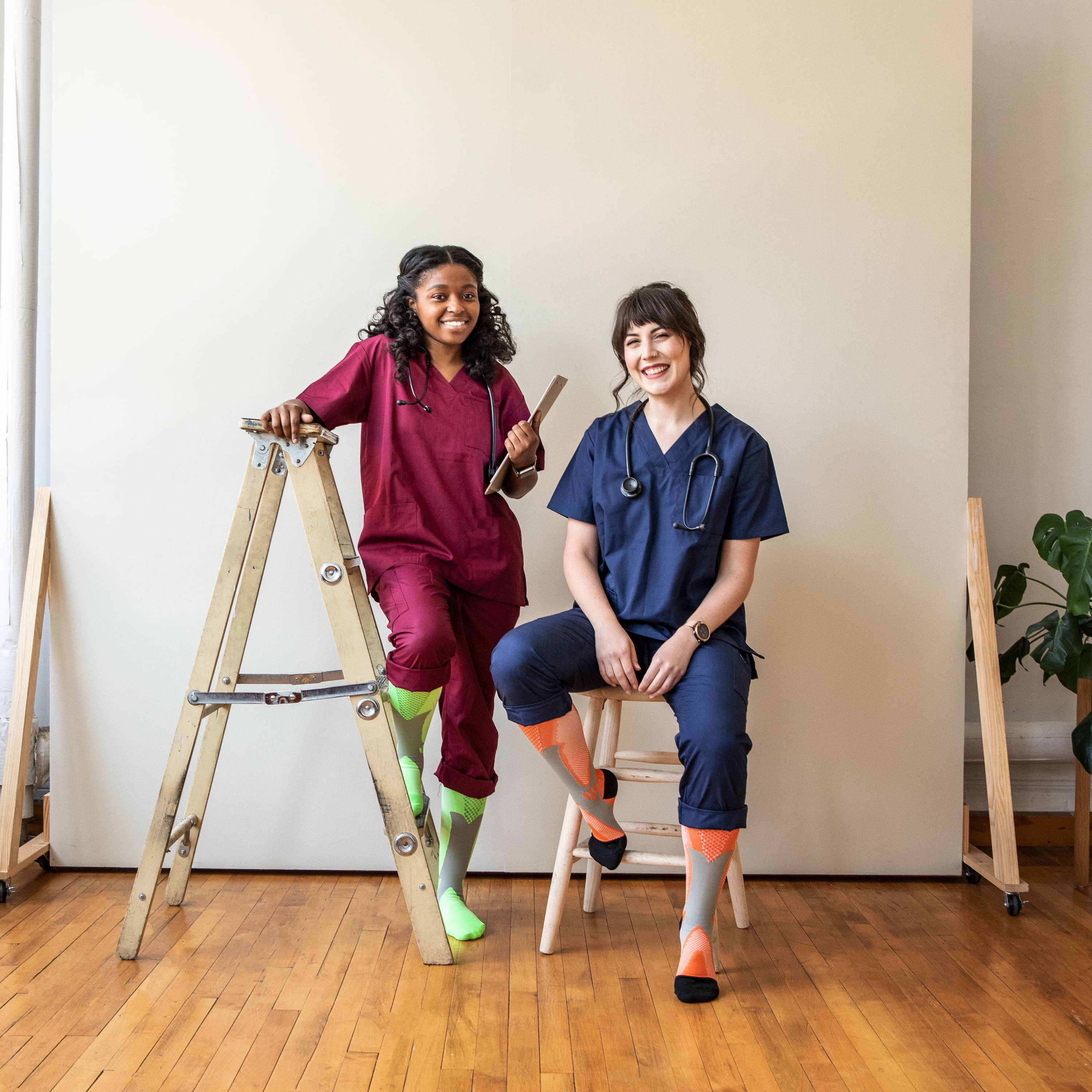 Benefits of Nurse Yard's Compression Socks for Golf
Nurse Yard's compression socks for golf stimulate blood flow throughout the legs and feet, preventing swelling and clotting.

Our socks reduce aching in the legs and ankles so you can feel energized and comfortable on the golf course for longer.

Our compression socks relieve soreness while you golf, so you can enjoy less fatigue in the days after.

Our enhanced arch support helps you stay on your feet with minimal discomfort, so you don't have to rest as much between holes.

We've incorporated a knitted top to our socks that keep them up on your legs throughout the day. That way, you don't have to stop to pull them up all the time.

Durability and comfort are key at Nurse Yard. That's why we use the strongest and most breathable fabrics for our compression socks. You won't have to worry about buying a new pair of compression socks for a very long time.

Our graduated pressure design provides the comprehensive support you need without feeling too tight or loose.
Happy legs and feet!
I absolutely love my socks. My ordered arrived quickly! The packaging was amazing!
I feel secure and my legs and feet feel more lively.
I only wish more colors were available in my size. I was only able to order black and the pink/white.
OMG, The Best 👌
I am so happy that I ordered this socks, I had a blood clots in my leg long time ago and since then my leg swells all the time that I walk or I am standing for a long time, but since I started to wear those socks I feel so good, not pain or swelling at all, Thank you so much, God bless you.
5 pairs and counting plus 2 pairs for husband
2/2/2023 These socks felt and fit great from the moment I put them on my feet. My husband even said he'd like to try them—imagine that!
I do enjoy wearing these socks much more than the medical prescription compression socks: they stay up, they retain the compression, easy care instructions, and a bonus of keeping my husband's feet warmer.
The challenges: The pain in our feet and legs was reduced, but did not disappear completely for either of us. And a design issue I'd like to have is more compression in the ankle (beginning at the ankle bone and above). And maybe add a light beige colored sock?
Thank you everyone involved through the various stages of getting these socks off to market and helping so many people find relief for the pain in their feet and legs. 😊
Phenomenal
I have tried so many different types of compression socks but these are a notch above no other kind will ever compare! I have converted my husband to wearing them after I insisted he try a pair of mine we have ordered several more pairs so we each have several! I work as a nurse on 12hr shifts and these make it bearable so much pain relief and comfort and they are made like cotton socks not a sweaty slick material. Can't rave enough on how life changing these socks are!
CNA
These are my first compression socks and they have really made a difference during those long shifts. They do minimize the pain and are comfortable throughout the day. I will definitely be buying more.
Truly a support for bedside nurses
Wearing nurseyard compression product is like being an energizer bunny. You just keep on going, no soreness nor pain after a grueling 12 hours of bedside work. It offers great support and the colors are vivid and pleasing to look at. It's a plus!
Very pleased!
I was so pleased these socks performed as advertised! I have started getting varicose veins, so I thought I'd give the socks a try. Even spending long hours standing on concrete at dog shows, followed by long car rides, my legs do not ache! I followed the tutorial, and had no trouble putting them on. I swear I felt a definite spring in my step!
64 yr old Tech wears em too!
4 years ago, I ended up in the Emergency Room at a major university teaching hospital with double pulmonary embolisms caused by blood clots in my left leg. After 9 days I was released on a daily blood thinner. That episode led to 2 more double pulmonary embolisms and treatment at another major university teaching hospital. It was after the 3rd episode I took my health more serious. I require 20mmHg compression and I believe I have found it in the Nurse Yard stockings. I've tried other brands but after a few months of wear the material begins to tear/rip and I have to discard the socks. With Nurse Yard, the material is more flexible than other brands offering the same compression and comfort. At the age of 64, I'm a Field Service Technician working 12 hours a day, 4-5 sometimes 6 days a week. I'm walking a minimum of 11,000 steps per day, so I need leg support. I believe without a doubt I have found it in the Nurse Yard stockings. I wear compression socks every day. I encourage anyone who sits long hours or works on their feet long hour a day to please consider Nurse Yard compression stockings.