*Automatic discount! To claim your special offer,
add 2 or more pairs to your cart
and your price will be adjusted automatically at checkout*
Please refer to this sizing guide to choose your best fit: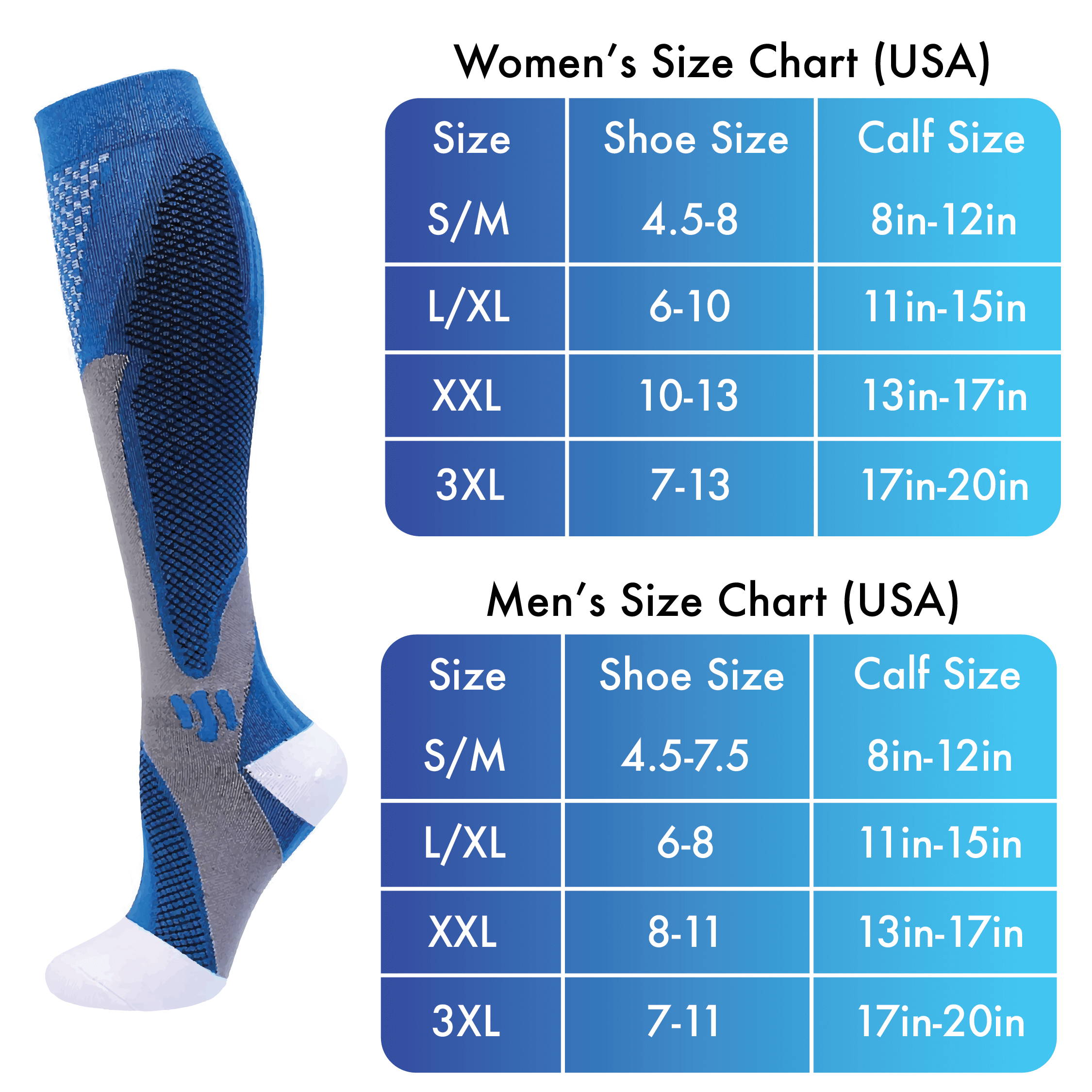 How Nurse Yard's Hiking Socks Differ
Most compression socks don't provide the support hikers and other people who live an active lifestyle need. At Nurse Yard, we tailor the design of our compression socks for hiking to provide comprehensive comfort and support from calf to toe.
Beginning with our 20-30 mmHg compression, our hiking socks deliver consistent pressure throughout the leg. You also won't feel like your legs are being suffocated when you wear compression socks.
In fact, you may forget you're wearing compression socks at all!
Our graduated compression socks for hiking provide pain relief like you've never experienced. Your body and mind will feel the difference while you hike, allowing you to take in more sights and worry less about your legs.
How many socks have you worn that can do the same?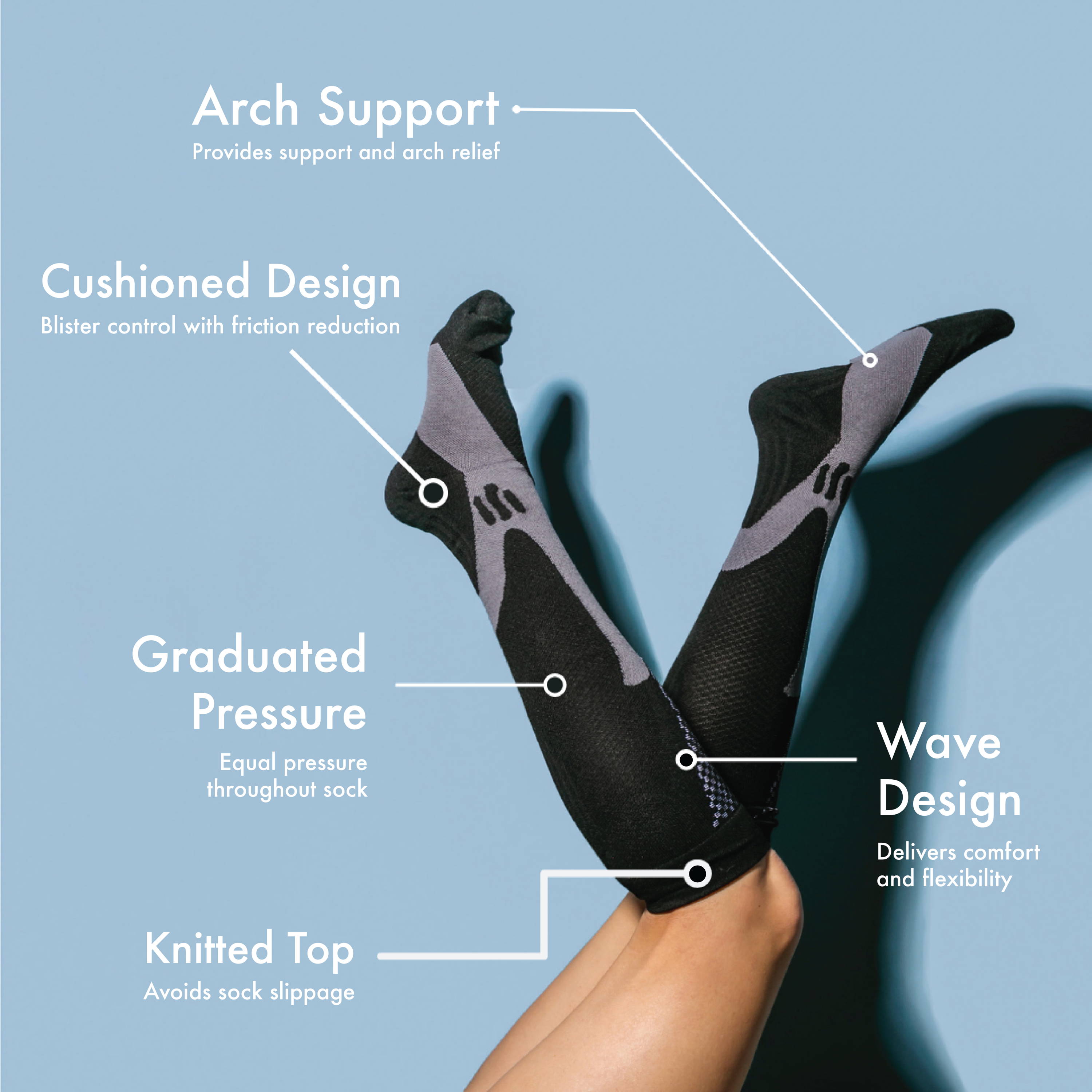 Risk Free 60 Day Guarantee
We proudly stand behind our product, which is why we offer a lengthy guarantee.
If for any reason you are not fully satisfied with your purchase, return it within 60 days of your purchase for a full refund.
20-30 mmHg of graduated pressure. The perfect balance of compression... Not too tight, yet not loose! The ideal amount of support.
Our socks are made of 80% Nylon + 20% Spandex. Recommended to air dry to prevent shrinkage and for a longer lasting sock. Wash cold. No fabric softener.
Frequently Asked Questions About Compression Socks For Hiking
How Do Compression Socks Help While Hiking?
Compression socks are your answer to sore legs while hiking. By applying consistent pressure throughout the legs and feet, compression socks allow for even blood flow and blood circulation. This helps you hike for longer and finish your adventure with minimal discomfort.
What is Nurse Yard's Design Hack for Compression Socks?
Nurse Yard's design hack for the best compression socks for hiking comes from how we prioritize structure and support. From the roomy toes to the comforting arch support, we've ensured every part of our socks meets the highest quality standards and fits perfectly in your hiking boots.
No more worrying about heavy, achy legs. Complete your hikes with more energy, less pain, and greater happiness than ever before thanks to the best hiking compression socks on the market
How Do I Determine What Size of Compression Socks to Wear?
Please refer to the sizing guide below to choose your best compression sock size. For the best fit, measure around your calf with a tape measure and choose accordingly.
This size chart does its best to account for all body types. If you are unhappy with how your compression hiking socks fit, please reach out to Nurse Yard, and we can begin the exchange process.
It's important to note that your ideal sizing depends on how you prefer compression socks to fit. If you like more wiggle room in the foot and toe area, you may prefer larger sizes. If you prefer a tighter fit with thick socks, you may want to size down.
Does Nurse Yard Offer a Variety of Sizes & Colors in Compression Socks?
At Nurse Yard, we value style just as much as we value comfort. We offer four different compression socks sizes and six different colors so you can find the pair to keep you comfortable and fashionable all at once.
Our sizes include:
Our compression sock colors include:
Black

White

Blue

Pink

Orange

Green
Are Compression Socks Really Tight?
Our hiking compression socks are designed to apply consistent pressure throughout your lower legs without making it feel like they're being suffocated. They're just tight enough to relieve aching,swelling, and muscle soreness so you can enjoy your hikes and other activities free from distraction.
Where Does Nurse Yard Ship From?
Nurse Yard is located in Phoenix, AZ, and we proudly ship from our local USPS!
How Long Will Shipping Take from Nurse Yard?
Orders from Nurse Yard typically take between 3-5 business days to be delivered.
Some orders may face delays and increased shipping times due to the pandemic and rising strain on the USPS. While the average delivery time is still 3-5 business days, delays may cause your order to arrive in 5-10 business days.
Rest assured, we are working tirelessly to fulfill all orders. We appreciate your patience and support during these complex times.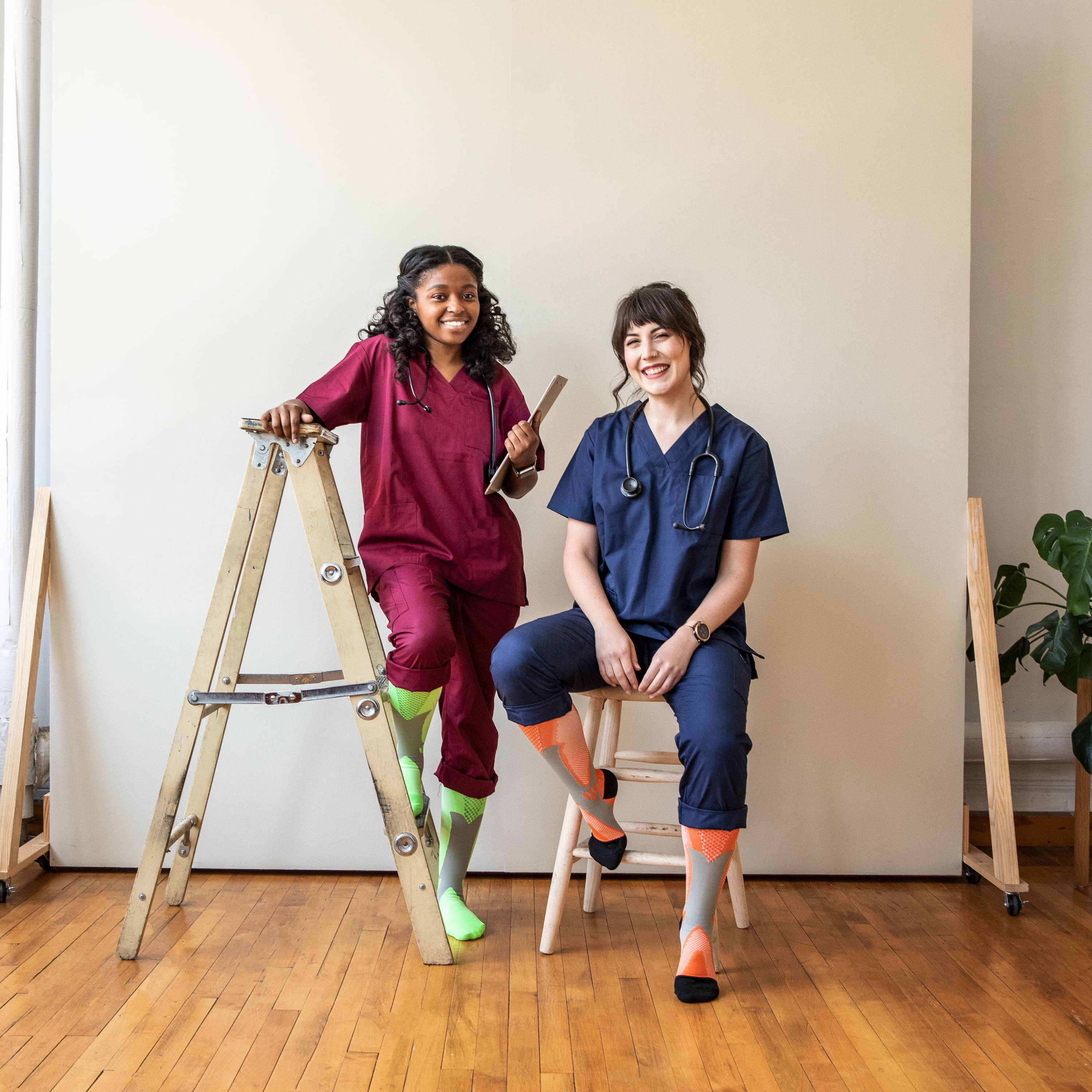 How Nurse Yard's Compression Socks
for Hiking Help
Nurse Yard's compression socks for hiking allow blood to flow freely toward the heart. This helps to prevent blisters, blood clots, and vein insufficiencies like deep vein thrombosis in the process.

They reduce swelling in the legs and ankles, so you're not aching when trying to enjoy nature.

Nurse Yard's compression socks reduce muscle soreness and fatigue, so you don't have to stop and rest as often to combat leg fatigue

Our hiking compression socks provide enhanced arch support so you can feel comfortable on your feet for longer.

Our knitted top keeps your socks up throughout the day, so you don't have to pull them up constantly.

Our compression socks' premium, breathable design means they'll last longer and feel more comfortable than any compression socks you've owned before.

The graduated pressure of our compression socks for hikers provides a snug and supportive fit throughout your whole leg without being too tight or too loose.
LOVE THEM
This is the first pair of compression socks that I can honestly say are comfortable. I am planning to purchase additional socks. Thank you so much,
Hi Patricia, we're thrilled to hear that our compression socks have been the first pair you find genuinely comfortable! Your comfort is our top priority, and we're delighted that our socks have met your expectations. Thank you for choosing us, and we appreciate your plan to purchase additional socks.
Happy Feet & Legs!
I love these socks. I bought 2 pair and once I tried them on, I purchased 2 more pairs right away. They have helped my knees, legs and feet fell so much better during my walks with my dog. We used to go only once a day and now I can go for longer walks and we go twice a day. I sit all day for work as well and having them on even while sitting has made a huge difference. Thanks so much for a great product that really stands up to the hype!
Hi Beth, we're absolutely thrilled to hear how much our socks have improved your comfort and mobility during your walks with your dog and even while sitting at work. Your experience is a testament to the benefits of our product, and we're delighted that you've found them to be so effective. Thank you for your kind words and for trusting our brand.
Leg Worthy
Makes my legs feel great all day at work. No swelling or tired legs at the end of the day now. I have been wearing different kind of compression socks the last 5 years after an injury, and these look and feel great.
Hi Janie, we're thrilled to hear that our compression socks have made a positive difference in how your legs feel throughout the workday. It's wonderful to know that you've experienced no swelling or tired legs at the end of the day while wearing our socks. We appreciate your trust in our product.
Great Socks
I am delighted with these compression socks! They are everything promised. Rather than reviewing all of the usual features, I'll mention my favorite thing about these socks in particular: The room at the toe, both in length and in width. Even with small feet, I enjoy a roomy sock, and these are the real deal. Great support without being impossible to get on.
Hi Amanda, We're absolutely delighted to hear that you're thrilled with our compression socks! Your feedback about the roomy toe area is greatly appreciated, as we aim to provide not only great support but also comfortable and easy-to-wear socks. It's fantastic to know that they've met your expectations and that you find them both supportive and comfortable.
Best compression stockings so far
I have tried numerous compression stockings, and, so far, these are the best made for me so far. No pressure on the toes or heal, with excellent support of foot and calf. Significant decrease in pain at end of day!
Hi Monica, We're delighted to hear that our compression stockings have been the best fit for you among the numerous options you've tried. It's great to know that they provide excellent support for your feet and calves without causing pressure on your toes or heels. Your relief from pain at the end of the day is a fantastic outcome, and we're pleased to have made a positive impact on your comfort.
Love, love, love these socks!
Love these socks!! A nurse friend of mine told me about Nurse Yard compression socks and I'm so glad she did! I've tried other compression socks and they just don't compare to Nurse Yard. My legs are prone to lymphedema and these help to keep it under control! Thank you so much for developing Nurse Yarn, they're the best🙂
Hi Suzanne, We're thrilled to hear that you love our Nurse Yard compression socks and that they've been a valuable addition to your routine in managing lymphedema. It's wonderful that your nurse friend recommended them to you, and we appreciate your kind words about our product. Your satisfaction and positive experience mean a lot to us. If you ever need more socks or have any further feedback, please don't hesitate to reach out. Thank you for choosing Nurse Yard!
compredssion hose
I love them. I have worn them every day since they arrived. Finally I found compression hose that are comfortable and do not slide down my legs.
Thank you for a wonderful product. As a retired OR RN, I can appreciate this item. I wish we had had these when I was still working.
Again, Thank you. I will be ordering more soon.
Nancy Anderson
Hi Nancy, We're delighted to hear that you love our compression socks and that they have provided you with comfort and stability without sliding down your legs. It means a lot to us to receive such positive feedback, especially from someone with your background as a retired OR RN. Thank you for your kind words and appreciation for our product.
Best socks for on feet all day long! Legs don't hurt like they did with out the Nurse Yard socks! Love the gradual compression! The best socks!!
Hi Tara, We're absolutely thrilled to hear that our Nurse Yard socks have made such a positive difference for you during your long days on your feet! It's wonderful to know that your legs no longer hurt as they did before and that you love the gradual compression. Thank you for your kind words and for choosing our socks as the best option for your needs. Your comfort and satisfaction are our top priorities!