*Automatic discount! To claim your special offer,
add 2 or more pairs to your cart
and your price will be adjusted automatically at checkout*
Please refer to this sizing guide to choose your best fit: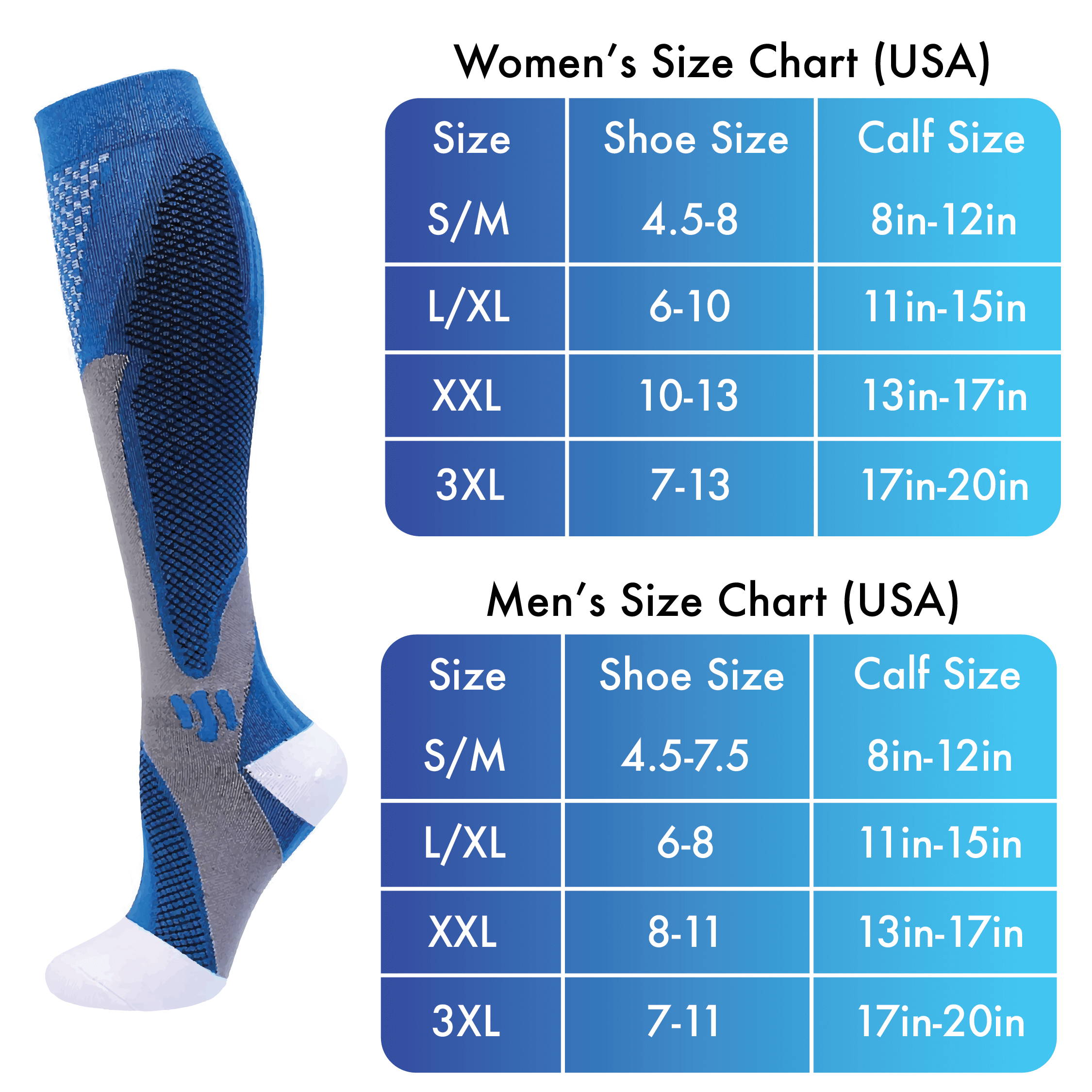 How Nurse Yard's Hiking Socks Differ
Most compression socks don't provide the support hikers and other people who live an active lifestyle need. At Nurse Yard, we tailor the design of our compression socks for hiking to provide comprehensive comfort and support from calf to toe.
Beginning with our 20-30 mmHg compression, our hiking socks deliver consistent pressure throughout the leg. You also won't feel like your legs are being suffocated.
In fact, you may forget you're wearing compression socks at all!
Our socks provide pain relief like you've never experienced. Your body and mind will feel the difference while you hike, allowing you to take in more sights and worry less about your legs.
Nurse Yard's compression socks don't just help hikers. They also help nurses, dancers, teachers, pregnant women, and runners. Our socks also help with neuropathy, shin splints, and exercising.
How many socks have you worn that can do the same?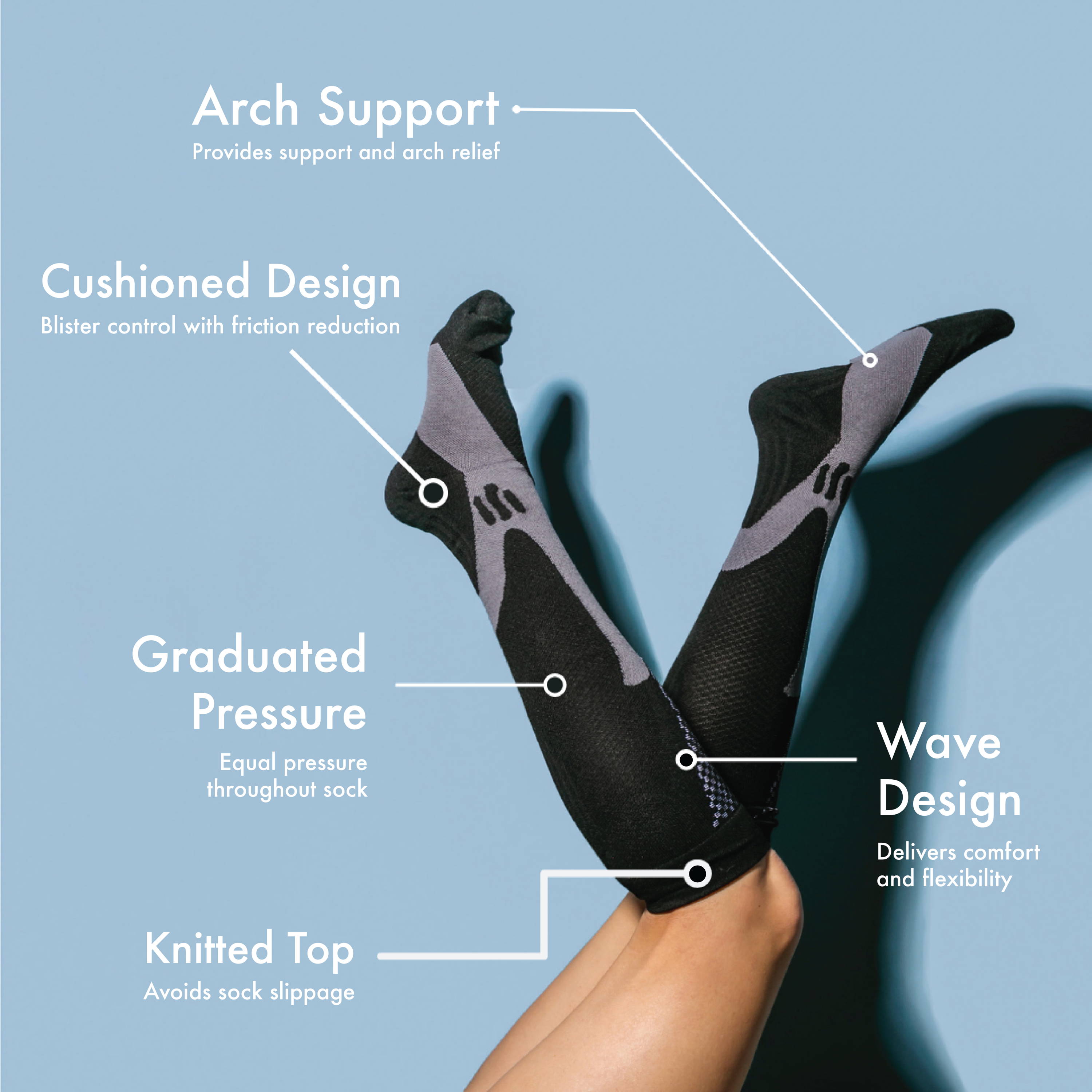 Risk Free 60 Day Guarantee
We proudly stand behind our product, which is why we offer a lengthy guarantee.
If for any reason you are not fully satisfied with your purchase, return it within 60 days of your purchase for a full refund.
20-30 mmHg of graduated pressure. The perfect balance of compression... Not too tight, yet not loose! The ideal amount of support.
Our socks are made of 80% Nylon + 20% Spandex. Recommended to air dry to prevent shrinkage and for a longer lasting sock. Wash cold. No fabric softener.
Frequently Asked Questions
How Do Compression Socks Help While Hiking?
Compression socks are your answer to sore legs while hiking. By applying consistent pressure throughout the legs and feet, compression socks allow for even blood flow while you workout. This helps you hike for longer and finish your adventure with minimal discomfort.
What is Nurse Yard's Design Hack for Compression Socks?
Nurse Yard's design hack for better compression socks comes from how we prioritize structure and support. From the roomy toes to the comforting arch support, we've ensured every part of our socks meets the highest quality standards.
No more worrying about heavy, achy legs. Complete your hikes with more energy, less pain, and greater happiness than ever before.
How Do I Determine What Size of Compression Socks to Wear?
Please refer to the sizing guide below to choose your best compression sock size. For the best fit, measure around your calf with a tape measure and choose accordingly.
This size chart does its best to account for all body types. If you are unhappy with how your hiking socks fit, please reach out to Nurse Yard, and we can begin the exchange process.
It's important to note that your ideal sizing depends on how you prefer compression socks to fit. If you like more wiggle room in the foot and toe area, you may prefer larger sizes. If you prefer a tighter fit, you may want to size down.
Does Nurse Yard Offer a Variety of Sizes & Colors in Compression Socks?
At Nurse Yard, we value style just as much as we value comfort. We offer four different sizes and six different colors so you can find the pair to keep you comfortable and fashionable all at once.
Our sizes include:
Black

White

Blue

Pink

Orange

Green
Are Compression Socks Really Tight?
Our hiking compression socks are designed to apply consistent pressure throughout your legs without making it feel like they're being suffocated. They're just tight enough to relieve aching and swelling so you can enjoy your hikes and other activities free from distraction.
Where Does Nurse Yard Ship From?
Nurse Yard is located in Phoenix, AZ, and we proudly ship from our local USPS!
How Long Will Shipping Take from Nurse Yard?
Orders from Nurse Yard typically take between 3-5 business days to be delivered.
Some orders may face delays and increased shipping times due to the pandemic and rising strain on the USPS. While the average delivery time is still 3-5 business days, delays may cause your order to arrive in 5-10 business days.
Rest assured, we are working tirelessly to fulfill all orders. We appreciate your patience and support during these complex times.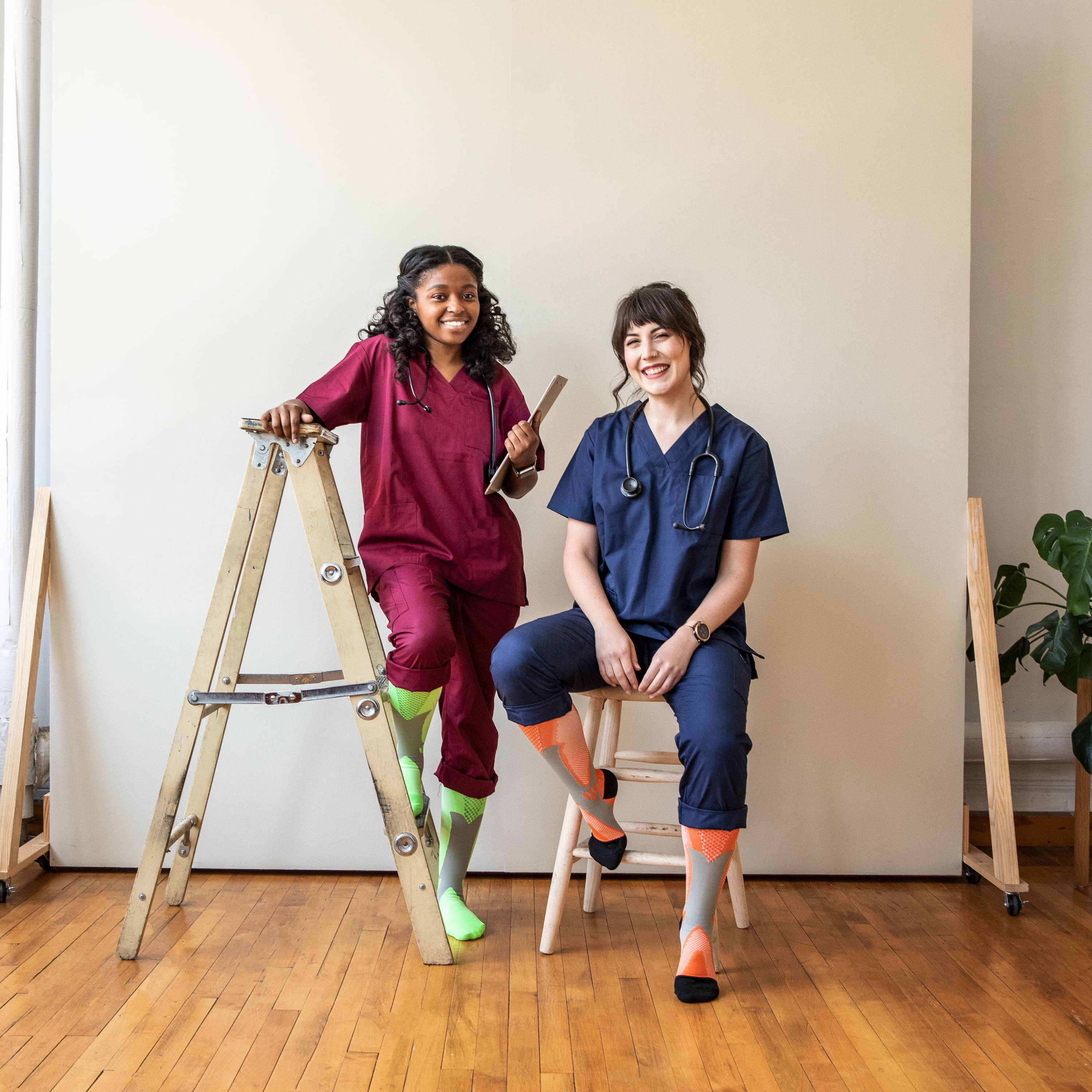 How Nurse Yard's Compression Socks for Neuropathy Benefit You
Nurse Yard's compression socks for hiking allow blood to flow freely toward the heart, preventing clotting and vein insufficiencies in the process.

They reduce swelling in the legs and ankles, so you're not aching when trying to enjoy nature.

Nurse Yard's compression socks alleviate soreness and fatigue, so you don't have to stop and rest as often.

Our hiking compression socks provide enhanced arch support so you can feel comfortable on your feet for longer.

Our knitted top keeps your socks up throughout the day, so you don't have to pull them up constantly.

Our compression socks' premium, breathable design means they'll last longer and feel more comfortable than any compression socks you've owned before.

The graduated pressure of our compression socks for hikers provides a snug and supportive fit throughout your whole leg without being too tight or too loose.
Really comfortable
I've tried other compression socks that were so tight they were unbearable. The ones I got from Nurse Yard give me the support I need without the sensation that a boa constrictor is eating my legs.
Amazing
I work in a factory on concrete floors. I'm constantly in motion during the 12 hour shifts. At the end of the day my feet and legs would be terribly swollen and by the time I got home they hurt so bad I could barely walk. Was considering changing occupations.
Then I saw your socks on Facebook and thought I'd give'em a try, what could it hurt.
WOW! Just WOW!
After just one shift I was amazed how well they worked at reducing the swelling.
The pain was simply gone!
I can now work the entire 12 hour shift pain free. And still be pain free by the time I got home.
I've tried other compression socks that were way to tight or not enough compression, so was skeptical about Nurse Yard socks.
I'm so glad I tried them.
They are the best … ever.
Thank you for a wonderful product.
Love them!
I bought one pair to try and then went back and bought 5 more pairs! Love the colors too😊
Perfect for post surgery
I've had multiple vascular surgies recently and these have helped immensely!! I'm very athletic and wear XXL (5'8, 170lbs, 16in calf, size 11 shoe) while working out ( cardio and heavy weight lifting) and at work. I'm super impressed! No pain, love them!!
Awesome socks!
Helped so much with leg and foot pain. Also the sizing is excellent because I have large calves and was able to order the appropriate size from the size chart. I have already placed my next order.
These are the best compression socks I've ever worn. It is not a struggle to get them on and off, and the socks really do reduce (and prevent) swelling. They are comfort and wash well by hand. They are terrific. Thank you for making such an outstanding product.
Love !!! My legs thank you❤️
Best socks ever!!!
I got the wrong size sent to me, so I contacted support. They were amazing at responding quickly and they fixed my issue! Also, love the socks they don't even feel like compression socks! Absolutely will order again!!