*Automatic discount! To claim your special offer,
add 2 or more pairs to your cart
and your price will be adjusted automatically at checkout*
Please refer to this sizing guide to choose your best fit: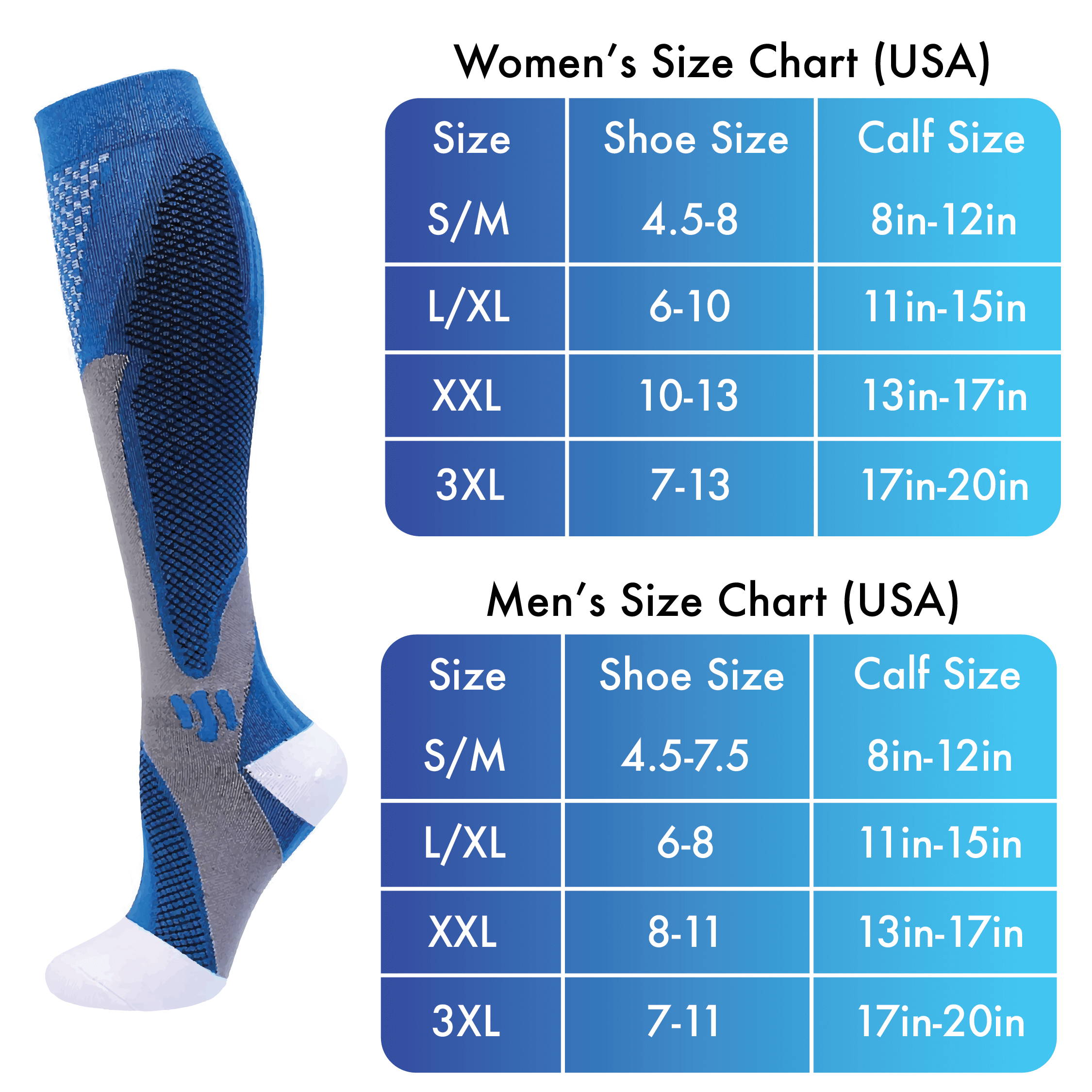 Whether you're pushing toward your next fitness goal or are a nurse constantly on the go to care for your patients, shin splints are the last thing you need. Pain and inflammation only slow you down and make it harder to live your best life. The solution: Nurse Yard's compression socks for shin splints.
Shin splints usually happen because the muscles and tendons around the shinbone are overworked from the pressure and impact of standing, walking, or exercising for long periods. Compression socks provide support during these activities to help improve your circulation, alleviate pain, and reduce inflammation.
Check out Nurse Yard's stylish and affordable selections today to learn how compression socks help with shin splints.
How Are Nurse Yard's Compression Socks Different?
While other compression socks only offer compression, Nurse Yard's socks are made with all of your needs in mind. We understand professionals on the go need more than one avenue of support—you need a total comfort system that lasts all day and beyond.
That's how we created Nurse Yard's design hack—a comprehensive sock design tailored to your needs. We began with a unique wave-knit pattern to provide graduated pressure from ankle to knee, ending in a no-slip cuff so they stay put. Next, we added arch support and cushion around the ankles to protect your instep and joints. Last, we added a little more room in the toes to prevent chafing and allow your feet to breathe.
With Nurse Yard, you get more than a pair of socks—you get total support relief from shin splints.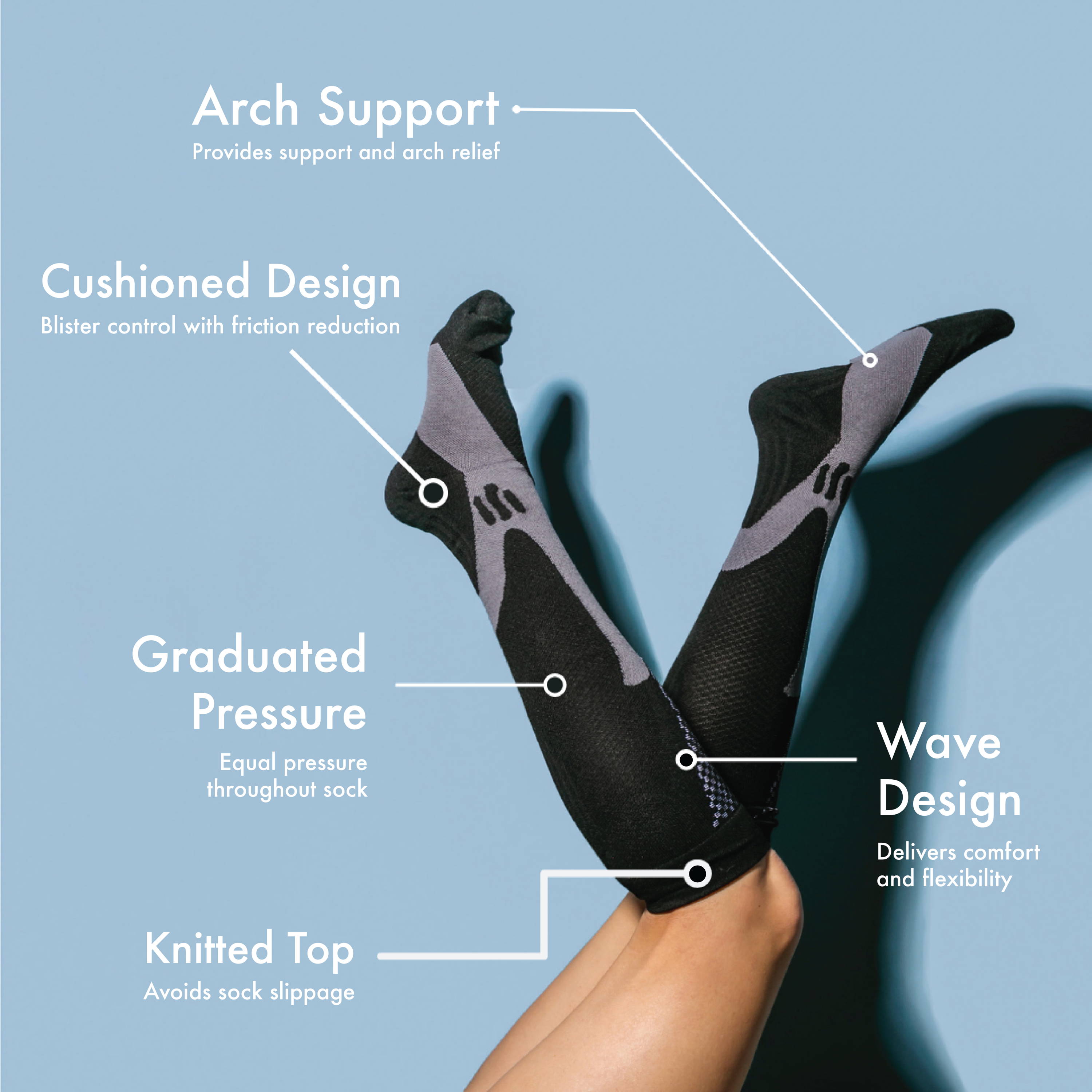 Risk Free 60 Day Guarantee
We proudly stand behind our product, which is why we offer a lengthy guarantee.
If for any reason you are not fully satisfied with your purchase, return it within 60 days of your purchase for a full refund.
20-30 mmHg of graduated pressure. The perfect balance of compression... Not too tight, yet not loose! The ideal amount of support.
Our socks are made of 80% Nylon + 20% Spandex. Recommended to air dry to prevent shrinkage and for a longer lasting sock. Wash cold. No fabric softener.
What causes shin splints?
Shin splints are microtears in the bone and muscle along the shinbone that cause intermittent, chronic pain in your legs.
You can shin splints from the following:
Intense exercise or playing too hard during sports

Repetitive activity (e.g., walking on concrete floors every day)

A sudden increase in the intensity or duration of activity

Improper footwear for flat feet or high arches
With the right care and rest, shin splints are manageable and will heal over time.
Do compression socks help with shin splints?
Compression socks are recommended to prevent shin splints, heal existing shin splints, and prevent them from returning. If you exercise frequently, play a sport, or have to be on your feet for work, wearing compression socks can stop you from getting shin splints in the first place.
If you already have shin splints, compression socks can help them heal by improving blood flow and fluid drainage in the area. This process alleviates pain, speeds recovery, relieves inflammation, and reduces muscle fatigue.
Do compression socks improve performance?
Yes—compression socks can improve physical performance because they help heal shin splints and prevent them from returning. Compression socks for shin splints—like those at Nurse Yard—have a cushioned ankle and graduated compression to improve circulation. This increases blood flow to the injured areas so they heal faster. Compression also reduces inflammation and pain.

Additionally, compression socks reduce muscle fatigue and soreness while supporting your connective tissues, so you can be active for longer with less risk of developing shin splints.
How does Nurse Yard's design hack for compression socks differ?
Nurse Yard created our patented design hack with your convenience and comfort in mind. We understand what it's like to be on your feet all day, so our shin splints compression socks have features focused on protecting your feet, legs, and joints.
These features include:
Roomy, breathable toes to prevent chafing

Comforting arch support

Cushioned ankles

Wave-knit design for graduated compression

No-slip knitted cuff to keep your socks in place
How do I find my compression sock size?
To determine which Nurse Yard compression socks are best for you and your shin splints, you'll need our sizing guide, a flexible measuring tape, and your usual shoe size.
Wrap the measuring tape around the widest part of your calf, making sure it's snug but doesn't dig into your skin. Pair that number with your shoe size to see where you fall on the sizing chart.
For instance, if you wear a women's size 8 shoe and your calf measures 13 inches in circumference, our women's L/XL sock will fit you best. If you're between sizes, please note that our socks have more room in the foot, so you'll want to choose the size that fits your foot better.
What colors & sizes are available in Nurse Yard's compression socks?
We offer our compression socks in men's and women's sizes from S/M to XXXL in a wide variety of colors and styles.
Our CORE series compression socks are always available and come in the following colors:
Black: gray and silver design

White: gray and silver design

Blue: gray design with white toe and heel

Green: gray design

Orange: gray design with a black toe and heel

Pink: gray design with white toe and heel
We're also currently offering our HERO sock collection for those dedicated to science and medicine:
Scrub Life: white with blue details and teal scrubs print

DNA: yellow with multicolored DNA strand print

Ambulance: teal with white ambulance print, orange toe, and heel
All styles are available in every size.
How tight are Nurse Yard's compression socks?
Our compression socks for shin splints offer graduated pressure, starting with 30mmHg of firm compression at the ankle, 25mmHg around the calf, and 20mmHg of moderate compression just below the knee.
They're tight enough to improve circulation and stay in place but not so tight that they're uncomfortable. In fact, they're comfortable enough to wear all day!
Where does Nurse Yard ship from?
All compression socks are shipped from our facility in Phoenix, AX, using USPS.
How long will Nurse Yard shipping take?
Nurse Yard shipping takes an average of 3 to 5 business days, depending on where you're located in relation to our offices in Phoenix, AZ.
Please note that shipping delays due to current events could delay shipping times, placing them anywhere from 5 to 11 business days. We thank you in advance for your patience and understanding.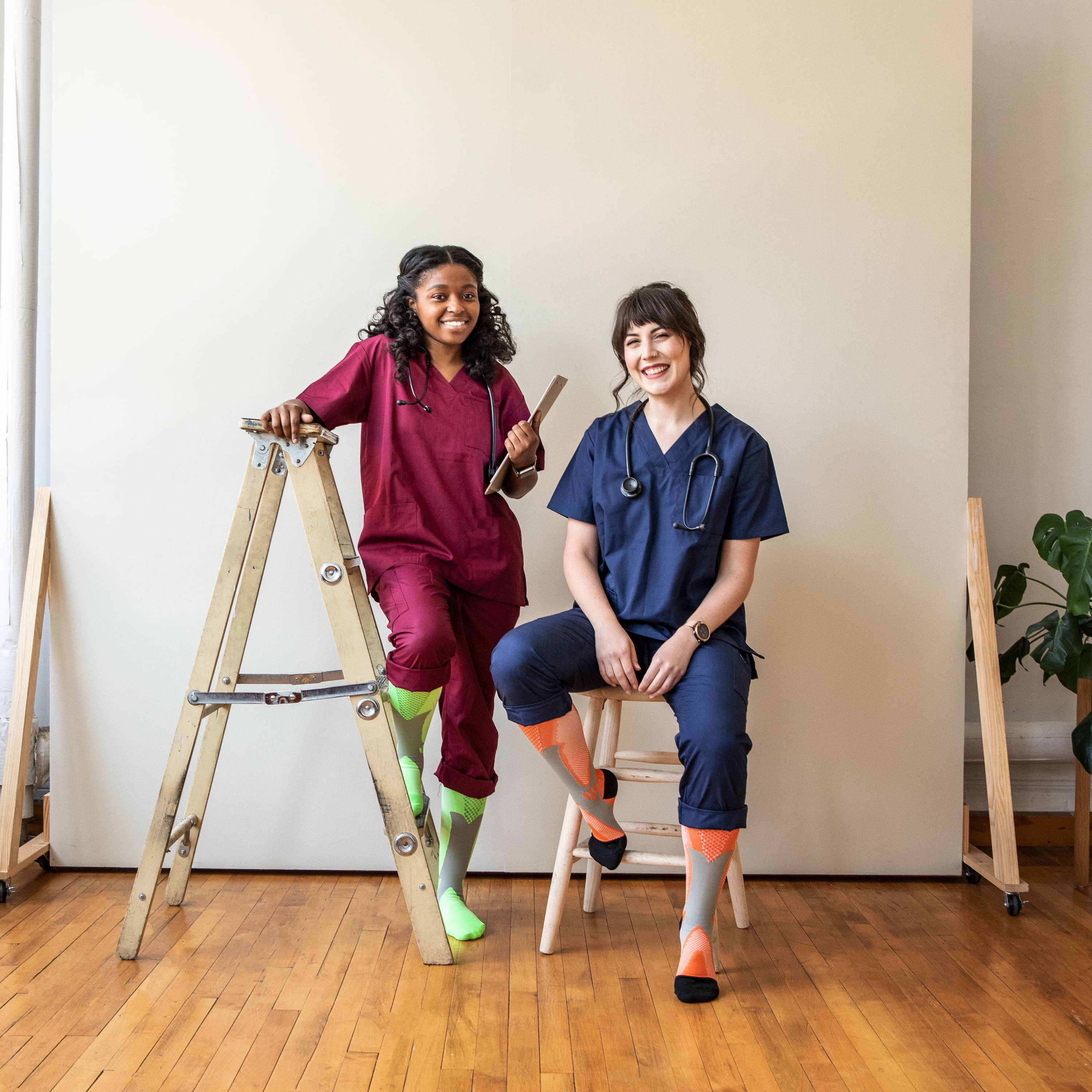 Benefits of Nurse Yard's Compression Socks for Shin Splints
If you need relief from shin splints, Nurse Yard's compression socks are the solution for you. They're designed to provide even, graduated compression from ankle to knee for better circulation and pain relief. The no-slip cuff keeps them in place—no tugging or pulling needed—while cushioned ankles protect your joints and prevent chafing.
Do you want stylish, supportive, all-day pain relief from shin splints? Order your first pair of compression socks today and get 70% off a second pair!
LOVE THEM
This is the first pair of compression socks that I can honestly say are comfortable. I am planning to purchase additional socks. Thank you so much,
Hi Patricia, we're thrilled to hear that our compression socks have been the first pair you find genuinely comfortable! Your comfort is our top priority, and we're delighted that our socks have met your expectations. Thank you for choosing us, and we appreciate your plan to purchase additional socks.
Happy Feet & Legs!
I love these socks. I bought 2 pair and once I tried them on, I purchased 2 more pairs right away. They have helped my knees, legs and feet fell so much better during my walks with my dog. We used to go only once a day and now I can go for longer walks and we go twice a day. I sit all day for work as well and having them on even while sitting has made a huge difference. Thanks so much for a great product that really stands up to the hype!
Hi Beth, we're absolutely thrilled to hear how much our socks have improved your comfort and mobility during your walks with your dog and even while sitting at work. Your experience is a testament to the benefits of our product, and we're delighted that you've found them to be so effective. Thank you for your kind words and for trusting our brand.
Leg Worthy
Makes my legs feel great all day at work. No swelling or tired legs at the end of the day now. I have been wearing different kind of compression socks the last 5 years after an injury, and these look and feel great.
Hi Janie, we're thrilled to hear that our compression socks have made a positive difference in how your legs feel throughout the workday. It's wonderful to know that you've experienced no swelling or tired legs at the end of the day while wearing our socks. We appreciate your trust in our product.
Great Socks
I am delighted with these compression socks! They are everything promised. Rather than reviewing all of the usual features, I'll mention my favorite thing about these socks in particular: The room at the toe, both in length and in width. Even with small feet, I enjoy a roomy sock, and these are the real deal. Great support without being impossible to get on.
Hi Amanda, We're absolutely delighted to hear that you're thrilled with our compression socks! Your feedback about the roomy toe area is greatly appreciated, as we aim to provide not only great support but also comfortable and easy-to-wear socks. It's fantastic to know that they've met your expectations and that you find them both supportive and comfortable.
Best compression stockings so far
I have tried numerous compression stockings, and, so far, these are the best made for me so far. No pressure on the toes or heal, with excellent support of foot and calf. Significant decrease in pain at end of day!
Hi Monica, We're delighted to hear that our compression stockings have been the best fit for you among the numerous options you've tried. It's great to know that they provide excellent support for your feet and calves without causing pressure on your toes or heels. Your relief from pain at the end of the day is a fantastic outcome, and we're pleased to have made a positive impact on your comfort.
Love, love, love these socks!
Love these socks!! A nurse friend of mine told me about Nurse Yard compression socks and I'm so glad she did! I've tried other compression socks and they just don't compare to Nurse Yard. My legs are prone to lymphedema and these help to keep it under control! Thank you so much for developing Nurse Yarn, they're the best🙂
Hi Suzanne, We're thrilled to hear that you love our Nurse Yard compression socks and that they've been a valuable addition to your routine in managing lymphedema. It's wonderful that your nurse friend recommended them to you, and we appreciate your kind words about our product. Your satisfaction and positive experience mean a lot to us. If you ever need more socks or have any further feedback, please don't hesitate to reach out. Thank you for choosing Nurse Yard!
compredssion hose
I love them. I have worn them every day since they arrived. Finally I found compression hose that are comfortable and do not slide down my legs.
Thank you for a wonderful product. As a retired OR RN, I can appreciate this item. I wish we had had these when I was still working.
Again, Thank you. I will be ordering more soon.
Nancy Anderson
Hi Nancy, We're delighted to hear that you love our compression socks and that they have provided you with comfort and stability without sliding down your legs. It means a lot to us to receive such positive feedback, especially from someone with your background as a retired OR RN. Thank you for your kind words and appreciation for our product.
Best socks for on feet all day long! Legs don't hurt like they did with out the Nurse Yard socks! Love the gradual compression! The best socks!!
Hi Tara, We're absolutely thrilled to hear that our Nurse Yard socks have made such a positive difference for you during your long days on your feet! It's wonderful to know that your legs no longer hurt as they did before and that you love the gradual compression. Thank you for your kind words and for choosing our socks as the best option for your needs. Your comfort and satisfaction are our top priorities!