*Automatic discount! To claim your special offer,
add 2 or more pairs to your cart
and your price will be adjusted automatically at checkout*
Please refer to this sizing guide to choose your best fit: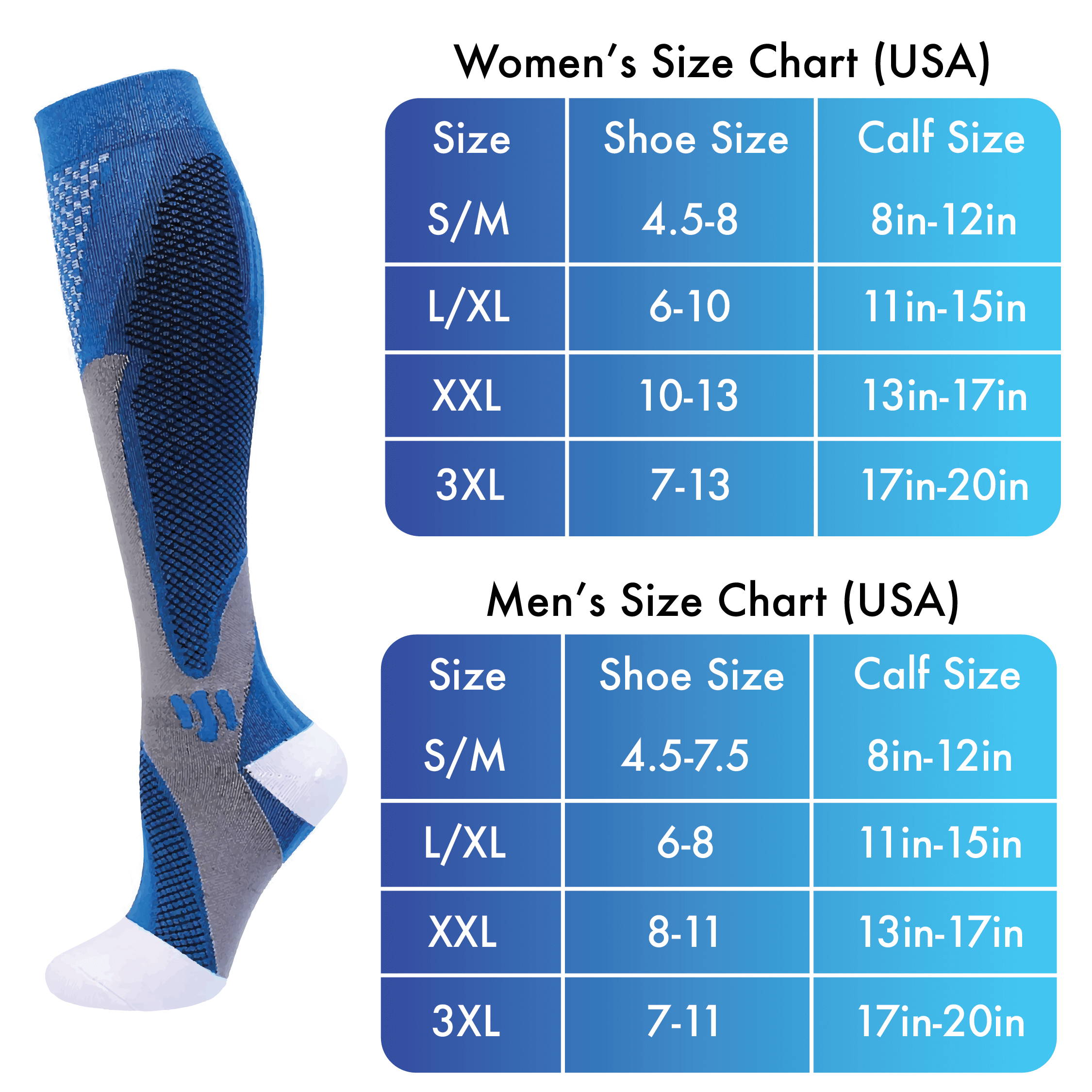 Whether you're pushing toward your next fitness goal or are a nurse constantly on the go to care for your patients, shin splints are the last thing you need.
Pain and inflammation only slow you down and make it harder to live your best life. The solution: Nurse Yard's compression socks for shin splints.


Shin splints usually happen because the muscles and tendons around the shinbone are overworked from the pressure and impact of standing, walking, or exercising for long periods. Compression socks provide support during these activities to help improve your circulation, alleviate pain, and reduce inflammation.
Our compression socks also help with neuropathy, restless legs, pregnancy, exercising, nursing, teaching, running, hiking, dancing, and more.

Check out Nurse Yard's stylish and affordable compression socks for shin splints.


How Are Nurse Yard's Compression Socks Different?
While other compression socks only offer compression, Nurse Yard's socks are made with all of your needs in mind. We understand professionals on the go need more than one avenue of support—you need a total comfort system that lasts all day and beyond.
That's how we created Nurse Yard's design hack—a comprehensive sock design tailored to your needs. We began with a unique wave-knit pattern to provide graduated pressure from ankle to knee, ending in a no-slip cuff so they stay put. Next, we added arch support and cushion around the ankles to protect your instep and joints. Last, we added a little more room in the toes to prevent chafing and allow your feet to breathe.
With Nurse Yard, you get more than a pair of socks—you get total support relief from shin splints.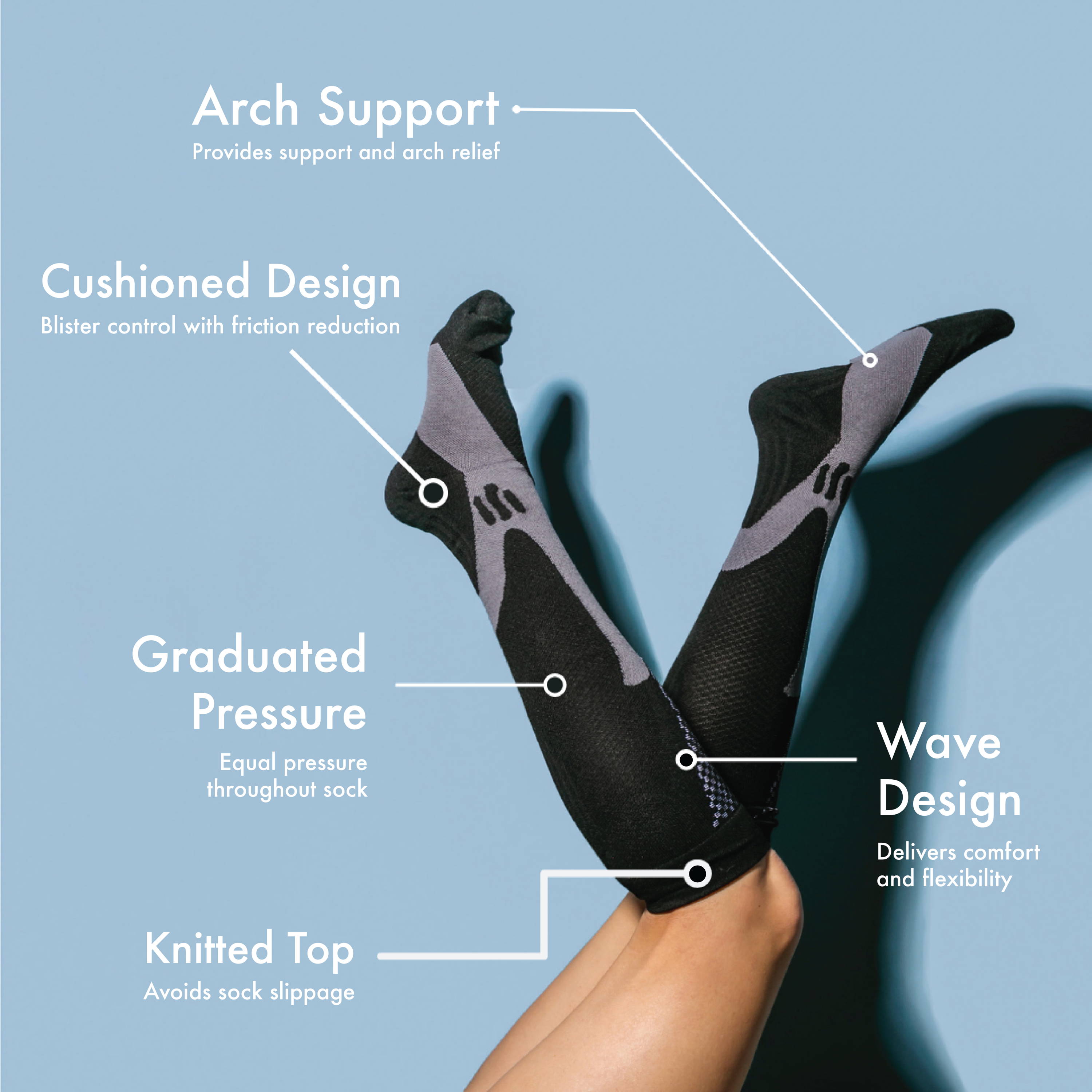 Risk Free 60 Day Guarantee
We proudly stand behind our product, which is why we offer a lengthy guarantee.
If for any reason you are not fully satisfied with your purchase, return it within 60 days of your purchase for a full refund.
20-30 mmHg of graduated pressure. The perfect balance of compression... Not too tight, yet not loose! The ideal amount of support.
Our socks are made of 80% Nylon + 20% Spandex. Recommended to air dry to prevent shrinkage and for a longer lasting sock. Wash cold. No fabric softener.
How do compression socks help with shin splints?
Improving circulation

Supporting muscles and tendons to prevent strain

Preventing fluid accumulation and swelling
How does Nurse Yard's design hack for compression socks differ?
Nurse Yard created our patented design hack with your convenience and comfort in mind. We understand what it's like to be on your feet all day, so our shin splints compression socks have features focused on protecting your feet, legs, and joints.
These features include:
Roomy, breathable toes to prevent chafing

Comforting arch support

Cushioned ankles

Wave-knit design for graduated compression

No-slip knitted cuff to keep your socks in place
How do I find my compression sock size?
To determine which Nurse Yard compression socks are best for you and your shin splints, you'll need our sizing guide, a flexible measuring tape, and your usual shoe size.
Wrap the measuring tape around the widest part of your calf, making sure it's snug but doesn't dig into your skin. Pair that number with your shoe size to see where you fall on the sizing chart.
For instance, if you wear a women's size 8 shoe and your calf measures 13 inches in circumference, our women's L/XL sock will fit you best. If you're between sizes, please note that our socks have more room in the foot, so you'll want to choose the size that fits your foot better.
What colors & sizes are available in Nurse Yard's compression socks?
We offer our compression socks in men's and women's sizes from S/M to XXXL in a wide variety of colors and styles.
Our CORE series compression socks are always available and come in the following colors:
Black: gray and silver design

White: gray and silver design

Blue: gray design with white toe and heel

Green: gray design

Orange: gray design with a black toe and heel

Pink: gray design with white toe and heel
We're also currently offering our HERO sock collection for those dedicated to science and medicine:
Scrub Life: white with blue details and teal scrubs print

DNA: yellow with multicolored DNA strand print

Ambulance: teal with white ambulance print, orange toe, and heel
All styles are available in every size.
How tight are Nurse Yard's compression socks?
Our compression socks for shin splints offer graduated pressure, starting with 30mmHg of firm compression at the ankle, 25mmHg around the calf, and 20mmHg of moderate compression just below the knee.
They're tight enough to improve circulation and stay in place but not so tight that they're uncomfortable. In fact, they're comfortable enough to wear all day!
Where does Nurse Yard ship from?
All compression socks are shipped from our facility in Phoenix, AX, using USPS.
How long will Nurse Yard shipping take?
Nurse Yard shipping takes an average of 3 to 5 business days, depending on where you're located in relation to our offices in Phoenix, AZ.
Please note that shipping delays due to current events could delay shipping times, placing them anywhere from 5 to 11 business days. We thank you in advance for your patience and understanding.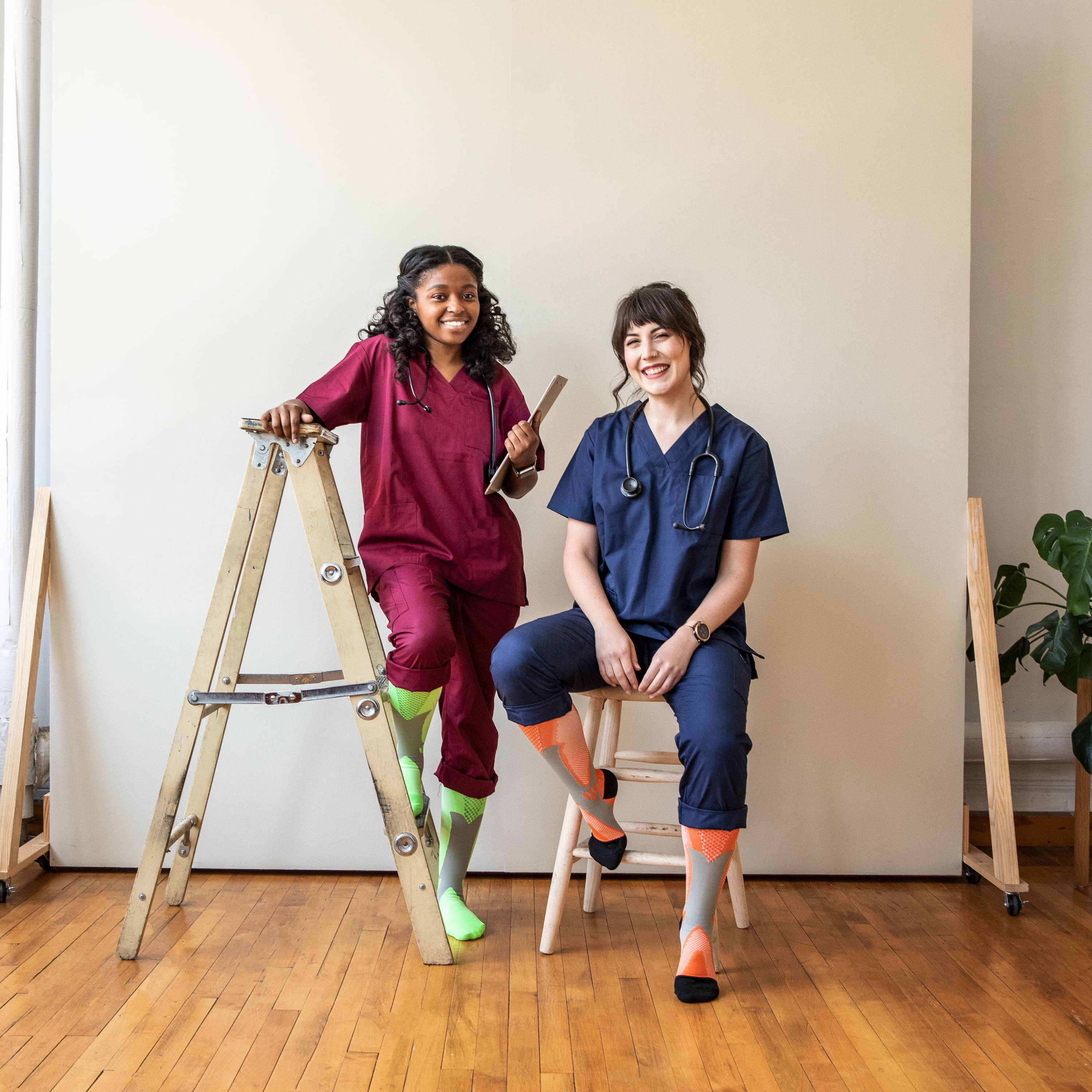 Benefits of Nurse Yard's Compression Socks for Shin Splints
If you need relief from shin splints, Nurse Yard's compression socks are the solution for you. They're designed to provide even, graduated compression from ankle to knee for better circulation and pain relief. The no-slip cuff keeps them in place—no tugging or pulling needed—while cushioned ankles protect your joints and prevent chafing.
Do you want stylish, supportive, all-day pain relief from shin splints? Order your first pair of compression socks today and get 70% off a second pair!
Really comfortable
I've tried other compression socks that were so tight they were unbearable. The ones I got from Nurse Yard give me the support I need without the sensation that a boa constrictor is eating my legs.
Amazing
I work in a factory on concrete floors. I'm constantly in motion during the 12 hour shifts. At the end of the day my feet and legs would be terribly swollen and by the time I got home they hurt so bad I could barely walk. Was considering changing occupations.
Then I saw your socks on Facebook and thought I'd give'em a try, what could it hurt.
WOW! Just WOW!
After just one shift I was amazed how well they worked at reducing the swelling.
The pain was simply gone!
I can now work the entire 12 hour shift pain free. And still be pain free by the time I got home.
I've tried other compression socks that were way to tight or not enough compression, so was skeptical about Nurse Yard socks.
I'm so glad I tried them.
They are the best … ever.
Thank you for a wonderful product.
Love them!
I bought one pair to try and then went back and bought 5 more pairs! Love the colors too😊
Perfect for post surgery
I've had multiple vascular surgies recently and these have helped immensely!! I'm very athletic and wear XXL (5'8, 170lbs, 16in calf, size 11 shoe) while working out ( cardio and heavy weight lifting) and at work. I'm super impressed! No pain, love them!!
Awesome socks!
Helped so much with leg and foot pain. Also the sizing is excellent because I have large calves and was able to order the appropriate size from the size chart. I have already placed my next order.
These are the best compression socks I've ever worn. It is not a struggle to get them on and off, and the socks really do reduce (and prevent) swelling. They are comfort and wash well by hand. They are terrific. Thank you for making such an outstanding product.
Love !!! My legs thank you❤️
Best socks ever!!!
I got the wrong size sent to me, so I contacted support. They were amazing at responding quickly and they fixed my issue! Also, love the socks they don't even feel like compression socks! Absolutely will order again!!