*Automatic discount! To claim your special offer,
add 2 or more pairs to your cart
and your price will be adjusted automatically at checkout*
Please refer to this sizing guide to choose your best fit: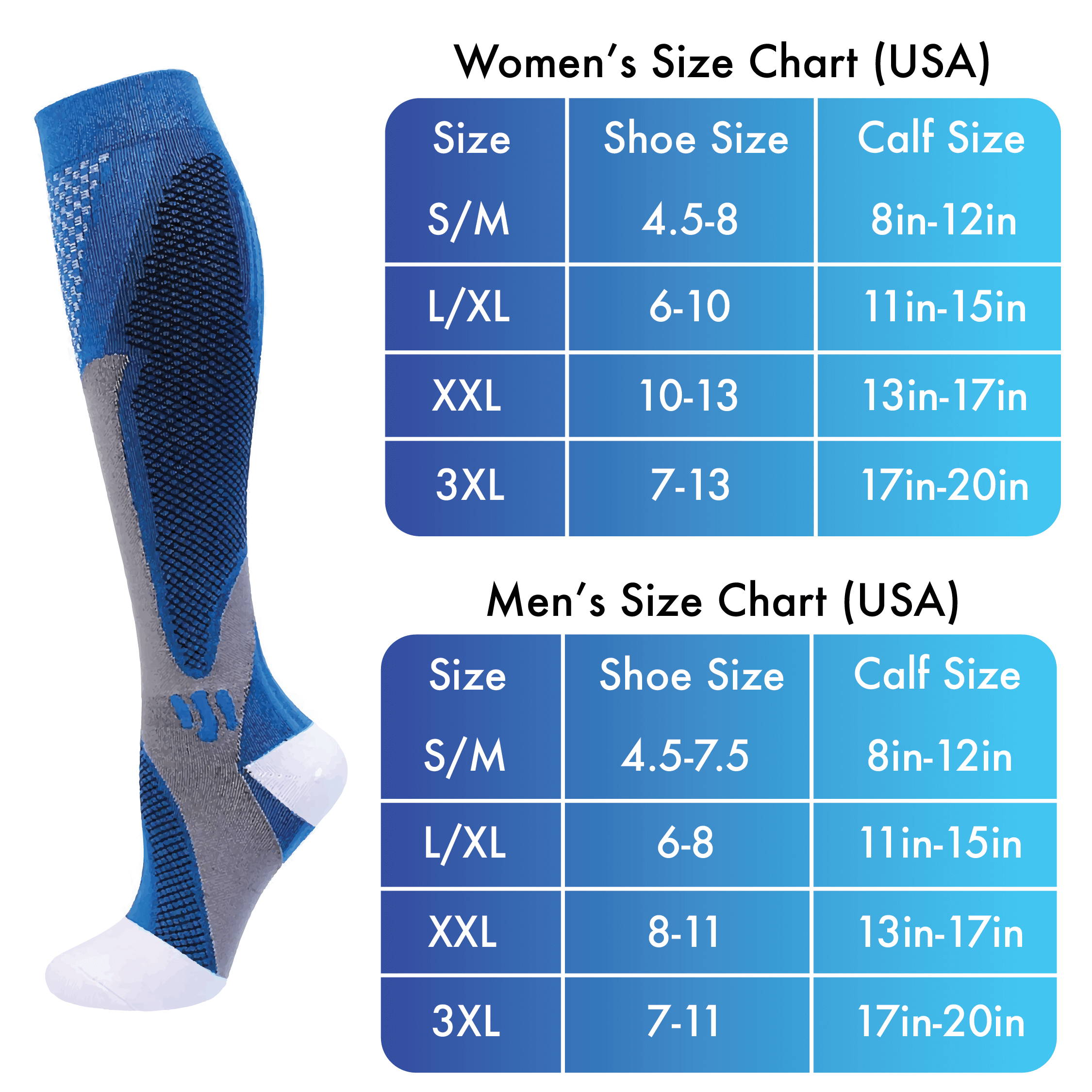 Whether you enjoy an active lifestyle or prefer a more laid-back existence, pain and inflammation from gout are the last things you need. While it's important to seek proper medical care, Nurse Yard's compression socks for gout can help alleviate discomfort almost immediately.
Our compression socks provide gentle-yet-firm graduated pressure to your feet and legs. This helps disperse the build-up of uric acid in your joints, improves circulation, and prevents fluids from pooling in the compressed areas—all of which help alleviate pain.
If you're ready to experience the Nurse Yard difference, browse our size and style options to find your perfect fit!
How Nurse Yard Compression Socks for Gout Are Different
Many compression socks offer compression—and absolutely nothing else. At Nurse Yard, we take things up a notch by offering compression socks that accommodate all of your needs and expectations.
That's how we created our design—by anticipating our customers' needs. We started with a wave-knit pattern to provide snug, graduated pressure from the ankle to the knees. Then we added a slip-free cuff and lightly cushioned ankles for convenience and support. We also added slightly roomier, breathable toes for maximum comfort.
Each element of our design works together to provide the ultimate relief from gout pain and swelling.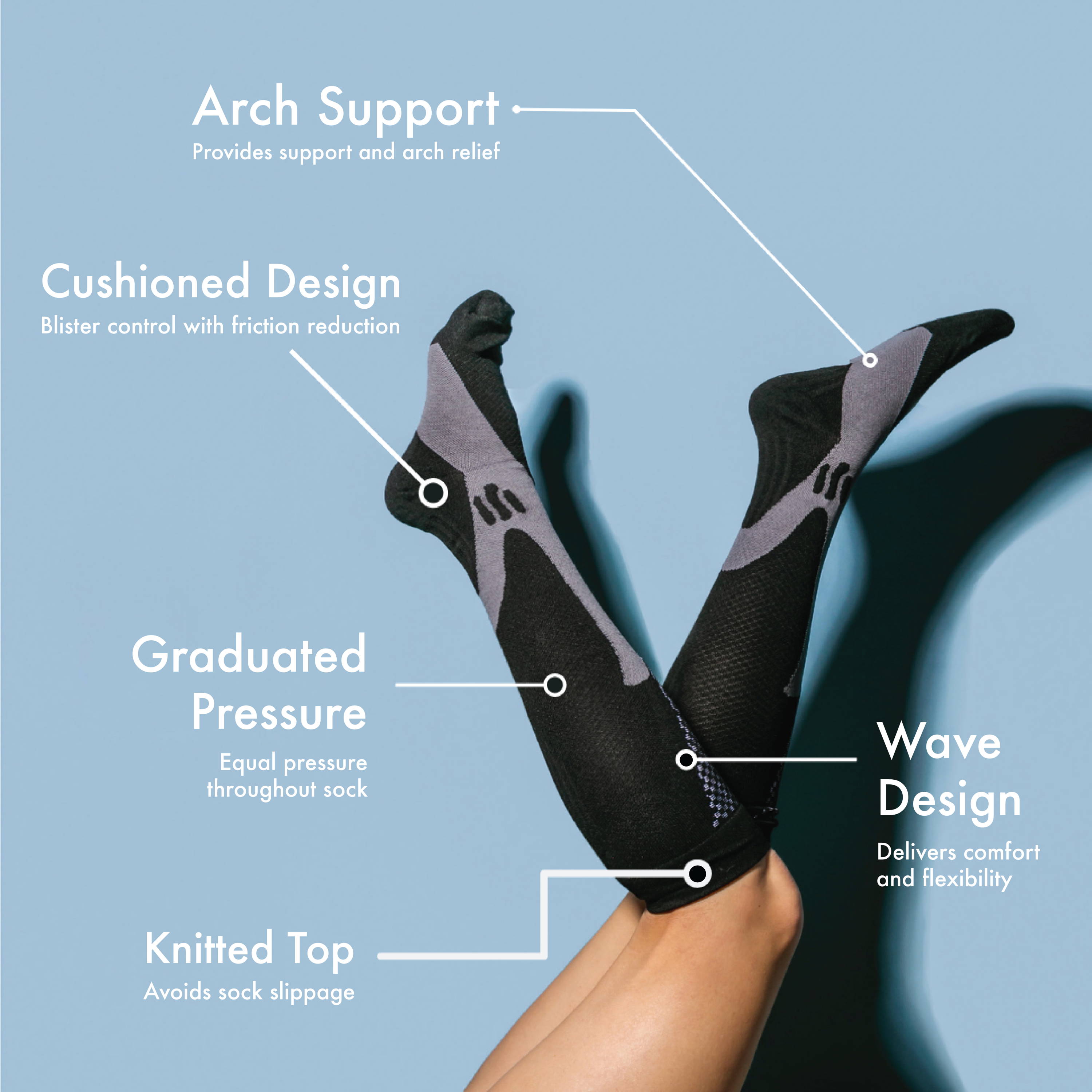 Risk Free 60 Day Guarantee
We proudly stand behind our product, which is why we offer a lengthy guarantee.
If for any reason you are not fully satisfied with your purchase, return it within 60 days of your purchase for a full refund.
20-30 mmHg of graduated pressure. The perfect balance of compression... Not too tight, yet not loose! The ideal amount of support.
Our socks are made of 80% Nylon + 20% Spandex. Recommended to air dry to prevent shrinkage and for a longer lasting sock. Wash cold. No fabric softener.
Frequently Asked Questions
How Do Compression Socks Ease Pain from Gout?
Gout results from uric acid build-up in the body, which causes pain and swelling in the lower joints—particularly in the legs. Those with this condition may have difficulty breaking down these acids, partially due to poor circulation.
Our compression socks for gout can provide relief from these symptoms by:
Encouraging better circulation in the lower limbs

Reduce fluid retention in the affected areas

Ease swelling and inflammation
What Is Nurse Yard's Design of Our Compression Socks?
Nurse Yard's design aims to address and fix the most common problems people have with their compression socks. We created features focused on improving circulation and alleviating pain and making our compression socks for gout as comfortable and easy to wear as possible.
These features include:
Roomier fit in the foot for airflow

Light arch support

Cushioning around the ankles

Wave-knit design for graduated compression

No-slip knitted cuff, so socks stay up
How Do I Figure Out My Compression Sock Size?
Finding the correct size for your compression socks is easy—all you'll need is our sizing guide, calf circumference, and shoe size.
To find your calf circumference, use a tailor's measuring tape to measure around the top of your calf. The resulting number, plus your shoe size, will determine the best sock size for you.
For instance, if you wear a women's size 6 shoe, and your calf measurement is 9 inches, our S/M will fit you best. If your measurements put you between sizes, the option that most closely matches your shoe size will fit you best.
What Colors & Sizes in Compression Socks Does Nurse Yard Carry?
Nurse Yard's compression socks for gout are available in men's and women's sizes from S/M to XXXL to accommodate as many people as possible.
We also offer a wide range of styles, so you don't have to sacrifice your aesthetic for the sake of comfort. Our CORE styles of compression socks are some of our most popular. Available CORE colors include:
Black: gray and silver design

White: gray and silver design

Blue: gray design with white toe and heel

Green: gray design

Orange: gray design with a black toe and heel

Pink: gray design with white toe and heel
If you work or have an interest in science and medicine, you may also like our HERO series, which includes the following designs:
Scrub Life: white with blue details and teal scrubs print

DNA: yellow with multicolored DNA strand print

Ambulance: teal with white ambulance print, orange toe, and heel
All styles are available in every size.
Are Compression Socks Really Tight?
Nurse Yard's compression socks for gout are tighter at the bottom and become gradually looser near the top. You can expect 30mmHg of firm pressure around the ankle, 25mmHg of moderate compression mid-calf, and 20mmHg of mild pressure around the socks' cuffs.
This graduated pressure ensures your compression socks stay up and alleviate pain without disrupting your circulation.
Where Does Nurse Yard Ship From?
We ship Nurse Yard compression socks via USPS from our main warehouse in Phoenix, AZ.
How Long Does Nurse Yard Shipping Take?
After you order compression socks from Nurse Yard, they typically arrive in 3 to 5 business days. However, inclement weather and other events could extend delivery time to between 5 and 11 business days.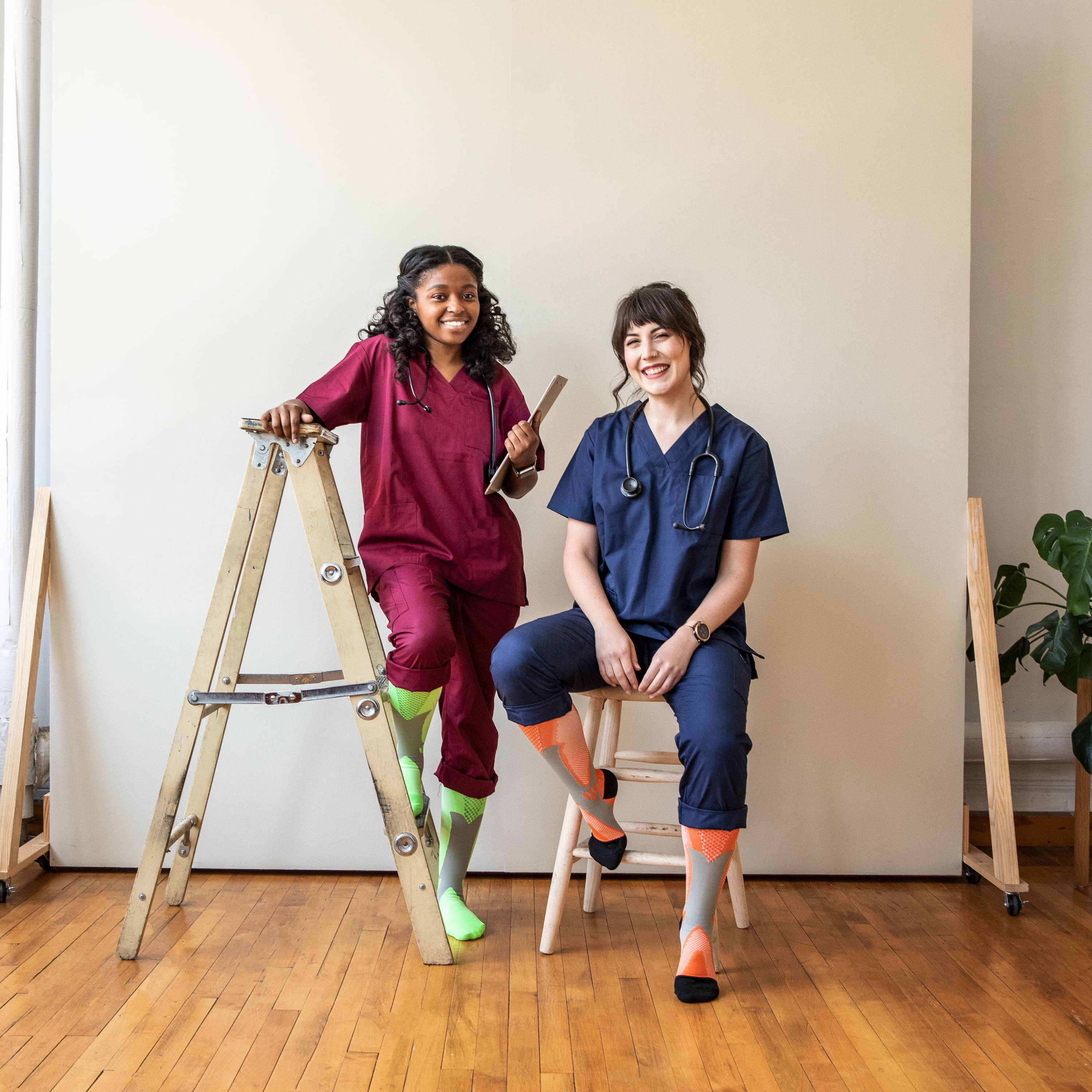 Benefits of Nurse Yard's Compression Socks for Gout
While the primary treatment for this condition is care from a medical professional, Nurse Yard's compression socks for gout can provide additional relief from pain and swelling. Graduated pressure comforts the toes, ankle, and knee by improving circulation, which flushes uric acid from the joints. Plus, our no-slip cuff means you'll never waste time adjusting them—you can just slip your socks on and go.
If you're ready to enjoy continuous gout symptom relief, place your order at NurseYard.com today for our gout compression socks!
Happy legs and feet!
I absolutely love my socks. My ordered arrived quickly! The packaging was amazing!
I feel secure and my legs and feet feel more lively.
I only wish more colors were available in my size. I was only able to order black and the pink/white.
OMG, The Best 👌
I am so happy that I ordered this socks, I had a blood clots in my leg long time ago and since then my leg swells all the time that I walk or I am standing for a long time, but since I started to wear those socks I feel so good, not pain or swelling at all, Thank you so much, God bless you.
5 pairs and counting plus 2 pairs for husband
2/2/2023 These socks felt and fit great from the moment I put them on my feet. My husband even said he'd like to try them—imagine that!
I do enjoy wearing these socks much more than the medical prescription compression socks: they stay up, they retain the compression, easy care instructions, and a bonus of keeping my husband's feet warmer.
The challenges: The pain in our feet and legs was reduced, but did not disappear completely for either of us. And a design issue I'd like to have is more compression in the ankle (beginning at the ankle bone and above). And maybe add a light beige colored sock?
Thank you everyone involved through the various stages of getting these socks off to market and helping so many people find relief for the pain in their feet and legs. 😊
Phenomenal
I have tried so many different types of compression socks but these are a notch above no other kind will ever compare! I have converted my husband to wearing them after I insisted he try a pair of mine we have ordered several more pairs so we each have several! I work as a nurse on 12hr shifts and these make it bearable so much pain relief and comfort and they are made like cotton socks not a sweaty slick material. Can't rave enough on how life changing these socks are!
CNA
These are my first compression socks and they have really made a difference during those long shifts. They do minimize the pain and are comfortable throughout the day. I will definitely be buying more.
Truly a support for bedside nurses
Wearing nurseyard compression product is like being an energizer bunny. You just keep on going, no soreness nor pain after a grueling 12 hours of bedside work. It offers great support and the colors are vivid and pleasing to look at. It's a plus!
Very pleased!
I was so pleased these socks performed as advertised! I have started getting varicose veins, so I thought I'd give the socks a try. Even spending long hours standing on concrete at dog shows, followed by long car rides, my legs do not ache! I followed the tutorial, and had no trouble putting them on. I swear I felt a definite spring in my step!
64 yr old Tech wears em too!
4 years ago, I ended up in the Emergency Room at a major university teaching hospital with double pulmonary embolisms caused by blood clots in my left leg. After 9 days I was released on a daily blood thinner. That episode led to 2 more double pulmonary embolisms and treatment at another major university teaching hospital. It was after the 3rd episode I took my health more serious. I require 20mmHg compression and I believe I have found it in the Nurse Yard stockings. I've tried other brands but after a few months of wear the material begins to tear/rip and I have to discard the socks. With Nurse Yard, the material is more flexible than other brands offering the same compression and comfort. At the age of 64, I'm a Field Service Technician working 12 hours a day, 4-5 sometimes 6 days a week. I'm walking a minimum of 11,000 steps per day, so I need leg support. I believe without a doubt I have found it in the Nurse Yard stockings. I wear compression socks every day. I encourage anyone who sits long hours or works on their feet long hour a day to please consider Nurse Yard compression stockings.