*Automatic discount! To claim your special offer,
add 2 or more pairs to your cart
and your price will be adjusted automatically at checkout*
Please refer to this sizing guide to choose your best fit: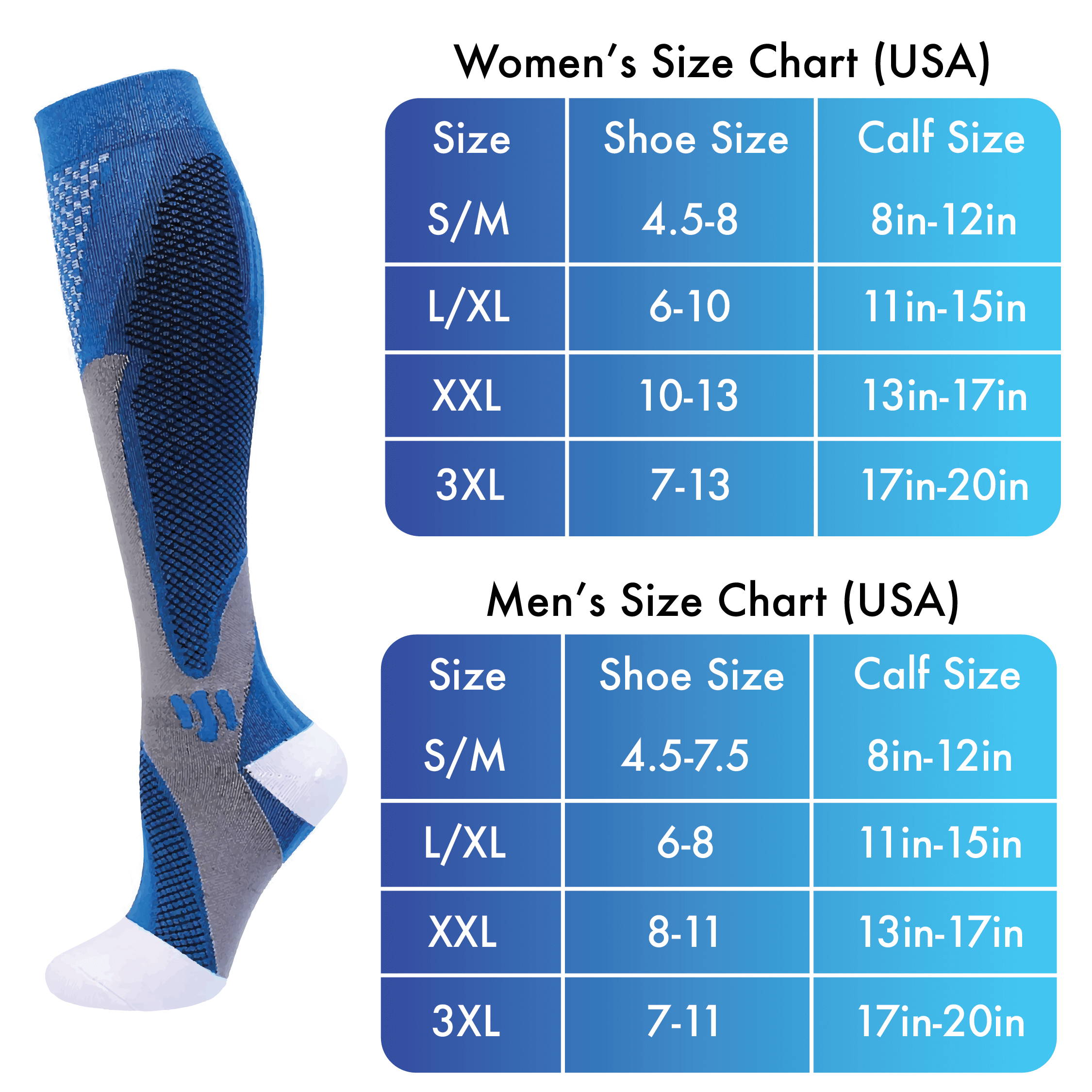 If you are living with diabetes, wearing compression socks can relieve symptoms of poor circulation, including cold, achy, and tingling feet and legs. Nurse Yard offers unique compression socks for diabetics that target pain points, improve circulation and blood flow, and allow you to be on your feet for hours without discomfort.

How Nurse Yard's Compression Socks for Diabetes Differ
If you are a diabetic, taking care of your feet is vital to your health. Nurse Yard's compression socks for diabetes offer unique graduated compression, providing localized pressure and extra cushioning in the most common pain points, like the ankles and arch of the foot. Our knitted top and wave design fabric will keep your feet dry and prevent your socks from slipping down throughout the day.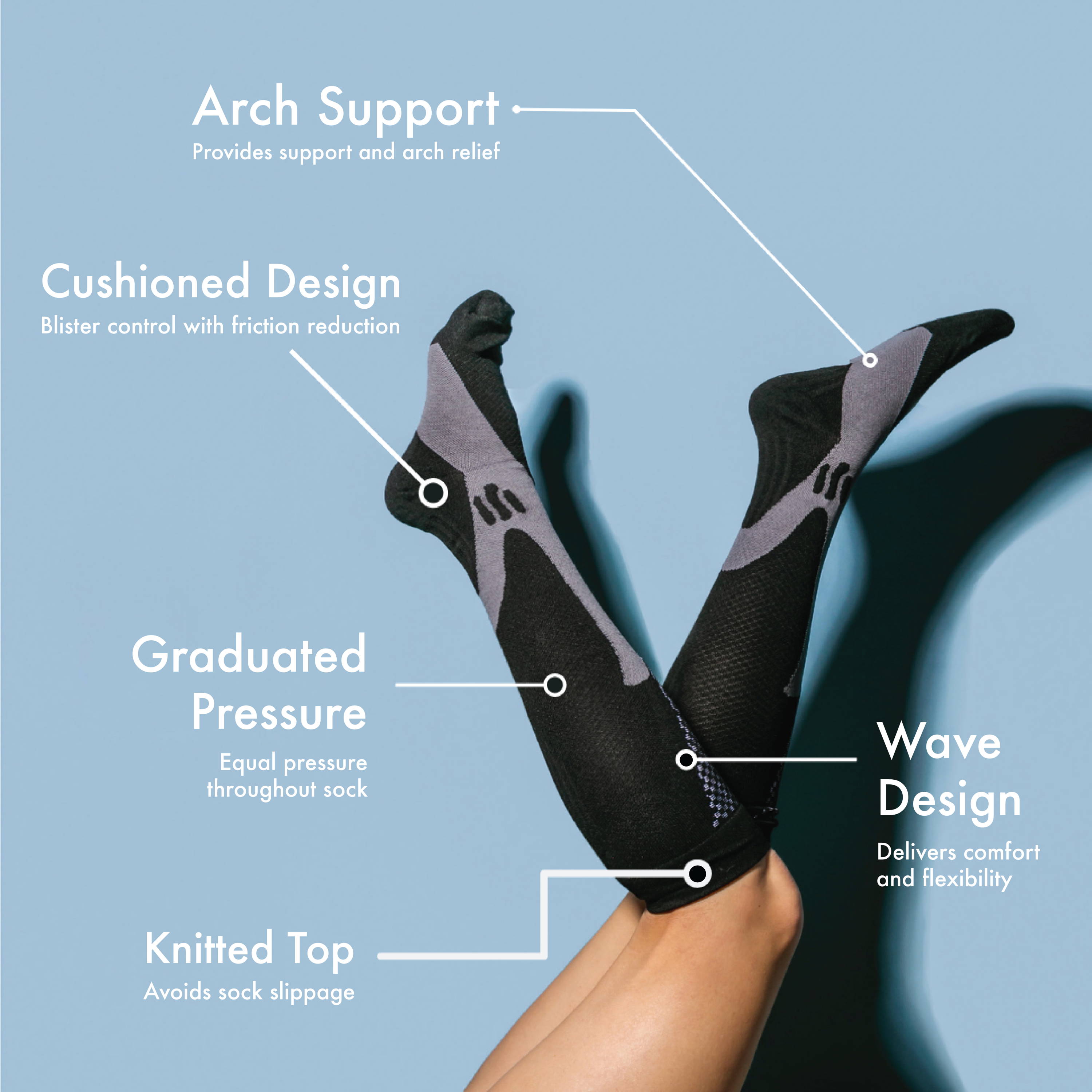 Risk Free 60 Day Guarantee
We proudly stand behind our product, which is why we offer a lengthy guarantee.
If for any reason you are not fully satisfied with your purchase, return it within 60 days of your purchase for a full refund.
20-30 mmHg of graduated pressure. The perfect balance of compression... Not too tight, yet not loose! The ideal amount of support.
Our socks are made of 80% Nylon + 20% Spandex. Recommended to air dry to prevent shrinkage and for a longer lasting sock. Wash cold. No fabric softener.
Frequently Asked Questions
What Do Compression Socks Do to Help with Diabetes?
Nurse Yard's diabetes compression socks have a number of benefits for diabetics. Individuals with diabetes are more prone to developing venous conditions that inhibit blood flow, loss of feeling in their feet, and swelling in the legs.
Compression socks help alleviate these issues by improving circulation in the legs and feet, which alleviates swelling and prevents venous conditions from worsening. Numbness in the feet makes diabetic people more prone to overlooking small wounds in their feet—improved blood flow and breathable fabrics help such wounds heal faster, which prevents infections.
Additionally, compression socks' graduated compression supports the muscles, tendons, and circulatory system in the legs to alleviate pressure on the feet and joints. This can make it easier and more comfortable to walk.
What is Nurse Yard's Compression Sock Design?
There are a few things about the design of Nurse Yard's compression socks for diabetes that set us apart from the competition. We create our socks with 20-30 mmHG of graduated pressure, so they'll never feel suffocating or too loose. Our unique wave design and knitted top guarantee your Nurse Yard compression socks will leave you with all-day comfort and flexibility.
What Size Diabetes Compression Socks Do I Need?
We offer our diabetes compression socks in sizes ranging from Small up to 3XL. We recommend you find your sock size by combining your shoe size with the circumference size of the largest part of your calf. See our compression sock size guide below.
Does Nurse Yard Have Different Colors & Sizes Of Compression Socks?
Yes, we offer sizes from Small to 3XL and have a few different design collections for you to choose from so you can be comfortable and stylish all day long!
How Tight Are Nurse Yard's Compression Socks?
Our unique technology offers 20 - 30 mmHg of graduated compression, meaning there is slightly more pressure on common pain points, like the arch of the foot and the ankle. This guarantees your Nurse Yard socks will never be too loose or tight, and you can be on your feet for hours without discomfort!
Where Does Nurse Yard Ship From?
We ship from the United States via USPS right in our hometown of Phoenix, Arizona.
How Long Will Nurse Yard Shipping Take?
Nurse Yard's orders take an average of 3-5 business days, but due to recent shipping obstacles, there have been instances where our socks take 5-10 business days at most to ship.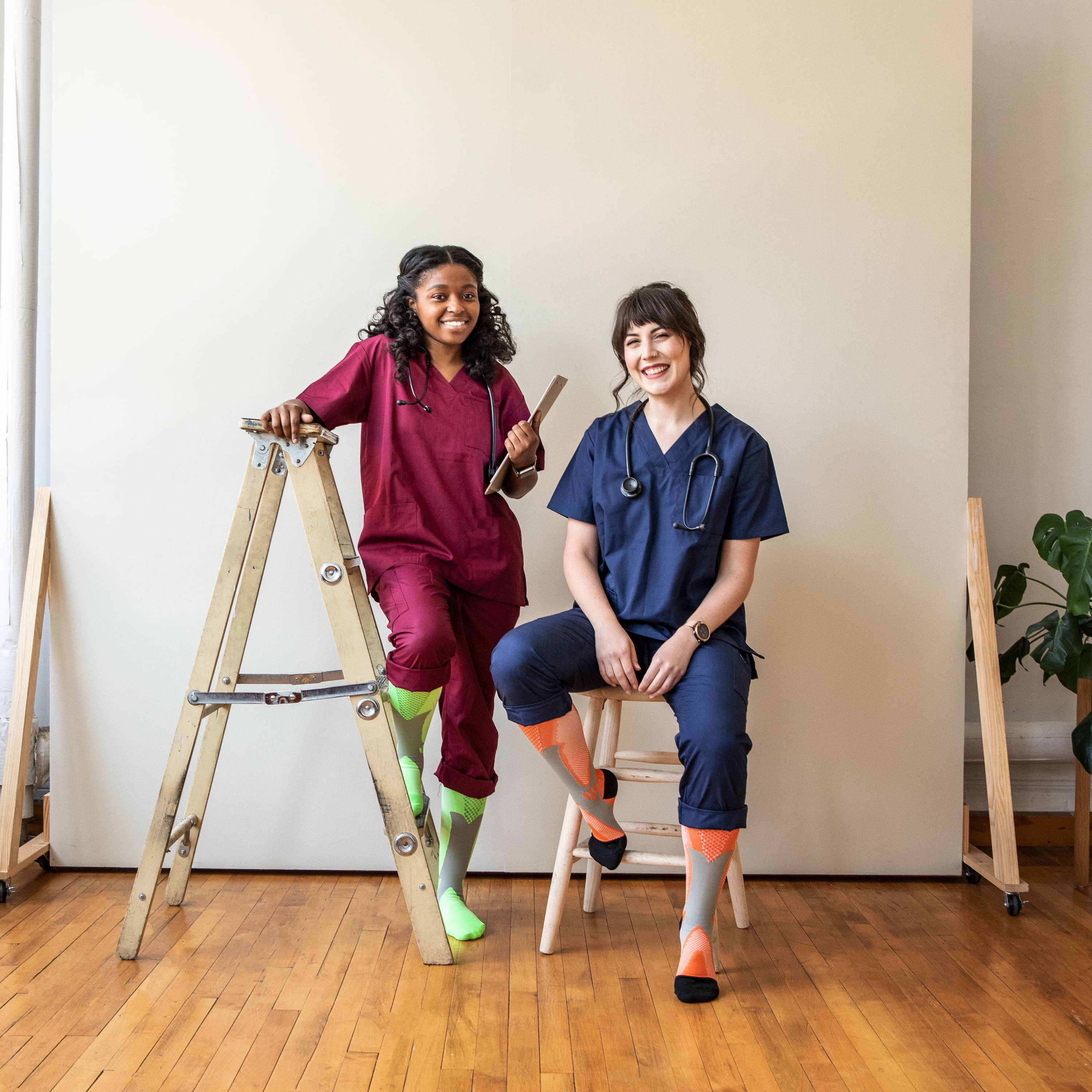 Benefits of Nurse Yard Compression Socks for Diabetes
For people with diabetes, circulation in the feet and legs can often be an issue. When the flow of blood doesn't reach your feet, you can suffer from a host of issues, including varicose veins, swelling, and even diabetic neuropathy. Here are all of the ways Nurse Yard Compression Socks make living with diabetes a little more comfortable:
Helps prevent clots and vein insufficiencies by using graduated compression to push blood back toward the heart.
Reduces swelling and aching in your feet, ankles, and calves.
Being on your feet all day can be possible again by alleviating soreness and fatigue.
Our unique design provides enhanced arch support.
Our knitted top keeps you from having to pull your socks up throughout the day.
Nurse Yard's premium non-itch breathable design means more lasting comfort than other compression socks.
Graduated pressure of 20-30 mmHg means you'll have a snug and supportive fit all day long without your socks feeling too tight or too loose.
Best compression socks
I have tried many, many compression socks these are by far the best of them all. It does provides all the support they talked about no aching legs after a long shift, no pain on my legs like I used to. I'm grateful and has told many people about these socks. I'll definitely order more for me, families and friends. Thank you Nurse Yard for thinking about us continue to be the best and deliver the best. I'm in love with these socks. I become a spoke person for these socks will recommend them in a heartbeat.
I love these socks, I am on my feet for 10 hours and I can feel them work. I wear them 5 days a week. I would recommend them not only for nurses but Manager that are on their feet for more than 10hrs a day. 🥰
No leg pains
I know most people appreciate an honest review. Before buying this socks I went through most of the reviews and they were positive. I decided to take a leap of faith and try then out day 1,2,3 of wearing nurse yard socks am amazed. I no longer feel any pain on my legs. I feel like am walking on air. They're also super comfy. Shipping took too long for me. Honestly it's worth it for the 12 hr shifts.
Best ever
I'm wearing those socks for a week and can see huge difference
Great!
I'm not a nurse but for some unknown reason my legs ache... idiopathic I'm told... I've tried dozens of compression socks and they all seemed so uncomfortable...and they made my legs itch after a few hours. Saw this ad, decided "why not?" and I'm happy to say they are great! Oh, and sooo comfortable. My only complaint is I don't like feet in compression socks. They limit me wearing them everywhere. I not keen on seeing them in the gap between my pants and my shoes. I do however highly recommend them!
Just got a second batch
I just ordered 4 more pairs. I almost always wear them to work my 12 ER shift.
Best compression socks ever!
I always found compression socks to be way too hard to get on, that is until I found Nurse Yard socks. These socks are great! Easy to get on and the perfect amount of compression. I wear them every day. They're easy to get on and my legs stay comfortable all day long. Thank you for such a great product!
I like these more than others.
I hate compression socks because my arthritis makes them hard to use but these are the best I've tried.