*Automatic discount! To claim your special offer,
add 2 or more pairs to your cart
and your price will be adjusted automatically at checkout*
Please refer to this sizing guide to choose your best fit: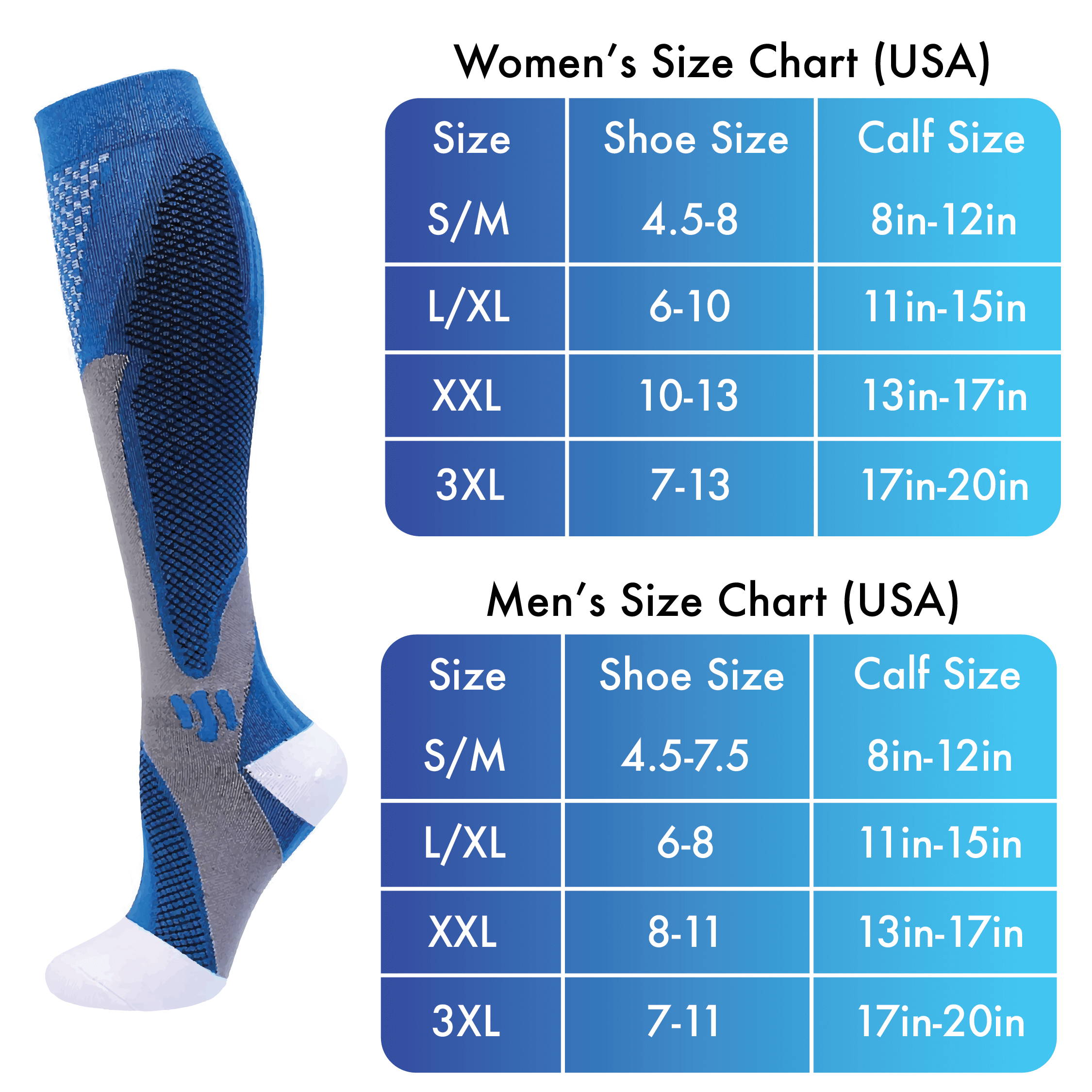 If you are living with diabetes, wearing compression socks can relieve symptoms of poor circulation, including cold, achy, and tingling feet and legs. Nurse Yard offers unique compression socks for diabetics that target pain points, improve circulation and blood flow, and allow you to be on your feet for hours without discomfort.
How Nurse Yard's Compression Socks for Diabetes Differ
If you are a diabetic, taking good care of your feet is vital to your health. Nurse Yard's compression socks for diabetes offer unique graduated compression, providing localized pressure and extra cushioning in the most common pain points, like the ankles and arch of the foot. Our knitted top and wave design fabric will keep your feet dry and prevent your diabetic socks from slipping down throughout the day.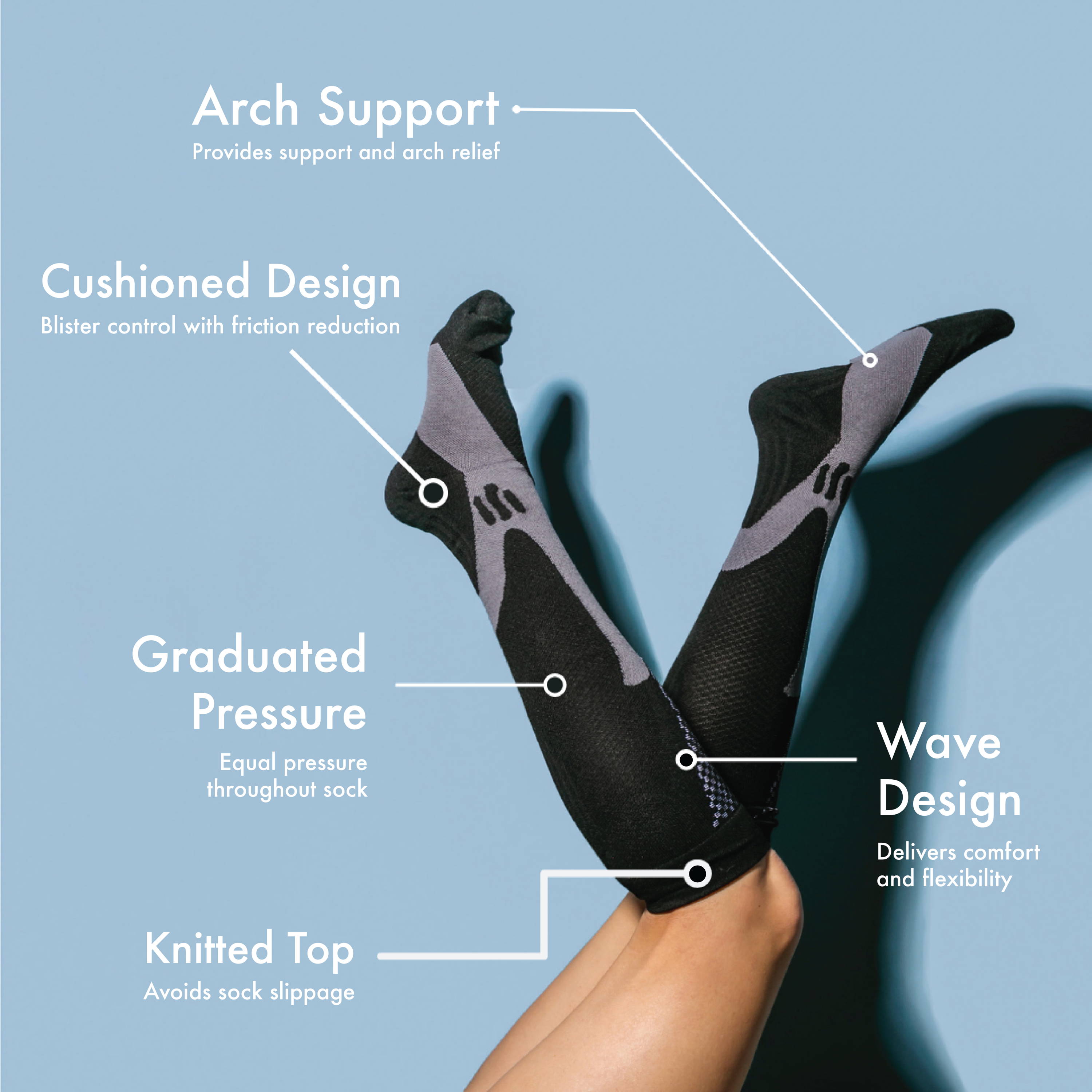 Risk Free 60 Day Guarantee
We proudly stand behind our product, which is why we offer a lengthy guarantee.
If for any reason you are not fully satisfied with your purchase, return it within 60 days of your purchase for a full refund.
20-30 mmHg of graduated pressure. The perfect balance of compression... Not too tight, yet not loose! The ideal amount of support.
Our socks are made of 80% Nylon + 20% Spandex. Recommended to air dry to prevent shrinkage and for a longer lasting sock. Wash cold. No fabric softener.
Frequently Asked Questions
What Do Compression Socks Do to Help with Diabetes?
Nurse Yard's diabetic compression socks have a number of benefits for diabetics. Individuals with diabetes are more prone to developing venous conditions that inhibit blood flow, loss of feeling in their feet, and swelling in the legs.
Wearing compression socks helps alleviate these issues by improving circulation in the legs and feet, which can reduce swelling and prevent venous conditions from worsening. Numbness in the feet makes diabetic people more prone to overlooking small wounds in their feet—improved blood circulation and breathable fabrics help such wounds heal faster, which prevents infections.
Additionally, compression socks' graduated compression supports the muscles, tendons, and circulatory system in the legs to alleviate pressure on the feet and joints. This can make it easier and more comfortable to walk.
Do Compression Socks Work for Diabetic Neuropathy?
Compression socks have shown promising results in managing diabetic neuropathy, a condition characterized by nerve damage in the extremities. Diabetic neuropathy often causes symptoms like tingling, numbness, and burning sensations in the legs and feet. Compression socks can be effective in alleviating these symptoms by improving blood circulation.
The controlled pressure exerted by compression socks helps stimulate blood flow to the affected areas, reducing the discomfort associated with neuropathy. By enhancing circulation, these socks can also aid in preventing further nerve damage and complications. However, it's essential to consult with a healthcare professional before using compression socks for diabetic neuropathy, as individual cases may vary, and a personalized approach to treatment is recommended.
When Should I Wear Diabetic Compression Socks?
Diabetic compression socks can be worn at various times, depending upon your specific needs and the advice of your healthcare provider. Here are some common scenarios when wearing diabetic compression socks is beneficial:
During the day: Many individuals with diabetes wear compression socks during the day to promote better circulation, reduce swelling, and minimize discomfort.

While exercising: If you engage in physical activity, especially walking or jogging, wearing compression socks can provide added support and help maintain good blood flow to your legs and feet.

During long periods of sitting or standing: If your daily routine involves extended periods of sitting or standing, wearing compression socks can prevent blood from pooling in your legs and reduce the risk of complications.

As recommended by your doctor: Your healthcare provider may recommend specific times to wear compression socks based on your unique medical history and needs.
How Long Should I Wear Compression Socks for Diabetes?
The duration of wearing compression socks for diabetes can vary from person to person and depends on your specific condition and the recommendations of your healthcare provider. Some individuals may need to wear them consistently throughout the day, while others may only require them during specific activities or as a preventive measure.
It's crucial to follow your healthcare provider's guidance regarding the duration and frequency of wearing compression socks. They will consider your medical history, the severity of your diabetes, and any existing complications to provide personalized recommendations. Regular communication with your healthcare team will help ensure that you are using compression socks effectively to manage your diabetes and maintain optimal foot health.
What is Nurse Yard's Compression Sock Design?
There are a few things about the design of Nurse Yard's compression socks for diabetes that set us apart from the competition. We create our socks with 20-30 mmHG of graduated pressure, so they'll never feel suffocating or too loose. Our unique wave design and knitted top guarantee your Nurse Yard compression socks will leave you with all-day comfort and flexibility.
What Size Diabetes Compression Socks Do I Need?
We offer our diabetic socks in sizes ranging from Small up to 3XL. We recommend you find your sock size by combining your shoe size with the circumference size of the largest part of your calf. See our compression sock size guide below.
Does Nurse Yard Have Different Colors & Sizes Of Compression Socks?
Yes, we offer sizes from Small to 3XL and have a few different design collections for you to choose from so you can be comfortable and stylish all day long!
How Tight Are Nurse Yard's Compression Socks?
Our unique technology offers 20 - 30 mmHg of graduated compression, meaning there is slightly more pressure on common pain points, like the arch of the foot and the ankle. This guarantees your Nurse Yard socks will never be too loose or tight, and you can be on your feet for hours without discomfort!
Where Does Nurse Yard Ship From?
We ship from the United States via USPS right in our hometown of Phoenix, Arizona.
How Long Will Nurse Yard Shipping Take?
Nurse Yard's orders take an average of 3-5 business days, but due to recent shipping obstacles, there have been instances where our socks take 5-10 business days at most to ship.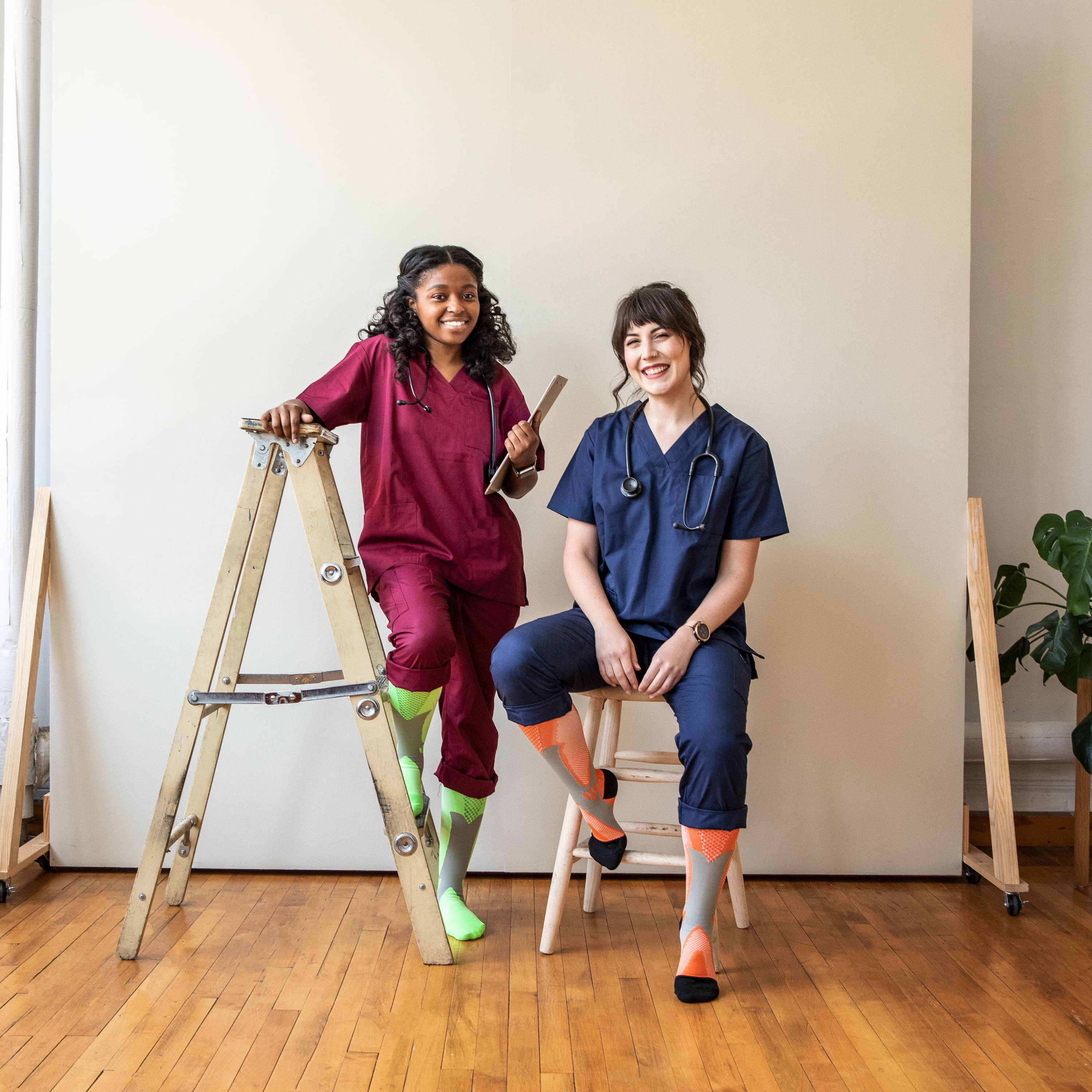 Benefits of Nurse Yard Compression Socks for Diabetes
For people with diabetes, circulation in the feet and legs can often be an issue. When the flow of blood doesn't reach your feet, you can suffer from a host of issues, including varicose veins, swelling, and even diabetic neuropathy. Here are all of the ways Nurse Yard Compression Socks work to make living with diabetes a little more comfortable:
Helps prevent blood clots and vein insufficiencies

by using graduated compression to push blood back toward the heart.
Reduces swelling and aching

in your feet, ankles, and calves.




Being on your feet all day can be possible again by

alleviating soreness and fatigue

.




Our unique design provides

enhanced arch support

.




Our

knitted top

keeps you from having to pull your socks up throughout the day.




Nurse Yard's

premium non-itch breathable design

means more lasting comfort than other light compression socks.




Graduated pressure

of 20-30 mmHg means you'll have a snug and supportive fit all day long without your socks feeling too tight or too loose.
Hole in sock seam after 1 time wearing them. Not good.
I ordered 3 pair of socks and the first pair I tried got a hole in the seam after one night of wear. I messaged the company and didn't hear back. Wouldn't purchase from them again.
Gift for my daughter
My daughter is a surgical technologist in a very busy hospital surgical department and is always complaining about being on her feet all day. When I saw the ad on TikTok I bought two pairs for her. She was very happy and asked me to buy her more. I placed an order for another 2 yesterday.
Hi Irene, it's wonderful to hear that Nurse Yard compression socks have made a positive impact on your daughter's comfort, especially considering the long hours she spends on her feet as a surgical technologist.
Loving them so far!
So far I am loving them! Very comfortable and my legs are less painful.
Hi Dawn, that's fantastic to hear! It's great that you're finding comfort and relief with the Nurse Yard compression socks.
My husband loves it so much for work that we got 6 pairs!
My husband is a pab and he loves them!
Really impressed
I have several different brands of compression socks, and these are my favorite.
Hi Rhonda, it's wonderful to hear that Nurse Yard compression socks have become your favorite!