*Automatic discount! To claim your special offer,
add 2 or more pairs to your cart
and your price will be adjusted automatically at checkout*
Please refer to this sizing guide to choose your best fit: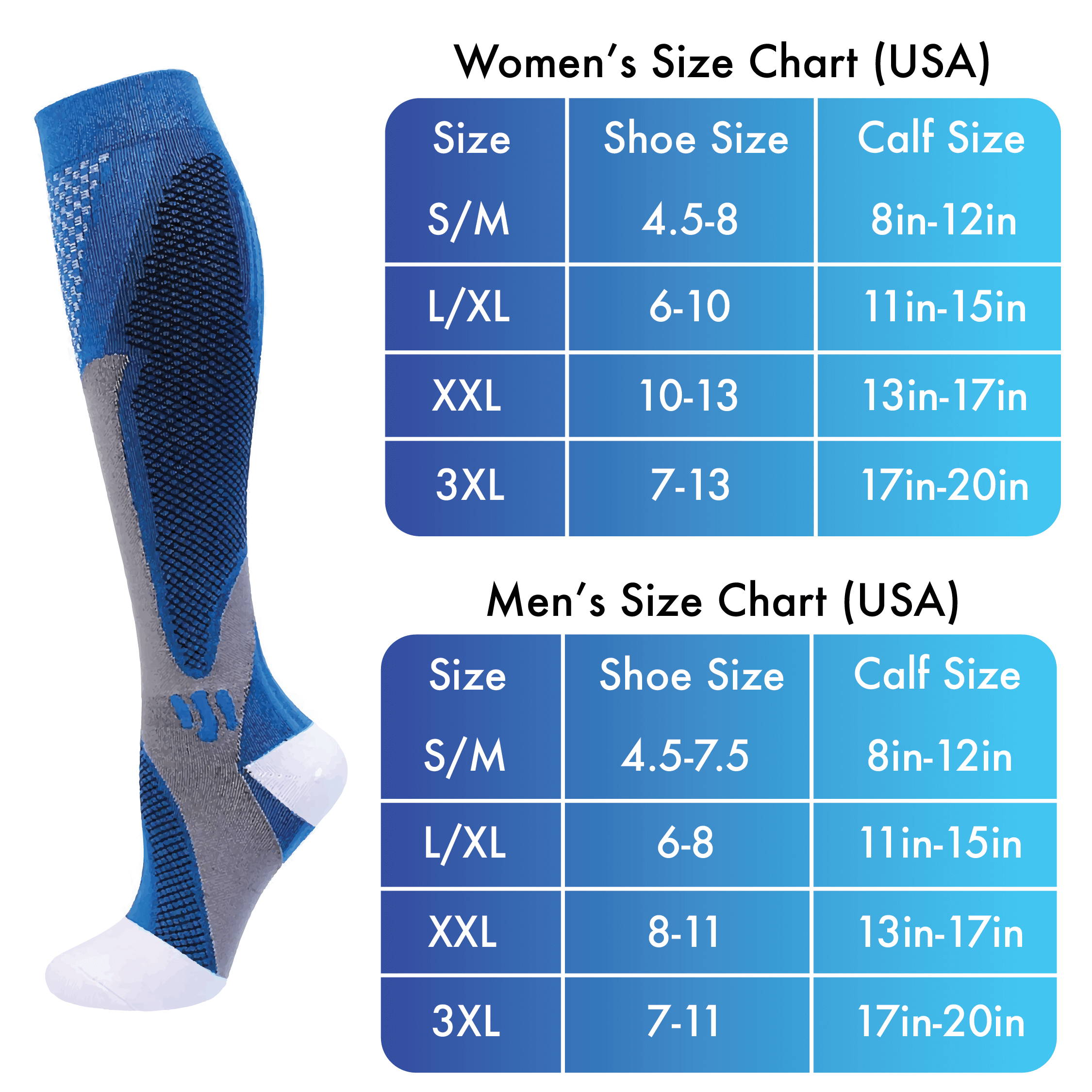 If you are living with diabetes, wearing compression socks can relieve symptoms of poor circulation, including cold, achy, and tingling feet and legs. Nurse Yard offers unique compression socks for diabetics that target pain points, improve circulation and blood flow, and allow you to be on your feet for hours without discomfort.

How Nurse Yard's Compression Socks for Diabetes Differ
If you are a diabetic, taking care of your feet is vital to your health. Nurse Yard's compression socks for diabetes offer unique graduated compression, providing localized pressure and extra cushioning in the most common pain points, like the ankles and arch of the foot. Our knitted top and wave design fabric will keep your feet dry and prevent your socks from slipping down throughout the day.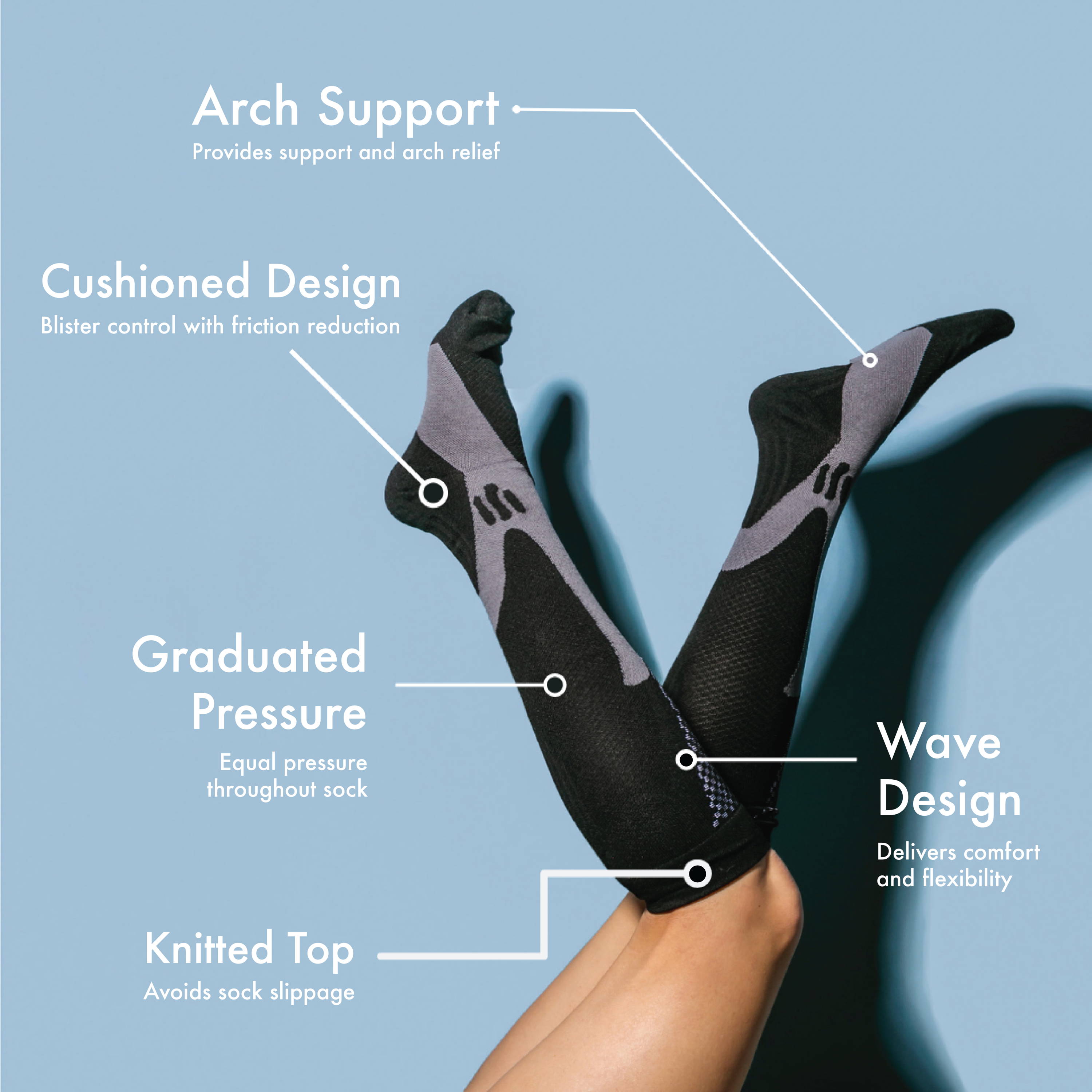 Risk Free 60 Day Guarantee
We proudly stand behind our product, which is why we offer a lengthy guarantee.
If for any reason you are not fully satisfied with your purchase, return it within 60 days of your purchase for a full refund.
20-30 mmHg of graduated pressure. The perfect balance of compression... Not too tight, yet not loose! The ideal amount of support.
Our socks are made of 80% Nylon + 20% Spandex. Recommended to air dry to prevent shrinkage and for a longer lasting sock. Wash cold. No fabric softener.
Frequently Asked Questions
What Do Compression Socks Do to Help with Diabetes?
Nurse Yard's diabetes compression socks have a number of benefits, including improving your circulation, reducing fluid retention in your legs, reducing inflammation, and supporting your muscles and tendons.
What is Nurse Yard's Compression Sock Design?
There are a few things about the design of Nurse Yard's compression socks for diabetes that set us apart from the competition. We create our socks with 20-30 mmHG of graduated pressure, so they'll never feel suffocating or too loose. Our unique wave design and knitted top guarantee your Nurse Yard compression socks will leave you with all-day comfort and flexibility.
What Size Diabetes Compression Socks Do I Need?
We offer our diabetes compression socks in sizes ranging from Small up to 3XL. We recommend you find your sock size by combining your shoe size with the circumference size of the largest part of your calf. See our compression sock size guide below.
Does Nurse Yard Have Different Colors & Sizes Of Compression Socks?
Yes, we offer sizes from Small to 3XL and have a few different design collections for you to choose from so you can be comfortable and stylish all day long!
How Tight Are Nurse Yard's Compression Socks?
Our unique technology offers 20 - 30 mmHg of graduated compression, meaning there is slightly more pressure on common pain points, like the arch of the foot and the ankle. This guarantees your Nurse Yard socks will never be too loose or tight, and you can be on your feet for hours without discomfort!
Where Does Nurse Yard Ship From?
We ship from the United States via USPS right in our hometown of Phoenix, Arizona.
How Long Will Nurse Yard Shipping Take?
Nurse Yard's orders take an average of 3-5 business days, but due to recent shipping obstacles, there have been instances where our socks take 5-10 business days at most to ship.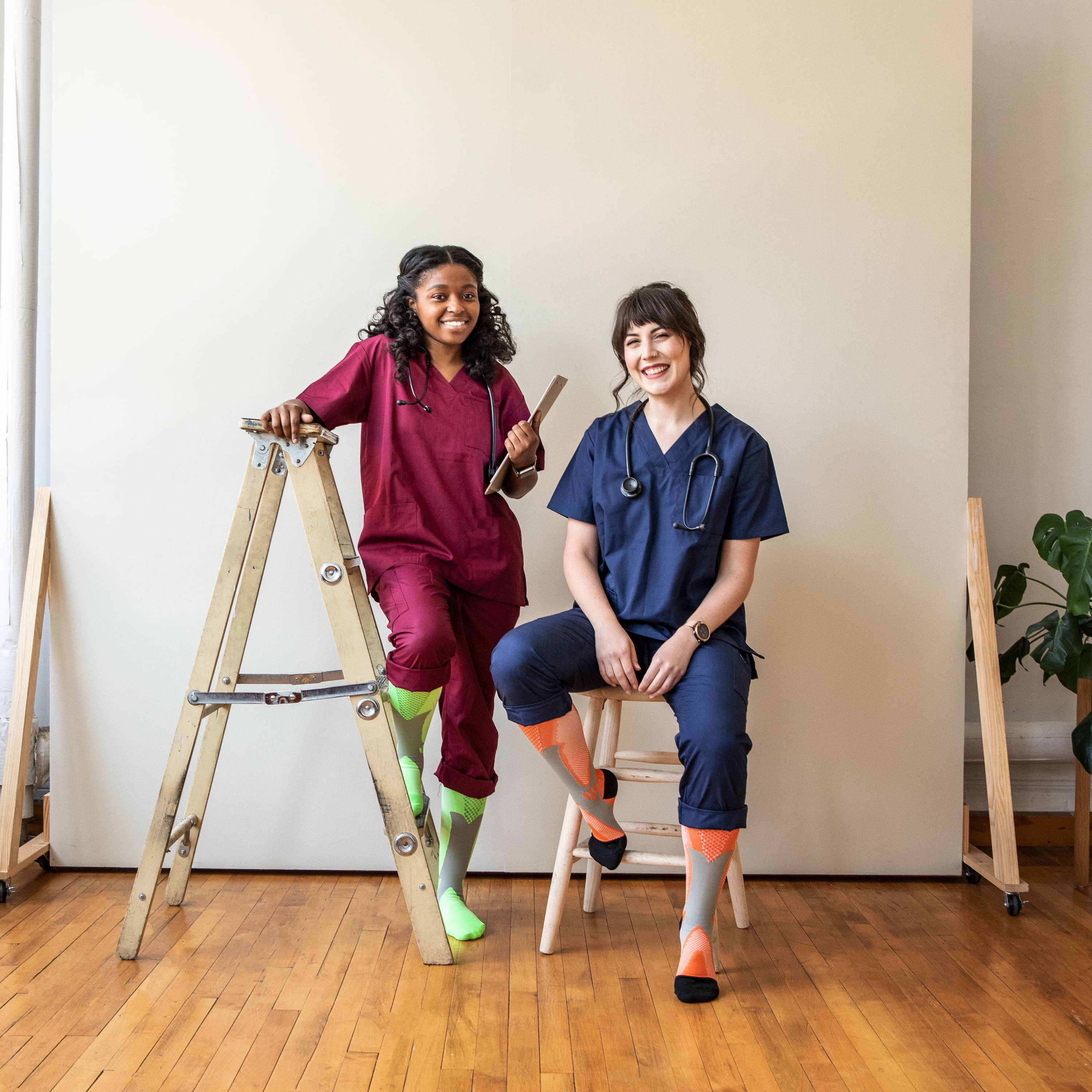 Benefits of Nurse Yard Compression Socks for Diabetes
For people with diabetes, circulation in the feet and legs can often be an issue. When the flow of blood doesn't reach your feet, you can suffer from a host of issues, including varicose veins, swelling, and even diabetic neuropathy. Here are all of the ways Nurse Yard Compression Socks make living with diabetes a little more comfortable:
Helps prevent clots and vein insufficiencies by using graduated compression to push blood back toward the heart.
Reduces swelling and aching in your feet, ankles, and calves.
Being on your feet all day can be possible again by alleviating soreness and fatigue.
Our unique design provides enhanced arch support.
Our knitted top keeps you from having to pull your socks up throughout the day.
Nurse Yard's premium non-itch breathable design means more lasting comfort than other compression socks.
Graduated pressure of 20-30 mmHg means you'll have a snug and supportive fit all day long without your socks feeling too tight or too loose.
Happy legs and feet!
I absolutely love my socks. My ordered arrived quickly! The packaging was amazing!
I feel secure and my legs and feet feel more lively.
I only wish more colors were available in my size. I was only able to order black and the pink/white.
OMG, The Best 👌
I am so happy that I ordered this socks, I had a blood clots in my leg long time ago and since then my leg swells all the time that I walk or I am standing for a long time, but since I started to wear those socks I feel so good, not pain or swelling at all, Thank you so much, God bless you.
5 pairs and counting plus 2 pairs for husband
2/2/2023 These socks felt and fit great from the moment I put them on my feet. My husband even said he'd like to try them—imagine that!
I do enjoy wearing these socks much more than the medical prescription compression socks: they stay up, they retain the compression, easy care instructions, and a bonus of keeping my husband's feet warmer.
The challenges: The pain in our feet and legs was reduced, but did not disappear completely for either of us. And a design issue I'd like to have is more compression in the ankle (beginning at the ankle bone and above). And maybe add a light beige colored sock?
Thank you everyone involved through the various stages of getting these socks off to market and helping so many people find relief for the pain in their feet and legs. 😊
Phenomenal
I have tried so many different types of compression socks but these are a notch above no other kind will ever compare! I have converted my husband to wearing them after I insisted he try a pair of mine we have ordered several more pairs so we each have several! I work as a nurse on 12hr shifts and these make it bearable so much pain relief and comfort and they are made like cotton socks not a sweaty slick material. Can't rave enough on how life changing these socks are!
CNA
These are my first compression socks and they have really made a difference during those long shifts. They do minimize the pain and are comfortable throughout the day. I will definitely be buying more.
Truly a support for bedside nurses
Wearing nurseyard compression product is like being an energizer bunny. You just keep on going, no soreness nor pain after a grueling 12 hours of bedside work. It offers great support and the colors are vivid and pleasing to look at. It's a plus!
Very pleased!
I was so pleased these socks performed as advertised! I have started getting varicose veins, so I thought I'd give the socks a try. Even spending long hours standing on concrete at dog shows, followed by long car rides, my legs do not ache! I followed the tutorial, and had no trouble putting them on. I swear I felt a definite spring in my step!
64 yr old Tech wears em too!
4 years ago, I ended up in the Emergency Room at a major university teaching hospital with double pulmonary embolisms caused by blood clots in my left leg. After 9 days I was released on a daily blood thinner. That episode led to 2 more double pulmonary embolisms and treatment at another major university teaching hospital. It was after the 3rd episode I took my health more serious. I require 20mmHg compression and I believe I have found it in the Nurse Yard stockings. I've tried other brands but after a few months of wear the material begins to tear/rip and I have to discard the socks. With Nurse Yard, the material is more flexible than other brands offering the same compression and comfort. At the age of 64, I'm a Field Service Technician working 12 hours a day, 4-5 sometimes 6 days a week. I'm walking a minimum of 11,000 steps per day, so I need leg support. I believe without a doubt I have found it in the Nurse Yard stockings. I wear compression socks every day. I encourage anyone who sits long hours or works on their feet long hour a day to please consider Nurse Yard compression stockings.