*Automatic discount! To claim your special offer,
add 2 or more pairs to your cart
and your price will be adjusted automatically at checkout*
Please refer to this sizing guide to choose your best fit: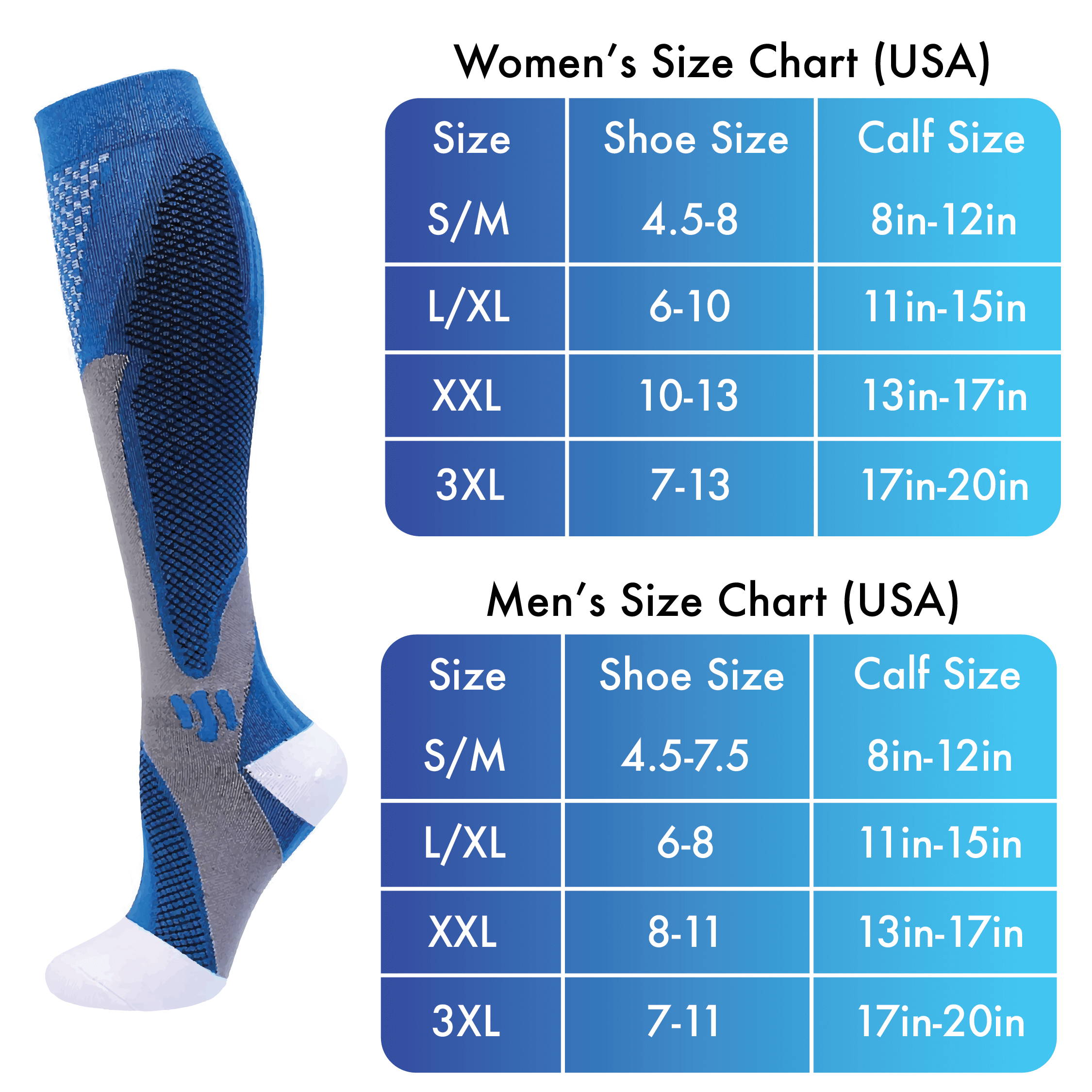 Compression Socks for Teachers
Educating the brightest minds of the future can be exhausting, especially when you're standing all day, writing on the board, and answering questions. By the end of a long day of teaching, your legs and feet can feel like they're about to fall off, leaving you physically and mentally exhausted for the rest of the day. Nurse Yard's compression socks for teachers are the ultimate escape from daily foot and leg soreness.
Our compression socks deliver the support you need to feel comfortable all day.
Nurse Yard's compression socks are made with the needs of teachers in mind. It all starts with our 20-30 mmHG compression, providing the perfect amount of support throughout the day. And with our graduated pressure design, your legs won't feel like they're being suffocated all day.
As if our compression socks couldn't get more comfortable, the cushioned design of Nurse Yard's compression socks for teachers control blisters and reduce friction caused by uncomfortable shoes. That means no more bandaging your heels or the sides of your feet just so you can wear formal footwear!
We've also addressed one of the most common complaints with compression socks: they slide down and must be readjusted multiple times daily. With our integrated non-slip liner, you'll forget you're even wearing some of the most comfortable compression socks you've ever bought. And that's our ultimate goal, eliminating distractions so you can focus on being the best teacher you can be.
By keeping you at your best, we can help you make the world a better place. And who doesn't want socks that can change the world?
Nurse Yard's Compression Socks for Teachers vs. Generic Brands
Nurse Yard's compression socks for teachers make generic brands feel like any other pair of tube socks. These compression socks actually make a difference, helping your legs feel rested and refreshed as no other sock can.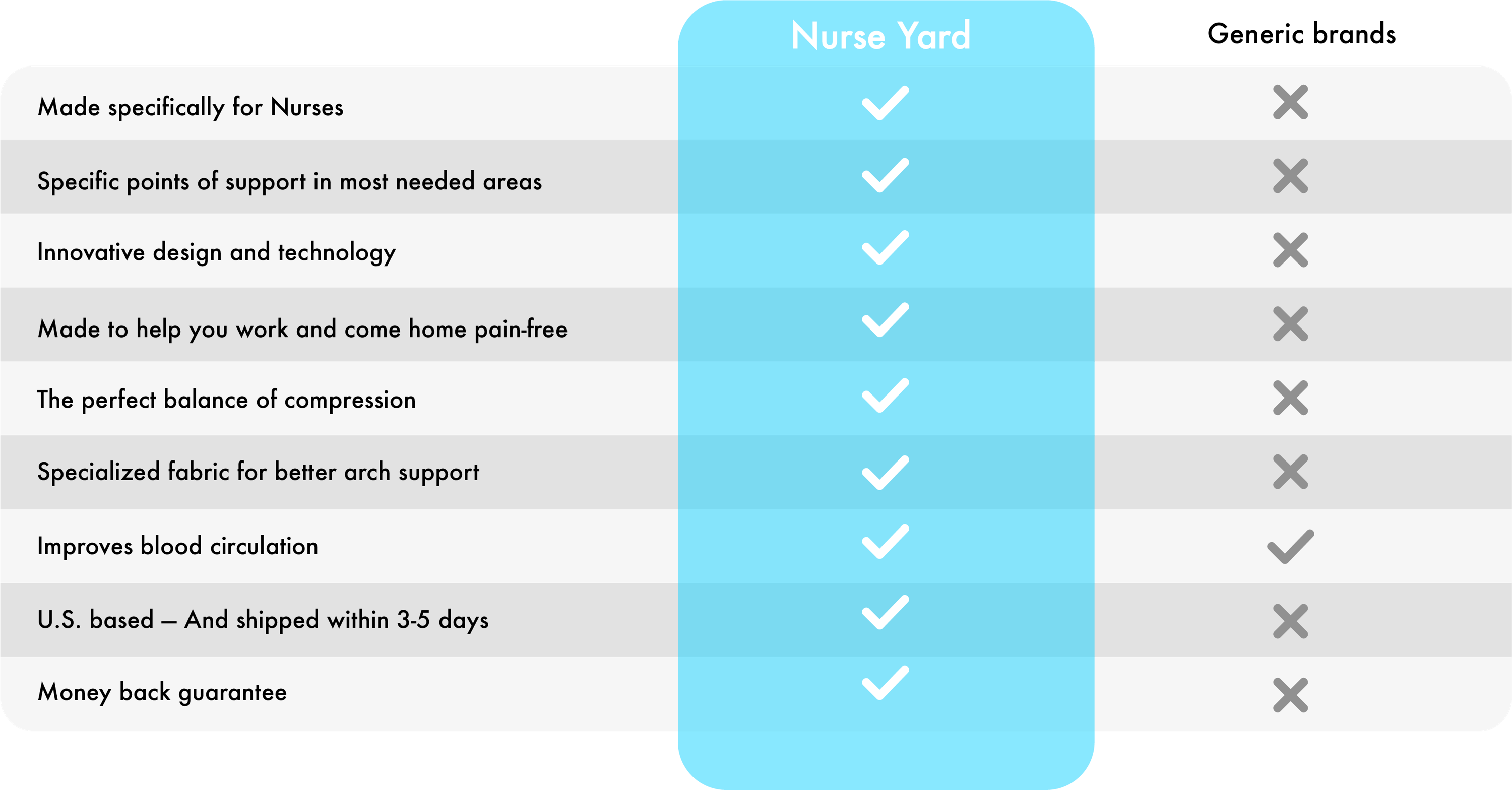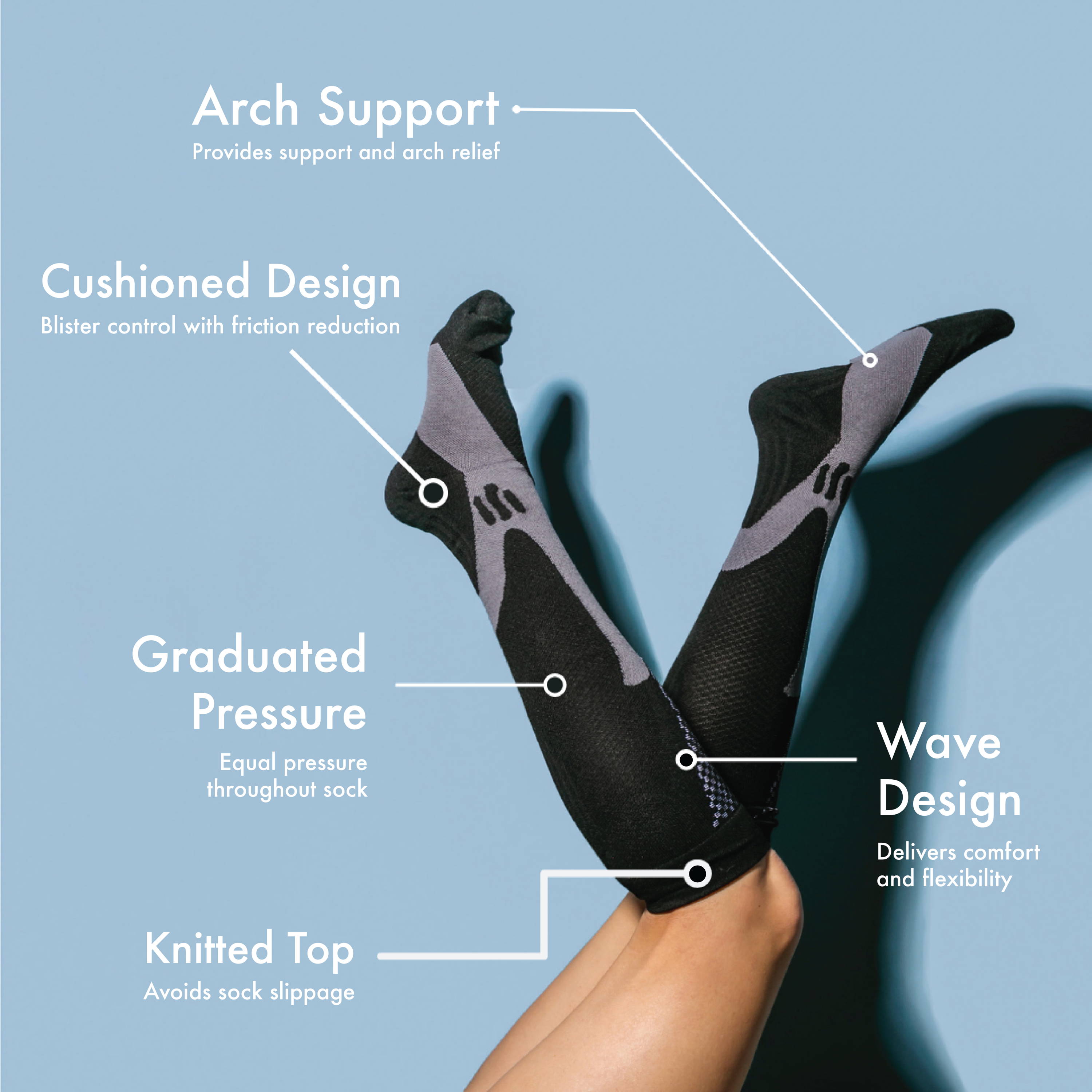 Risk Free 60 Day Guarantee
We proudly stand behind our product, which is why we offer a lengthy guarantee.
If for any reason you are not fully satisfied with your purchase, return it within 60 days of your purchase for a full refund.
20-30 mmHg of graduated pressure. The perfect balance of compression... Not too tight, yet not loose! The ideal amount of support.
Our socks are made of 80% Nylon + 20% Spandex. Recommended to air dry to prevent shrinkage and for a longer lasting sock. Wash cold. No fabric softener.
Frequently Asked Questions
What do compression socks do for teachers?
Compression socks help teachers feel more comfortable throughout the day by reducing the swelling resulting from being on their feet for an extended period of time. They also help treat vein insufficiencies by allowing more blood to flow to the heart and other parts of the body.
What is the design of a Nurse Yard compression sock?
Every part of our compression socks for teachers is designed to relieve soreness completely.
Starting at the base of the sock, our compression socks provide arch support and friction reduction to ensure your feet remain comfortable no matter what shoes you wear.
Moving upwards, the Nurse Yard Compression Sock applies graduated pressure along the leg to relieve swelling from your ankle to the top of your calf. Our wave design at the front of the sock also offers flexibility, so you don't feel restricted or trapped. And to seal the deal on our exceptional design, our knitted top prevents slippage, so you're not distracted by a bunched-up sock.
What size compression sock do I need?
Please refer to the sizing guide below to choose the best compression sock size for you. Use a tape measure around your calf for the best fit and choose according to your measurements.
Bear in mind this sizing chart does not account for all body types. If you are unsatisfied with your selected sock sizing, reach out to Nurse Yard so we can begin the exchange process.
If you're still unsure of your sizing due to personal preferences or conflicting shoe and calf sizes, please note larger sizes have more room in the foot and toe.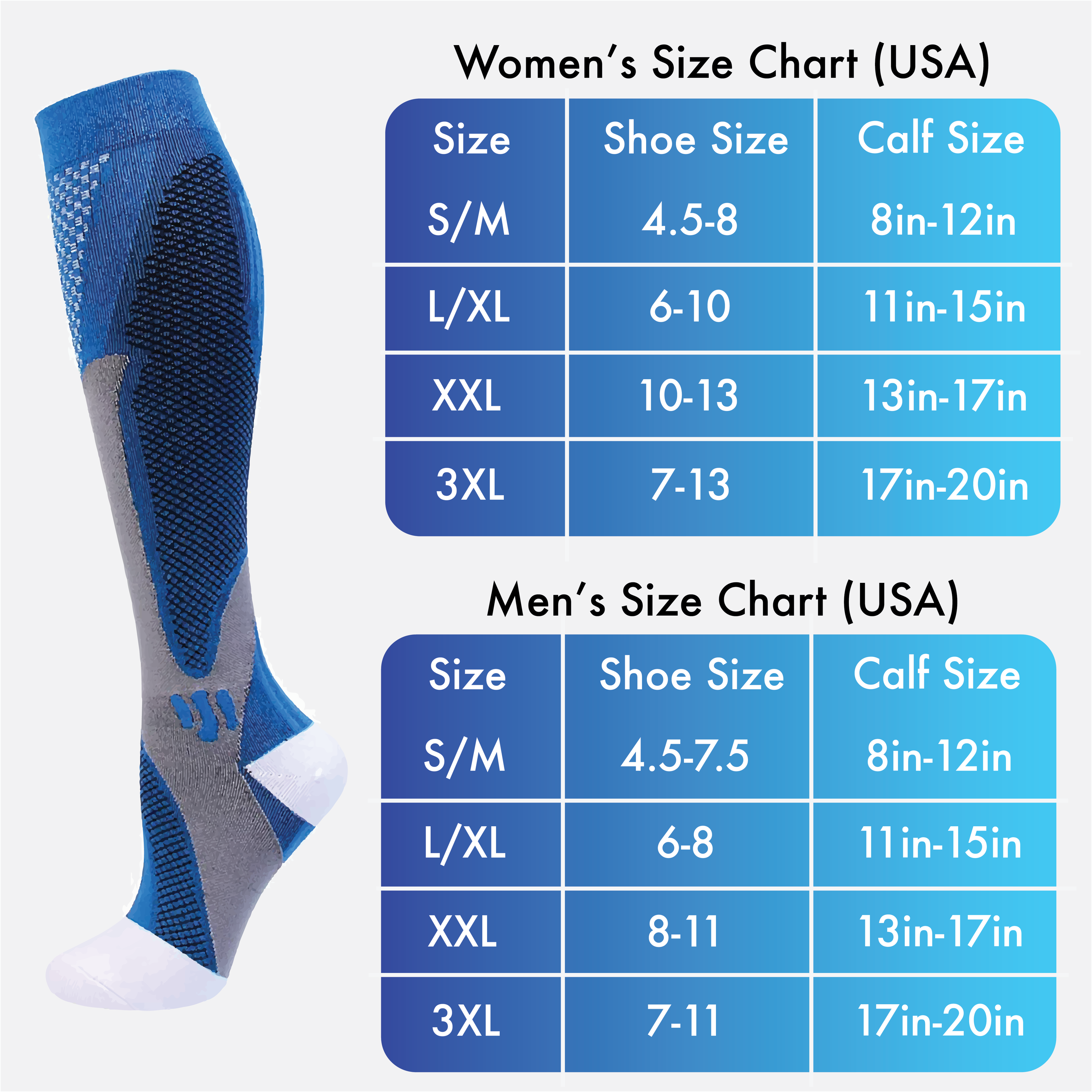 Does Nurse Yard provide different colors and sizes of compression socks?
Nurse Yard offers compression socks for teachers in six distinct colors so you can live comfortably and in style. We also offer men's and women's sizes, four sizes each. You can browse all these options and select your desired ones before adding them to your cart.
How tight are compression socks?
Our compression socks for teachers are tight enough to ensure even blood flow from the top of your calf down to your feet. You won't feel restricted, and you won't feel like they're doing nothing. With our graduated compression design, your legs will feel just right!
Where does Nurse Yard ship from?
Nurse Yard is headquartered in Phoenix, AZ, and we proudly ship our compression socks from the city's USPS!

How long will Nurse Yard shipping take?
Our compression sock orders take an average of 3-5 business days to be delivered to your home. However, with how unpredictable shipping has been in recent years, some orders may take between 5-10 days to arrive. We appreciate your patience while we work to fulfill orders and get the best compression socks you've ever owned to your address.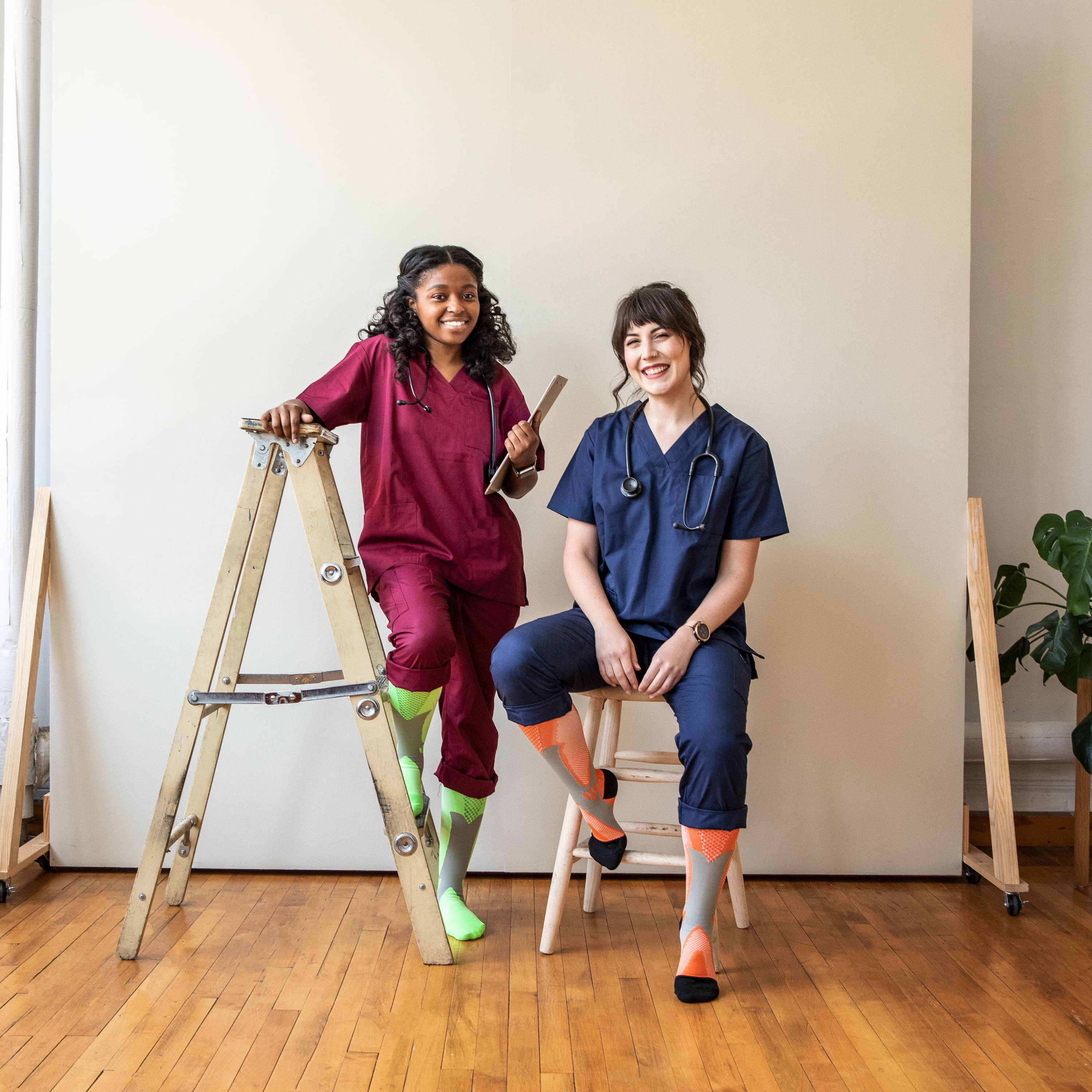 How Compression Socks Benefit Teachers
Nurse Yard compression socks can help teachers move around the classroom more easily and comfortably. Below are all the ways our compression socks make life more comfortable.
It helps prevent and treat vein insufficiencies by allowing blood to flow freely throughout the body.

Reduces swelling and aching in the legs, ankles, and feet.

It alleviates the soreness from being on your feet and moving around all day.

Provides enhanced arch support to keep your feet comfortable even in the most uncomfortable footwear.

Our knitted top keeps your compression socks on, so you don't have to readjust them every other hour.

Nurse Yard's premium design means our sock will last longer than other brands.

The graduated pressure of our compression socks means you'll have a snug and supportive sock that maintains even pressure throughout your legs.
I love my Nurse Yard Compression Socks
I have literally struck a gold mine with my NurseYard compression socks! My legs feel great at the end of my 12 hour shift! I just need them to come in more colors!
The best socks ever!
These compression socks have literally saved me! I now wear them every day. My ankle swelling is gone, leg pain is gone, joint pain is gone. I highly recommend them!
Fantastic
These socks have been a blessing. No more swollen, heavy feeling legs at the end of the day. I would highly recommend. I plan on ordering more. I do wish they'd get the cute patterns back in stock!
Great socks. Amazing customer service!
Love these socks. They feel like a big, warm hug on my calves. There was an issue with my order and it took 1 email and it was fixed! I cannot say enough good things about this company!!
Finally!!
Best socks ever! Really helps with my walking and my legs don't hurt or throb at all. Thanks so much your product rules!!
Absolutely Happy
So many companies say they can do this or that for you but then you are disappointed....Well NOT this company!!!!. Not a nurse but on my feet 8 hours a day. Great for the restaurant industry !!!! I am a believer. NOT ALL compression socks are the same.....Love the different points of pressure!!! Need to purchase more!!!! VERY,VERY HAPPY CUSTOMER!!!!!!!!
Amazingly Awesome!
I bought 2 pair to test out while I heal from achilles tendon surgery. They are comfortable, easy to put on, and they help my feet and legs throughout the day! I am stoked to get more for nursing school next year!!
consistent quality
I purchased a couple of pairs of nurse yard to assess for consistency as some other brands the socks for differently based on color. I was happy to see that the socks fit well and fit was consistent across multiple colors. They definitely make my legs less tired at the end of the day and don't fall down!