*Automatic discount! To claim your special offer,
add 2 or more pairs to your cart
and your price will be adjusted automatically at checkout*
Please refer to this sizing guide to choose your best fit: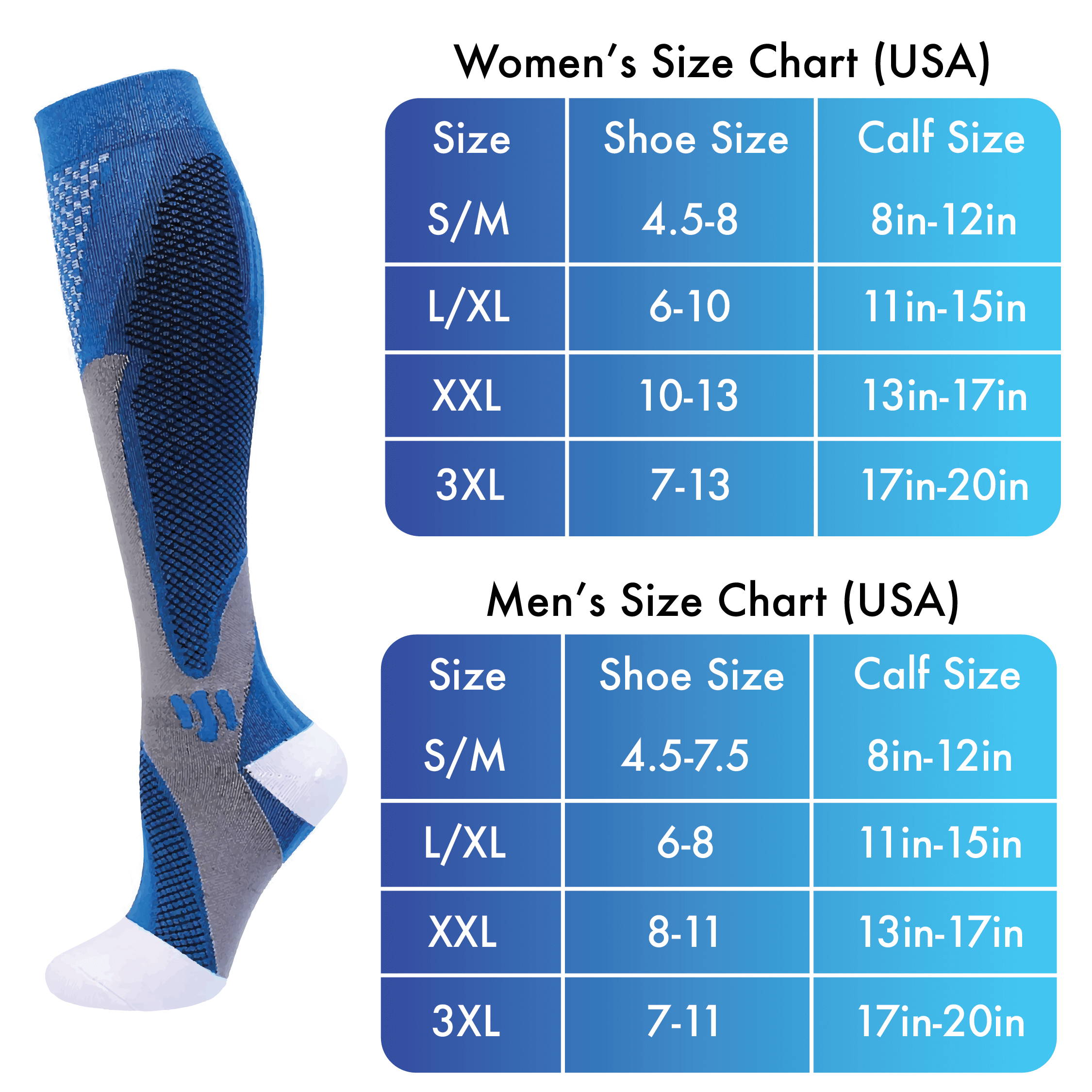 Working as a flight attendant means you're constantly walking up and down the aisles of planes and moving from sitting to standing at a moment's notice. This can place a lot of stress on your legs and feet over time, making it more difficult to focus on your responsibilities and leaving you exhausted at the end of each day. Compression socks for flight attendants can help alleviate pain and swelling from spending too much time on your feet while in the air.
Finding the right pair of socks for your needs is rarely a simple task. Some socks don't provide enough compression, some lack arch support, and others are so tight they make your legs feel like they're caught in a vice. At Nurse Yard, we offer compression socks for flight attendants that are unlike anything you've put on your feet.
We've taken many of the issues people have with other compression socks and improved on them in every way. From our non-slip liner to our graduated pressure design, our compression socks are made for all-around comfort.
Being a flight attendant keeps you on your toes, and Nurse Yard's compression socks ensure you stay comfortable throughout every lengthy adventure.
How Are Nurse Yard Flight Attendant Socks Different?
At Nurse Yard, our compression socks for flight attendants succeed where other compression socks fail.
Starting with our graduated pressure design, our compression socks provide consistent 20-30 mmHg compression from foot to calf. No more suffocating socks or ones that are so loose they might as well be glorified tube socks. You'll feel the difference in your legs as our even compression stimulates blood flow to relieve aching and soreness.
Our dedication to comfort is rounded out by the other elements of our compression sock design. This includes enhanced arch support, roomy toes, and an ankle cushion to relieve discomfort and make for an exceptional compression sock experience.
When you wear Nurse Yard's flight attendant compression socks, you're wearing socks you can't find anywhere else. You'll feel the difference in your feet as you walk through the plane, and you'll feel the difference in your mind when you finish each day unburdened by aches and pains.

This design doesn't only help flight attendants, but also golfers, nurses, teachers, hikers, dancers, runners, pregnant women, and those struggling with shin splints and neuropathy.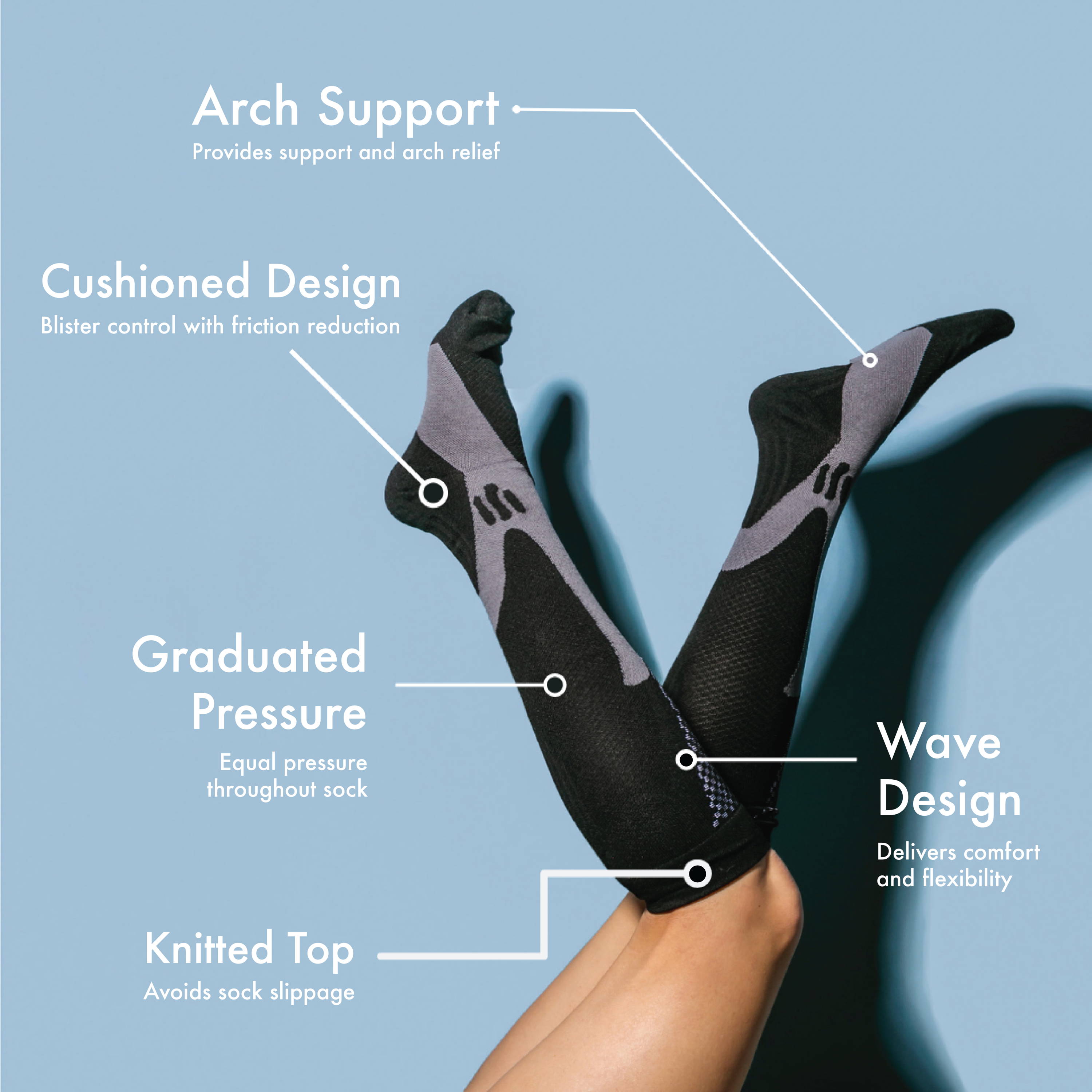 Risk Free 60 Day Guarantee
We proudly stand behind our product, which is why we offer a lengthy guarantee.
If for any reason you are not fully satisfied with your purchase, return it within 60 days of your purchase for a full refund.
20-30 mmHg of graduated pressure. The perfect balance of compression... Not too tight, yet not loose! The ideal amount of support.
Our socks are made of 80% Nylon + 20% Spandex. Recommended to air dry to prevent shrinkage and for a longer lasting sock. Wash cold. No fabric softener.
Frequently Asked Questions
How Do Compression Socks Help Flight Attendants?
Nurse Yard's compression socks help flight attendants relieve soreness throughout the legs and feet. With our graduated compression and arch support, you'll have more even blood flow from calf to toe and avoid the achy feeling you get when you've been active all day. And when you finally call it a day, you won't feel like you're dragging around heavy legs on your way home.
What is Nurse Yard's Compression Sock Design Hack?
At Nurse Yard, we've cracked the code on the perfect compression sock for flight attendants. With our quality materials and commitment to total comfort, you'll be hard-pressed to find a better sock.
Not only can you stop worrying about sore legs, but you don't have to worry about replacing your compression socks because they fell apart. We make socks that are built to last because you deserve to have the apparel you can rely on.
What Size Compression Sock Do I Need?
To find your ideal compression sock size, please reference the sizing guide below. For the most accurate sizing, measure around your calf with a tape measure and select the size closest to your measurements.
The size chart takes most body types into consideration. If you are unsatisfied with the fit of your compression socks, please reach out to Nurse Yard, and we can begin the exchange process.
If you have personal preferences for how you like your socks to fit, take those into account when choosing your size. If you like more room for your toes, you may want to purchase one size larger than you would otherwise. If you enjoy a more secure fit, you may want to select a smaller size.
What Size & Colors of Compression Socks Does Nurse Yard Offer?
You never have to sacrifice style for comfort with Nurse Yard's compression socks. We have a wide assortment of colors and sizes available, so you can choose the socks that speak to you the most.
Our compression socks for flight attendants come in the following sizes:
Our available colors are as follows:
Black

White

Pink

Orange

Green
How Tight Are Compression Socks?
Nurse Yard's compression socks for flight attendants are just tight enough to evenly stimulate blood flow throughout the legs without making you feel like you're losing blood flow. This prevents blood from gathering around your feet and ankles, relieving the aching and soreness many flight attendants experience every day.
Where Does Nurse Yard Ship From?
Nurse Yard is based out of Phoenix, AZ, and we proudly ship orders from our local USPS!
How Long Does Nurse Yard's Shipping Typically Take?
Shipping from Nurse Yard usually takes between 3-5 business days.
Due to increased pressure on the USPS, some orders may be delayed by a few days. Delayed orders usually don't exceed 5-10 business days for shipping.
Rest assured that we are working around the clock to fulfill all orders. We value your support and patience during such complex times.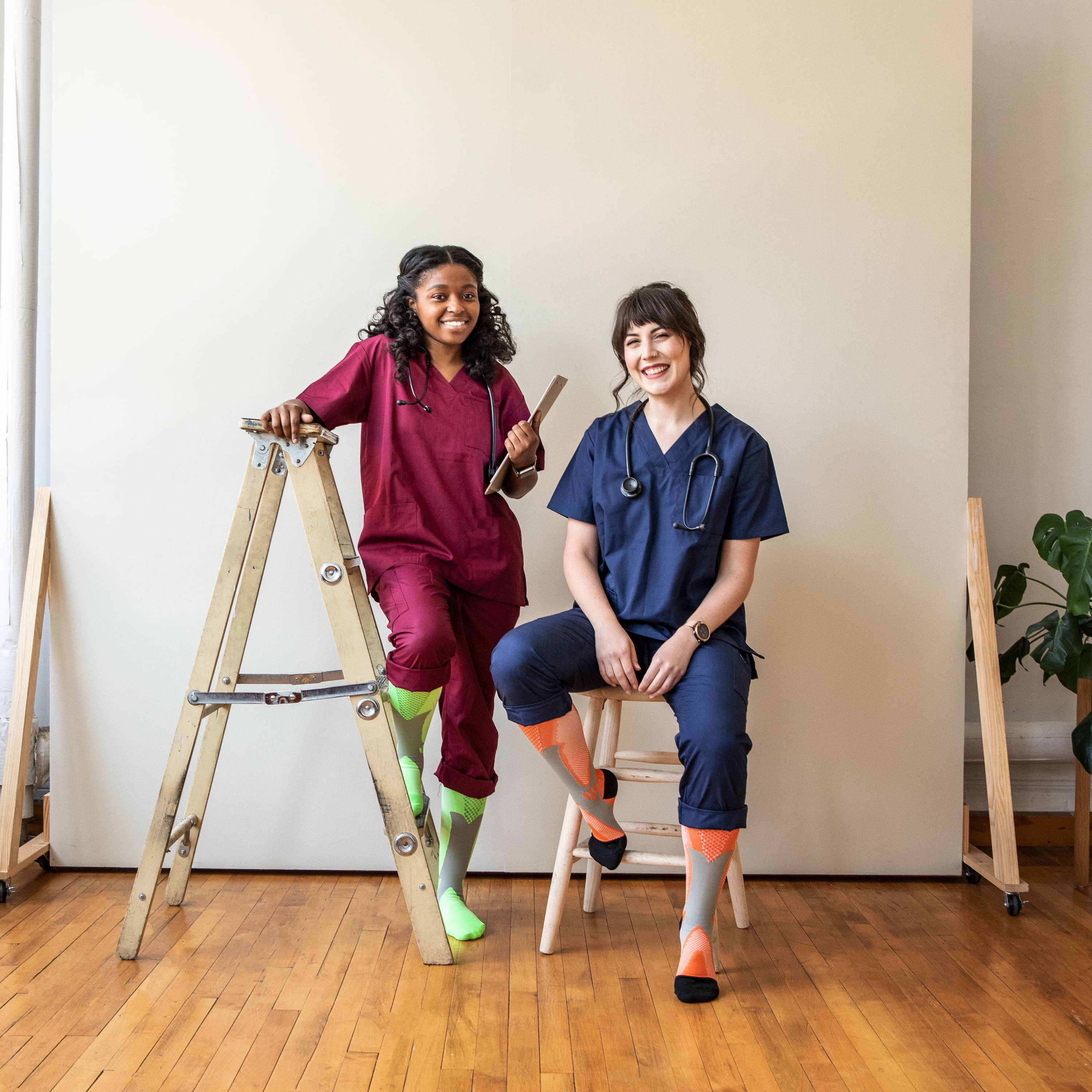 Benefits of Compression Socks for Flight Attendants
Nurse Yard's compression socks for flight attendants help blood flow evenly through the legs and feet, relieving soreness and ensuring blood flows back to the heart as it should.

The graduated pressure of our socks reduces swelling in the legs and ankles, so you're not distracted by aches and pains when moving from one end of the plane to the other.

Nurse Yard's flight attendant compression socks target soreness and fatigue, allowing you to stay on your feet for longer and feel more prepared to take on the next day's activities.

Our enhanced arch support can keep your feet comfortable even after the longest flights.

Our knitted top helps prevent slipping socks, keeping them up on your legs for longer.

We've tailored our design towards comfort and quality, using the most breathable materials to create a sock unlike anything you've worn before.

Our compression sock's graduated pressure provides support from calf to toe without feeling too restrictive.
Comfortable and Cute Compression
I don't worry about my legs aching all day at work anymore. These socks are better than any others I've tried in the past. And I love showing them off to coworkers and patients. They are the best.
These are great
Love how these make my legs feel. My only problem is the foot is big because I had to order the larger size to fit my calf. I still wear them and they feel good on my legs. Thank you.
Greatest socks
Superb customer service!! A previous order didn't fit right and they sent me a new pair immediately, no questions asked. Love the feel, the fit, and the styles. I'm an icu nurse and these socks save my legs/feet!!!!
Comfy
From day one I could tell these are a game changer,
The next ten Birthday's and Christmas lists have a new #1!
Fun colorful socks
I liked the socks however I could hardly get them off and I found the a bit tight around the calf and right below the knee. Perhaps I need another size?
Great product 👌
I really love these products! This is my 2nd order and these socks have really helped my legs during my 12 hr shifts.
Great Socks
My socks are too small, how do I exchange them?